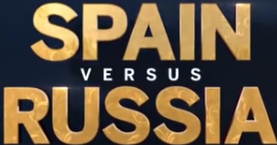 Somebody got to go home today.
Come on! Russia won the game on penalty !!
This is what World Cup is all about.

Spain is the 10th best team in the world.
Russia is the 70th best team in the world.
Definitely a stunner.
Penalty kick only defies
what team will advance in the next round.
I start believing that nice game
with no score will not get you far.
Spain plays like Barca.
They accomplished more that a 1000 pass with
90 % of accuracy.
The Russians prove to be in good state at home.
Clearly Spain is the better team.
So far Argentina, Germany and now Spain.
Congrats to Russia for playing smart and
allow your goalkeeper to save you at the end.
HIGHLIGHT