The best BUDGET 1 Watch Collection
Hello everyone, i am going to share with you my opinion on why the Seiko SNKL41 might be the best budget option if you only want to have "one watch to rule them all" or if you, like me want to start in a good place in this great hobby of watches.
I don't want to bore you with a super long text about every specific detail on the watch, so i will make it a simple list of specs and why they matter and how they make this a great buy.
Here it is: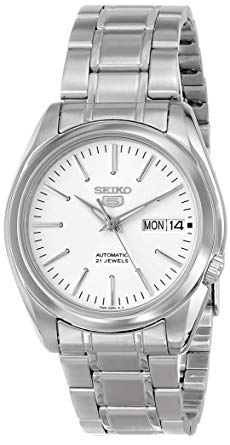 SNKL41
✦You cant beat the price of $130 US for an automatic watch of a brand with so great reputation, first of all, they are called Seiko 5 because when the engineers at seiko wanted to develop a new watch a long time ago they searched for this atributes :
Diaflex (unbreakable mainspring).
Diashock (Seiko's shock resistant design, equivalent to the Swiss "Incabloc").
Automatic winding.
day/date indication.
Water resistant.
That translates in the 7S26 movement that is a real workhorse , not so accurate but will work for a long long time without service.
✦It will look great with hundreds of straps (20mm).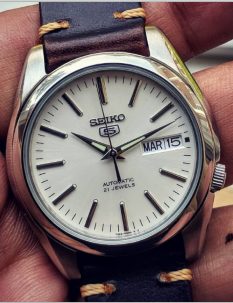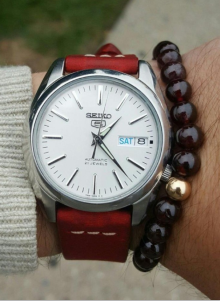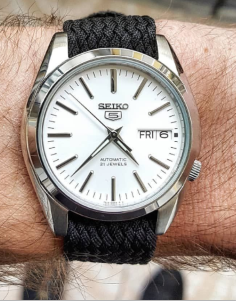 ✦Has a great porcelain white dial instead of the SNKL45 (With black dial) because its less usual, so you will get more attention and compliments and that will make you feel great. It has Seiko Hardlex Crystal.
✦Has a metal strap out of the box, that can be used and will look really good in virtually any situation.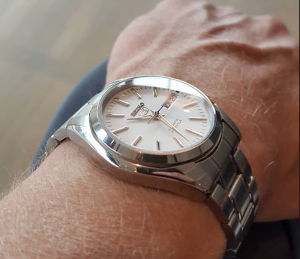 ✦You can see the 7S26 movement in the display at the back of the watch. So you can share a moment with some friends watching it work and start a conversation any time.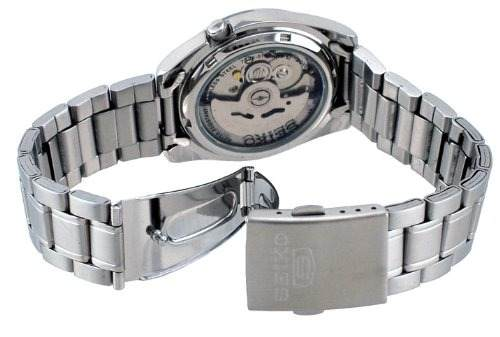 NOT EVERYTHING IS PERFECT TOUGH
Let me tell you about 2 cons
✦ Its only 30 meters water resistant, so that basically means you should not be swimming with it, the watch will be perfectly fine if you wash your hands or get caught in the rain.
✦ The original bracelet rattles a little bit .
If you like the watch please go and find out more about it and research a ton about watches and everything you want to buy before doing so, i am kind of a minimalist myself and i just do not want you to be spend your hard earned money in vain, so that is why i made this post.
Thank you so much for reading, i hope you find this little opinion interesting and let me know if you want to hear more about watches or other topics.