Words from another soldier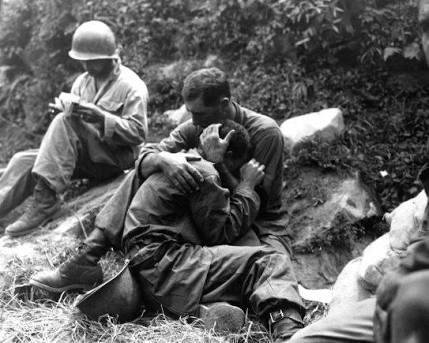 Another day of inhaling the not so holy air. Battle is a mouth that swallows the soul of the soldier. In front of the beholder. War has a huge appetite for those with stripes, long strides lead soldiers to depression. I have seen it all, the enemy bathing with blood of our sisters and brothers. Building sculptures with their bones, our mothers grieving, installing fear on our fathers, for others this is "no go zone". It has too much tears, too much wounds, too much feuds. Here you will be broken like that promise you gave God.
I have seen it all, nothing odd, nothing new under the heaven, previous soldiers, their first step told us that, "they are forever faithful"....But their last step said, "NO!! Faith is for fools"now we are left with shoes that are worn by memories. Their shadows have dragged them back to the darkness because it is easy for a shadow to kill when it is not seen. I don't blame them, most of the time darkness is light. It is easy to carry, most of the time light is not light, it is heavy to carry.It is too tiring to be part of the war that never ends, It is too depressing to watch bravest angel stops praising and pull out his quill because of a wind chill. This is a spiritual war, the enemy is hunting every corps, too many dead bodies on the floor, someone is always dying, we are never complete, someone is always running away. We came here broken, Aluta. I will fight!! I will always carry the heavy light, I will depend on the moon at night, I will continue to slay the enemy with the bible, my ammunition will be prayer, meditation will be a channel of communication between I and God, I will never rest until I reach my final destination. Fight soldiers!! Fight soldiers!! But remember you will bleed, the enemy will want to feed on you...You will feel like you are going insane, but you will heal from pain, you will gain larger degree of light,arn to praise until your voice is hoarse, let the horse of faith carry you God's knight.
Remember my soldiers...Stripes need strong shoulders.