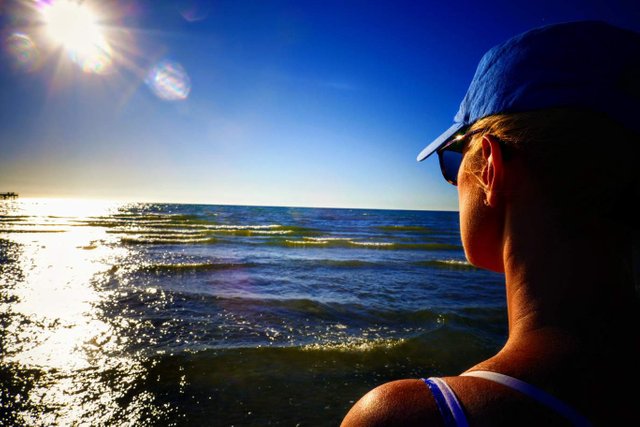 I wrote earlier about heading to the beach after work as the weather has been very hot here. It's a little cooler down here at Semaphore. The sea-breeze coming off the water allows the temperature to slip backwards as the sun slips down towards the horizon as well - the combination taking the sting out of the day.
We've both had challenging days today which had left us in pretty poor moods however after a few minutes and the rhythmic and soothing effect of the waves the stress started to melt away leaving us more relaxed. We walked in silence at first, no talking I mean, as the beach always makes some kind of noise...People, birds, the waves lapping at the shore. But before long we started talking and our bad day seemed far removed and a long way away.
We don't track our walks however we were walking for almost two hours and I figure we travelled about eight kilometres on the beach and coastal track just above it so a decent distance I'd say. We ended up back where we started, not too far from the jetty, then headed into the little main street of Semaphore to grab some food - Fish and chips of course. Whilst waiting for our order at Soto's, the best fish and chip shop in the area, I wrote this post.
Our lives are...Balanced, I suppose I should say. We work hard and relax hard. [I use the word relaxation to cover all aspects of our lives when not working.] Some would say we have a 50-50 work-life balance however I'd disagree. It's more a 100-100 balance. 100% at work when at work and 100% in life-mode when not. Essentially this simply means we are 100% engaged and present with whatever it is we are doing at any given point allowing us the benefit of doing it to the best of our ability be it work, socialising or just a relaxing walk and fish and chips on the beach like tonight.
Life is simply a collection of fleeting moments combined together. Days weeks, months and years pass [many years hopefully] and yet it's what we do in the seconds and minutes that we truly live and where the value is - After all if we don't live our best version of life each moment we simply waste chunks of it, precious time, that can never be reclaimed.
Live your best life y'all.
Design and create your ideal life don't live it by default 🇦🇺
Posted using Partiko Android