Waivio proposal: Steem as a platform for business
Steem has tremendous potential as a decentralized social platform. Initially launched as a blogging platform for long-form journalism, it has evolved into a solid foundation for many exciting and diverse social projects, including games, video, audio, sports, travel and a lot more.
Steem allows users to move from one application to another without losing their social connections, reputation or posted content. In fact, users can submit their posts using any Steem app and their followers can read, upvote or comment these posts from the comfort of their favorite apps. Community remains connected even when members use different Steem apps.
And the entire ecosystem is powered by a shared STEEM token, aligning the interests of all projects and achieving a combined network effect of users, connections, content and value.
All these amazing and unique benefits of a decentralized social network can be effectively applied to business.
A steady cash demand for STEEM
Many Steem projects focus on the fair distribution of rewards. Some projects aim to reduce STEEM's supply (reduction of inflation, locking or burning of tokens, etc.)
Waivio explores a different approach. We believe that Steem can become a very effective platform for companies and that this will lead to a strong and steady external demand for STEEM tokens.
Steem's business applications will not only lead to a higher price for STEEM, but will also promote mass user adoption through the integration of Steem into the marketing strategies of established companies.
Waivio business platform
The Waivio platform consists of three major service components that can make the Steem open social blockchain very useful for businesses.
1. Object reference protocol - allows companies to submit not only blog posts, but also listings of businesses, descriptions of products and services, catalogs, wiki pages and other objects to Steem blockchain; collect comments, reviews, ratings, tags and other user feedback; synchronize product updates with partner sites; measure users' domain expertise and enable a meaningful accumulation of knowledge on Steem blockchain.
2. Website hosting platform - makes it very simple for businesses to create advanced social websites, using business information, product and other listings, user reviews and ratings, which are already posted on the Steem blockchain. And these custom websites will have active users, influencers and a continuous stream of relevant news from day one. Customer journey on these websites starts with browsing reviews, voting, following influencers, bookmarking products, participating in surveys and later continues through sharing their own experiences and feedback, all along while building their social capital, domain expertise and earning STEEM rewards.
3. Attention marketplace - helps companies reach their target audiences in a transparent and simple way, using customer intelligence data available on the Steem public blockchain, such as the number of followers, reputation, activity, domain expertise as confirmed by the community and even STEEM balance on user's accounts. Companies can announce attention bids on the Steem blockchain, inviting eligible users to receive rewards for performing tasks, such as visiting websites, completing surveys, sharing experiences and other verifiable actions. Waivio replaces intrusive advertising with incentive-based attention trading, of which users become the main beneficiaries.
All these services increase the demand for STEEM tokens because voting power is required to effectively manage business and product listings, support the customer community through voting for their feedback and comments, as well as direct payments for hosting services or direct action-based incentives to users.
Many companies will benefit from assistance in launching and managing their rewards programs on the Waivio platform. Independent agencies (Guides) with a thorough knowledge and understanding of Steem's social dynamics can help companies develop effective strategies to reach target audiences and engage new and loyal customers.
Waivio inception and progress
Waivio's original whitepaper was published in October 2018. One month later, a dedicated DevOps team of 6 people started the project.
Waivio.com with full support for the object reference protocol was launched in July 2019 and the beta version of the attention marketplace (rewards for reviews) is planned to be launched in November 2019.
Waivio platform: https://www.waivio.com
GitHub: https://github.com/Waiviogit
Waivio platform has a lot of components and requires some degree of technical knowledge to monitor the development progress using GitHub. This is why we are planning to begin posting ELI5 product updates on @waivio channel starting November 2019.
The Proposal
The development of the Waivio platform is a major undertaking and it requires a lot of full-time resources, both on the development and business side.
We are asking for 15,000 SBD per month for a period of 18 months for the total budget of 270,000 SBD. Details about current progress and development plans are presented in the Product Development Roadmap section of this proposal.
This budget represents about 30% of our current software development expenses.
Without this additional funding, we would have to reduce the scope of the work and focus on immediate business opportunities for developing customized solutions for specific clients, rather than creating a universal platform for all.
If you find our project useful, please vote for Waivio Proposal on the Steem Proposal System (SPS), so that we can continue to build this complex system for the benefit of the entire Steem community.
We are convinced that the development of the Waivio business layer on the Steem social blockchain will generate a continuous external demand for the STEEM tokens. Here are the details.
LEVEL 1 - Object Reference Protocol
In order to enable meaningful accumulation of knowledge on Steem distributed social network, it is important that users will be able to reference the same objects/items/places/things/documents in their posts.
An object can be created by any user on the blockchain and later enhanced by other members of the community.
For example, user may create a listing for Kisamos Greek Taverna, with an address and phone numbers, while other users may add description, title, icon, hours of operation, photos and more.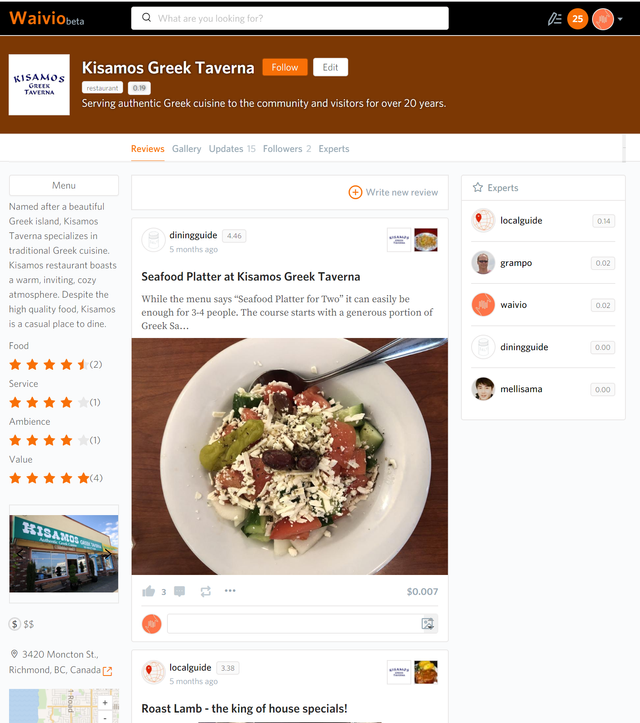 Example of a restaurant listing on Waivio
Consensus for each field is achieved by the community's acceptance or rejection of updates . Some fields, such as an icon, will have only one winning image, while the photo gallery may have multiple entries sorted by popularity.
Once the object is created, users can start referencing it in their posts and all these posts will be aggregated under Reviews tab on the object page.
Waivio system analyses the earnings on all the posts and updates with references to that object and calculates expertise of all users, including the ones, who liked these posts. Every Steem hashtag has its own list of experts sorted by their accumulated expertise, for example experts for #food hashtag.
It is now possible to check expertise of every Steemian on their user profile as well.
Currently there are three primary types of objects on Waivio platform:
items (businesses, products, restaurants, dishes, places);
pages (product specs, agreements, documents);
lists (product lists, menus, locations).
In future other primary object types might be added to the system, such as roads (trails, quests), areas and more.
Users can follow objects in the same way as they follow users today.
Business and product listings on Steem blockchain
Public listings on Steem blockchain can solve a number of existing business problems and can significantly improve the efficiency of synchronization and content distribution between multiple partners.
For example, if a company sells a product on its own website as well as through partner sites, the challenge is to keep product descriptions up to date at all times. Today, companies are making considerable efforts to keep all their product catalogs updated on the various partner sites.
This is how Steem can become a platform for integrated e-commerce systems. When the manufacturer updates product information on Steem blockchain, it is automatically updated on all partner sites. Partner sites can either display product details directly from the blockchain or use custom gateways.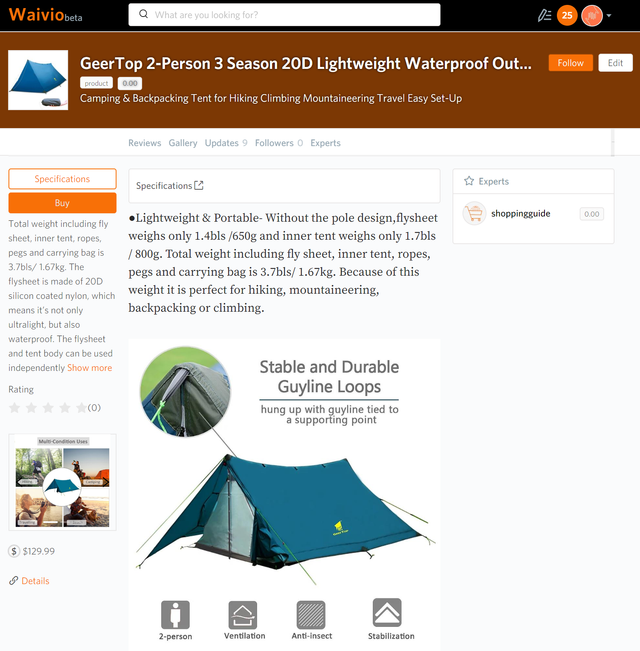 Example of a product listing on Waivio
Another example is restaurant menus, which must be updated often and synchronized with multiple food delivery and review applications. Overhead management costs can be significantly reduced if the descriptions of the dishes were stored and updated through a public blockchain.
But the main advantage of the Steem social blockchain over any other public blockchain as a platform for e-commerce solutions is that it also allows the aggregation of user feedback, reviews and ratings. No matter which website a user has posted his or her review, it will all be aggregated into the product listing and it will be very easy for a manufacturer to manage customer questions without having to switch from one site to another. Combination of customer reviews from all sources also increases purchase conversion rates.
The level of business intelligence that companies can obtain from the social blockchain is also unprecedented. Each user who has previously referenced the product or even pressed a like button on one of the reviews, are listed in the Experts tab with a weighted expertise that allows companies to tailor their engagement offers to the level of potential user interest in the product.
Companies will be able to post special offers and communicate directly with users who follow specific products.
Establishing company and product listings on Steem is the first step in the process of onboarding a large number of businesses and making Steem useful for broad e-commerce applications.
LEVEL 2 - Website hosting platform
Steem may become a very efficient platform for launching e-commerce and social websites. Custom websites may be launched in three easy steps:
Select the template (ex, restaurant, review service, e-commerce);
Define a subset of objects (such as products, companies, places);
Add relevant news (combination of hashtags).
For example, to build a local restaurant review site, the creator only has to select restaurants and dishes in the area, add related news using hashtags such as #food, #recipes, #dining and the site is ready.
And this new social website will look like it's been around for a long time, because it will have listings with up-to-date reviews, active social discussions, many engaged users, influencers and a continuous flow of relevant news.
Another example: an e-commerce site about hiking can be done by selecting related outdoor products and adding news about #hiking, #outdoors, #camping.
Custom websites would allow companies to have a high degree of control over the information that appears within their namespace. The website creator will be able to adjust product listings, customize purchase options (ex. affiliate links), specify trusted authorities for product descriptions (ex. manufacturer or service provider) and moderate content to ensure compliance with local laws.
Traditional website hosting solutions can only support closed systems, which require users to register separately for each website and do not allow companies to reuse content from other websites. Copyright restrictions make it difficult, even for resellers, to make copies of descriptions, photo galleries and reviews of the very products they sell.
The Waivio hosting platform offers great flexibility in the repurposing of existing content from the Steem blockchain. And at the same time allows companies to achieve the combined network effect because all new user registrations, connections, posts and listings are all added to the same network. It is here that the benefits of decentralized systems are manifested in a spectacular way.
Active social websites built on the Steem blockchain offer amazing advantages over traditional static websites. The customer's journey on social e-commerce sites is much more engaging. Visitors can browse other people's comments (collected from all sites where this product is presented), vote on them, follow influencers, bookmark products, participate in online surveys, ask questions and get answers from experienced customers and directly from manufacturers. And if they make a purchase, they will be able to share their own reviews, get replies from other users, build their social capital, reputation and domain expertise.
And on top of that, customers would be rewarded for every step of their journey with STEEM!
Companies will be motivated to purchase and maintain competitive quantities of STEEM to support their customers and upvote their feedback.
This can become a very powerful strategy for onboarding many new customers onto the Steem blockchain.
In order to simplify the onboarding experience for new users and especially to help businesses connect their existing user databases with Steem blockchain, Waivio platform would develop a service which would allow customers to use their emails (or custom accounts) to post to the Steem blockchain and accumulate their earnings through a centralized service until they become comfortable enough to open their own Steem account and manage their own set of keys.
LEVEL 3 - Attention marketplace
Traditional advertising is rooted in the ability of an intermediary (publisher, social network, search engine, TV station, etc.) to manipulate its audience for the benefit of the advertiser. And since the intermediary is the main beneficiary in this model, they work very hard to control their audiences in order to maximize advertising revenues. This has led to a number of well-known problems, such as privacy breaches, click baiting, cluttered interfaces and even the stifling of innovation. It is interesting to note that these bad practices are not in the best interests of the very companies that sponsor them. To a large extent, companies themselves suffer from a lack of transparency, fragmentation of their audiences and the multitude of proprietary advertising systems.
Steem social network is uniquely positioned to provide an effective alternative to traditional advertising.
The concept of open attention trading is very simple. Companies can post attention bids on the public blockchain, specify user eligibility criteria and announce rewards for performing certain tasks, such as visiting a website, viewing an ad, responding to a survey, evaluating a product or sharing an experience.
The transparency of the Steem social blockchain allows for precise targeting of these bids, including domain expertise of users and their reputation confirmed by the community, interests, number of followers, engagement on their posts, transaction history and much more. Rewards can even be dynamically increased for users with a better reputation or a larger number of fans.
Waivio attention marketplace allows companies to reach their target audiences in a transparent and simple way.
Users can finally enjoy an advertising-free environment and browse attention bids whenever they want. Users can reserve interesting offers, ignore low-value proposals or even mute annoying sponsors, while monitoring the blockchain for rewards of specific types or from companies that they care about.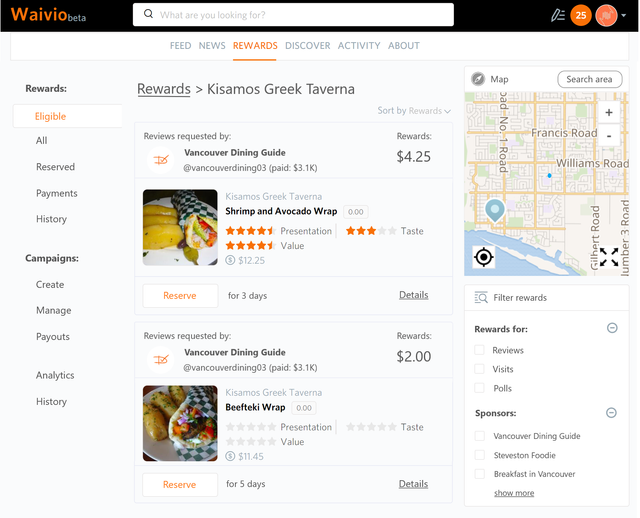 Example of attention bids on Waivio
Users complete tasks by posting signed transactions on the blockchain to confirm that the task was performed by that specific user and not by someone else. Then, the company can arrange the payment as a combination of upvotes and direct transfers.
The Waivio platform provides all the necessary tools to track accounts payable, receivables, historical reports, analytics, customer support management and more.
Attention trading is a massive opportunity for Steem ecosystem because its transparent reputation system allows businesses to easily locate target audiences, while private key security ensures that transactions are performed by the addressable users only.
For the first time intrusive advertising can be replaced by incentive-based attention trading, of which users become the main beneficiaries, further driving mass adoption of Steem social network.
STEEM price appreciation
Attention trading can become a major source of demand for STEEM and SBD tokens, as companies will use Steem currencies to distribute rewards to user accounts.
And this continued external demand will create a long-term basis for STEEM price appreciation.
On the road to mass adoption
In order for the attention marketplace to offer meaningful reach and value to larger companies, a critical mass of users is required. And even though Steem is one of the top 5 blockchains in the world by number of transactions, still it has an audience of just one million users.
This is why it is important to identify and focus on a specific business opportunity, which can be developed with a smaller, but active audience.
Waivio's initial focus is on monetization of restaurant coupons.
The idea is to replace coupons with rewards for writing quick reviews of specific dishes. Today in the North America over 11% of people dine out every day. This trend is especially strong among millennials, who are also technically savvy and price conscious.
Rewards (attention bids) will be published by independent guides (review sites) instead of restaurants, in order to ensure honesty of reviews.
Customers will receive the same benefits as if they were using coupons, but in a much more convenient way, since attention bids are presented in personalized streams, where users can reserve bids for a few days and complete reviews on their own schedule. And since customers are paying full price at restaurants, they also receive full service, instead of being treated as a "2nd class" when presenting coupons. Helping other people discover great experiences is also an aspirational activity.
Rewards have great advantages over coupons and for restaurants as well because management overhead and employee fraud (on cash payments) are greatly reduced. Rewards can be also targeted to new customers and drive sales during slower days.
Promotions and discounts are very effective tools, but when used excessively can lead to brand devaluation (users no longer willing to pay regular prices). Reward programs, in contrast, can be run on a continuous basis, because users are eligible to receive the same reward only once a month or so.
Restaurants can easily publish and manage their full menus on Steem blockchain and even host highly engaging social sites with relevant news (ex, food recipes), influencers and a lot more.
Steem enthusiasts are invited to become independent Guides and manage rewards programs and websites for local restaurants in their area. Please follow @waivio for more information about this upcoming opportunity.
Waivio platform design
Platform architecture is designed to function in a distributed environment, where multiple Waivio servers coordinate with each other through the Steem blockchain. Campaign management servers can post attention bids onto the chain, while Rewards indexing servers are presenting potential rewards to eligible users. Independent websites can integrate Waivio widgets, inform their visitors about active rewards and collect referral commissions.
Product development roadmap
As of September, 2019 Waivio platform supports object reference protocol, which allows users to:
create listings on Steem social blockchain such as companies, products, services, places, terms, hashtags and more;
add different types of fields to objects, such as title, description, gallery, address, price, links, phones and so on;
integrate other objects, such as lists (catalogs, menus, locations) and pages (long descriptions, specs, notes);
reference objects from posts using permanent links;
accumulate community knowledge about objects in the form of reviews, ratings and tag clouds;
compare objects using their system-wide ratings and examine users' expertise in that object;
review expertise of users in all objects, including hashtags.
Other Waivio platform innovations:
quick search for objects, hashtags and users;
custom news streams for objects;
simplified editor for posts and support for simultaneous drafts;
interactive OpenStreetMaps on discovery pages;
multilingual support for both interface and news feeds.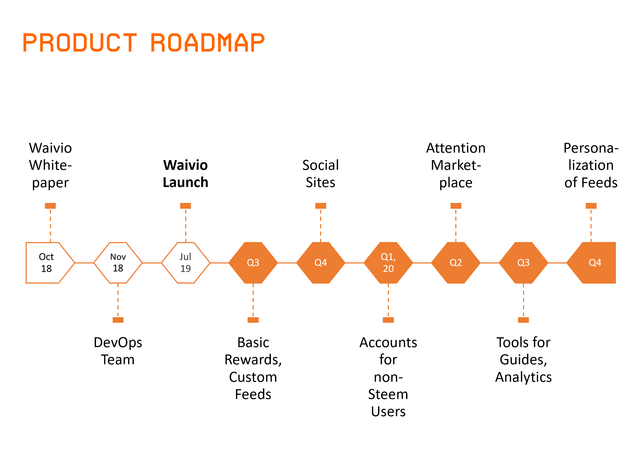 Waivio developement roadmap
Next steps:
Q3, 2019 - Basic rewards - The initial version of the Attention marketplace would allow companies to post attention bids using basic targeting (user reputation, number of followers) to write quick reviews (with original photos and product links). Users will be able to view a customized stream of eligible attention bids, reserve them and submit posts that match the criteria. Companies will be informed of the successful bids and will be able to distribute the rewards in the SBD.
Note: Beta release of the Attention marketplace is scheduled for November 2019 because we expanded the scope to include management of accounts payable/receivable and customer support tools, which were originally planned for Q3, 2020.
Q4, 2019 - Social sites - Users will be able to launch social websites on the Waivio platform by selecting a subset of objects (e. g. business, products) and customized news feeds. Waivio hosting service will support administrator privileges for managing object descriptions and news feeds.
Q1, 2020 - Accounts for non-Steem users - In order to further simplify the on-boarding experience for new users, the Waivio platform would allow businesses to offer virtual Steem accounts to their existing users with slightly limited functionality until they become comfortable opening a standard Steem account and managing their own keys.
Q2, 2020 - Attention marketplace - At this stage, the Waivio platform would allow advanced targeting options, such as user domain expertise, quality of followers, response rates, as well as new types of attention bids, such as website visits, polls, comments, and more.
Q3, 2020 - Tools for guides, analytics - The guides help companies manage their rewards programs on the Waivio platform and they would benefit from advanced financial reporting and analytics. These tools will further increase the transparency and efficiency of the attention bidding process.
Q4, 2020 - Personalization of feeds - Customer feeds must be optimized to maximize user benefits, including the discovery of great content, high-value attention bids, new opportunities, object updates, upcoming events and much more.
+Qx, xxxx - WAIV token - There is some uncertainty as to when the Smart Media Tokens will be released on Steem blockchain and that is why this task has a floating date. It would take at least 3 months to integrate the dedicated WAIV token into all the tools, bidding and payment modules of the Waivio platform.
Waivio makes this Product Roadmap public with the understanding that development objectives can change to better adapt to the everchanging business and technology landscape.
We love Steem community!
Crypto winter is the best time to build great projects. It is truly amazing to see Steem community so strong and committed.
We've been building Waivio for almost a year. And now we invite you all to check out the beta version of Waivio.com business platform.
We invite you to dream big with us.
We believe that Waivio platform is the killer app that can put Steem firmly on the path to mass adoption and STEEM price appreciation.
If you find our vision compelling, please join us and vote for the Waivio Proposal on the Steem Proposals System.
Thank you,
Alex Gruntsev (@grampo)
CEO, Waivio.com
and the entire Waivio Team!