Hey, Steemit I have 4000 SP with 75% Voting power at this rate my votes are worth a little over $.98 : ) I want to share this with you and be a mini Whale for 10 People.


Very Much like @randowhale @minnowbooster @booster and @lovejuice, you send SBD to them with a link you want to be upvoted.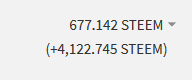 The thing about them is you get a random vote % with the exception of @minnowbooster which you get close to 5 times what you send in SBD. I Want to try something similar but also on a smaller scale. I should have just waited till I had 100 % voting power But I want to just jump right in and see how it goes.

Testing the pond with only 15 users, now.
Da Rulez:
Upvote this post
Resteem this post
Send .35 SBD to @zeartul
In the Memo Section add link you want to be upvoted, you can also gift the upvote.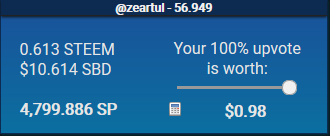 That is all you will get a 100% upvote with 75% Voting Power again a little over $.98 Due to Price in Steem and SBD
Follow not required but will be doing more of these to help out with the community. Will Save up voting power to reach 100%
Make sure to see the numbers in the comments only 15 will be upvoted today, any amount sent after the 10th it will be as considered a donation.
See Previous 100% upvotes Here