Why does time fly at EcoSwell?
I'm Ivy, and I've been working as an NGO Management intern for the past two weeks. One thing I discovered early on during my stay at EcoSwell is that time doesn't follow the usual rules here in Lobitos. Ask anyone here and they'll tell you that time simply flies by. Two weeks here felt like the blink of an eye, and I've already begun to worry that 3 months won't be enough for me. I'm not exactly sure how time passes so quickly, but I have a few ideas.
For one, we stay busy with meaningful work at EcoSwell. From the first week in, I was already getting involved in many different things. When I arrived, everyone was scrambling to perfect a proposal for a grant to fund a conservation project in Cerro Blanco. Through helping out with the editing, I got to learn more about EcoSwell's long term goals, like developing ecotourism in the areas around Lobitos. Within the first couple of days, I also began working on the process of designing a new website for EcoSwell.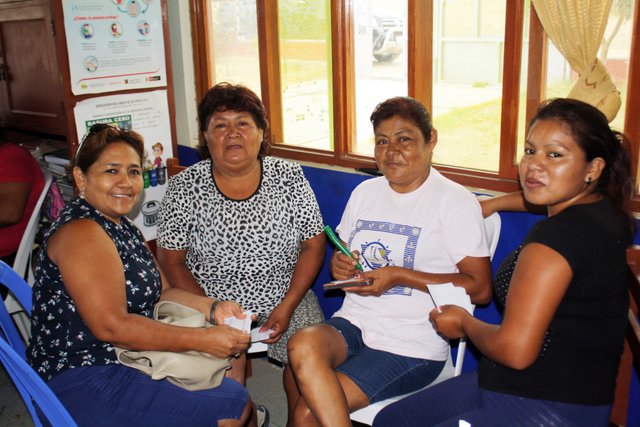 Community meeting at Piedritas
Photo taken by India Boostani
I'm excited to be taking the lead on something that will be very useful to EcoSwell and will hopefully attract more volunteers here. I also got to get out in the community and plant some trees for a couple of families in a town called Piedritas for EcoSwell's reforestation project, Piedritas Verde. I loved getting the chance to meet some people in the community while helping promote reforestation in the area. During the second week, I got to go to a meeting to form a committee for sustainable tourism in Piedritas. I was happy to see the community members taking a big role in EcoSwell's ecotourism plans for Piedritas. Work seems to go by a lot faster when you know that it means something.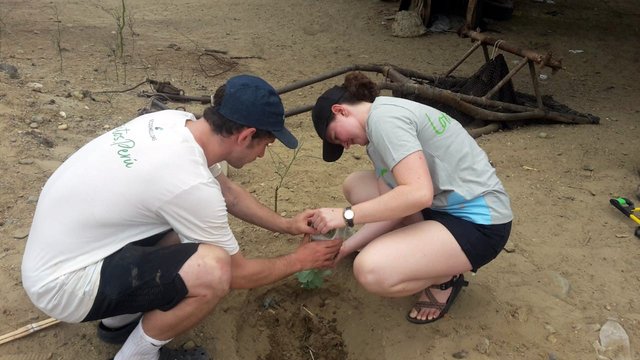 Planting trees in Piedritas
Photo taken by Ellen Jones
In addition to being inspired by the work, I'm inspired by the way we live at the EcoSwell house. Using homemade cleaning products, composting, reusing plastic, eating vegetarian, and using a dry toilet that creates compost are some of the things we do here to be more sustainable. I'm excited to be learning about this sustainable lifestyle every day, and I hope I can take a lot of it home with me when I return.
While we do work hard at EcoSwell, we also know how to take it easy. There is always time to sit and talk with the other volunteers, meet people at other hostels, cool off at the beach, surf, cook up something delicious in the kitchen, or just sit back and appreciate everything around you. Within the first couple days, the other volunteers made sure to take me to the nearby hangout La Casona, a hostel with a great view of the beach where we've since spent a lot of time. I've loved spending time with the other volunteers every day and making friends out in Lobitos as well. You'll never lack someone to talk to in Lobitos.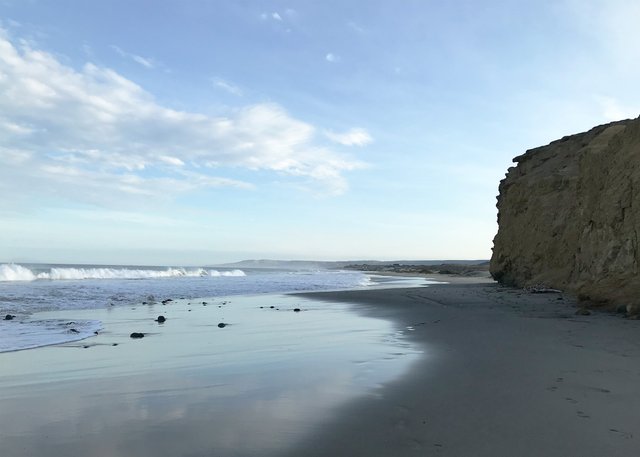 Beautiful beach views
Photo taken by Ivy
Speaking of always having someone to talk to, another special aspect of Lobitos is the strong sense of community. It seems like practically everyone knows everyone in Lobitos, whether they are a local Lobitean, an expat who lives here selling bread (@intrepidsurfer) or cake slices, a long-standing volunteer, or a regular at one of the hostels. People are eager to get to know each other, and it's pretty cool to be a part of it.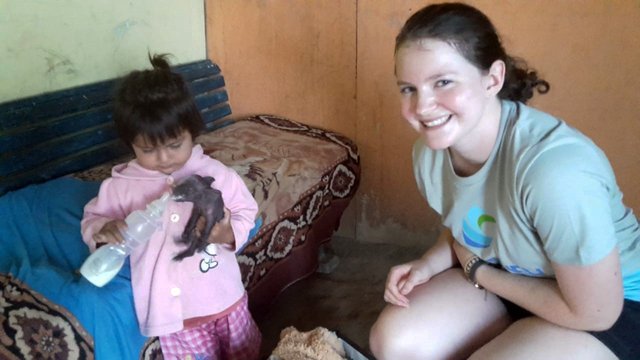 A baby girl holding a baby pig who we met during Piedritas Verde
Photo taken by Ellen Jones
The best guess I have as to why time goes by so fast for me here is that I'm doing work that I care about, taking time to relax and appreciate life, and staying busy getting to know people, getting out in the ocean, and exploring Lobitos and everything around it. There's never a dull moment. I just hope I don't blink and miss it all.
@EcoSwell is a for-impact, sustainable development organization based in Lobitos, Peru. Since 2014, we have been working everyday to help coastal communities thrive in unison with nature. If you would like to learn more, please visit our Facebook, website, and follow us on SteemIt!