Yesterday watching a re-run of an early night show - well more listening since I was working - I was dumbstruck when Glennis Grace started to sing.
WOW !!! Such a Beautiful Voice !!!

And something else happened almost at the same time: The song she sang propelled me straight back to my childhood. Glennis sang a cover of one of the greatest voices ever! The one of Whitney Houston!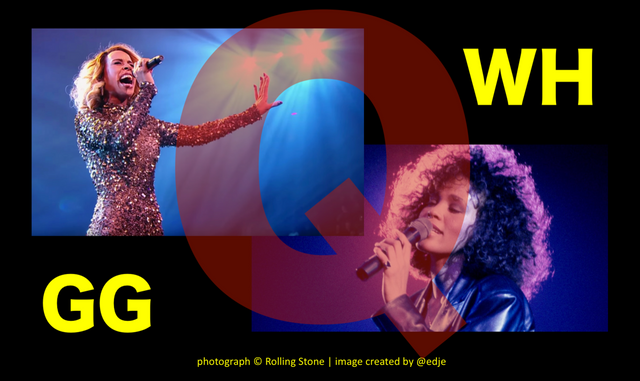 image: Whitney Houston & Glennis Grace
I was hoping I could find a complete recording of "One Moment in Time" cover, but the official share by the TV programmers only uploaded less then a minute :( Therefore I like to introduce Glennis to you with a little older recording, her TV performance of one of Whitney's biggest hits "Greatest Love Of All".
Interestingly - or may not so much for you hahahaha - Glennis was discovered by the Dutch - and others - almost a year ago.
Why didn't I ever heard of her?
I must have been living under a rock!
No....wait....
I was probably distracted by Steemit! ;)

Oh well, now I can combine the three... yes three...
1. Glennis Grace - the Discovery
2. Steemit - the Time Eater
3. Music - My Passion

and
4. Writing - Trying Trying ... and slowly learning :)

I'm sure, great things will happen for her! In October this year she will throw a Whitney tribute concert; Here in Amsterdam. She just returned from a visit to the USA and must have surprised some to more people over there. She was quite secretive, but it looks like she will be asked to perform in LA at some big location.
So sad the real Whitney passed away so soon in her life :(
But her music will live forever!

Her first album, named after herself, I share with you today. I hope you like it! And don't forget to check out some more music by Glennis here.

Artist: Whitney Houston
Album: Whitney Houston
Year: 1985
Country: USA
Tracks
You Give Good Love
Thinking About You
Someone For Me
Saving All My Love For You
Nobody Loves Me Like You Do
How Will I Know
All At Once 4:26
Take Good Care Of My Heart
Greatest Love Of All
Hold Me
Music
Discography
Artist