I want to share some of the exciting business  applications Team VIVA and our early investors are working on within the  VIVA project. These business models are intended to jump start the VIVA ecosystem with real world uses. 
What is VIVA?
VIVA is a unique blockchain project with a technical design that  evolves beyond Proof of Work, Proof of Stake and Distributed Proof of  Stake. VIVA introduces a concept called Proof of Authority; a system that  delivers instant transactions and seamless consensus. Our CTO, William  Banks contrasts various models in his Game of Chains article published  on Steemit.(1) 
But to summarize, Proof of Authority disposes of certain  egalitarian notions involved in weaker consensus models and replaces  them with cryptographic signature proofs and business contracts enforced  by the network and also backed by the network. 
Our blockchain differs from run of the mill fare as well. 
Designed to be a multidimensional graph rather than linear like a  traditional chain. Under this design the VIVA Network is more akin to  neural networks, with linked, weighted, interconnected data and an  optimizing mechanism which solves the NP hard "traveling salesman  problem", in order to reroute the network into multiple optimal  configurations depending the tasks required of it. 
By drawing from information in our Content Addressable Network (CAN),  the VIVA ecosystem allows for a more robust and intelligent network.  Rather than reinvent the wheel, VIVA takes advantage of hundreds of  millions of dollars in research and investment by starting off with a  custom fork of the powerful Hyperledger Fabric, which is backed by the  likes of IBM and Intel. Our version is called Ultra Ledger. 
VIVA has a three-tier cryptocurrency model consisting of VIVA Crowns, VIVA Coins and market-pegged instruments we call vX  which are tied to local fiat currencies for storing value like vUSD,  vMXN or vEUR, etc. VIVA Crowns are an indivisible digital asset secured  by the best cryptography available. They grant the owner rights to  access the network, operate a business referred to as a mint, and  receive a Treasury Right (TR) every 90 days to mint a share of the total  VIVA coins allotted within that quarter.  
A mint can be thought of as a hybrid between a master node and a mining pool.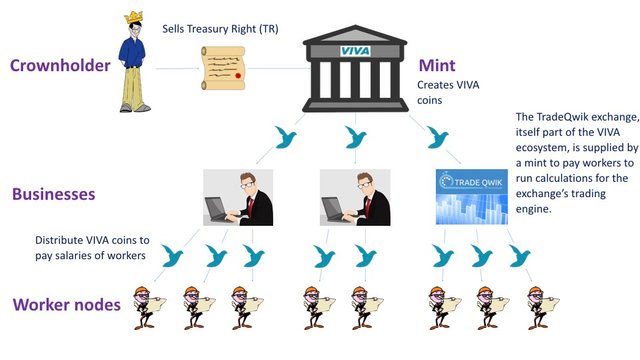 A mint can do any businesses activity except minting VIVA Coins to sell on the open market. By having funds first flow through a business activity it helps to  put a breaking pressure on supply growth and thus increases the value  and utility of each coin minted. In the VIVA world we do not mine coins, we mint them. Our VIVA Crown  holders hold the key to exclusively mint new VIVA coins into the market.  The supply is set by Crownholders every 90 days and is a mechanism to  keep the price of VIVA Coin orbiting around a price target. Currently  this target is $5.50 +-10%. Crown holders who do not operate a mint can  sell their quarterly Treasury Rights to other mints who need them to  cover their operational expenses. 
VIVA Crowns and ICO details
VIVA Crowns are the drivers of our economy. VIVA Crowns are extremely  rare. There will only be a total of 10500 Crowns available with the  ICO, with only one Crown discoverable per week after that. No more than  42,000 Crowns will ever be issued. To date, 4000 have been issued to  early investors and developers; 6500 new Crowns will be offered during  our ICO beginning May 1st, 9am PST. The ICO will conclude on May 21 at  11:59 PST or when all Crowns are sold. Crowns will begin at a price of  200 VIVA, with prices increasing by 1 VIVA for each subsequent Crown. 
Building upon our growing ecosystem we are launching several projects powered by the VIVA Network: 
TradeQwik is our crypto/fiat exchange and gateway to being a VIVA Crown owner;
MedicAxess for streamlined, centrally located medical records;
Cashola, a global peer-to-peer payment system using SMS technology;
POETS (Proof of Educational Transcript Service), an application for higher education through open courseware initiatives,
and Votabit, our solution for global election fraud through open source voting systems. An overarching goal of this project is that participating worker  nodes have the potential to earn a living income with just a  backgrounded application running on their computer.  
Powered by the VIVA Network.
TradeQwik is the crypto/fiat exchange and the primary gateway in and out  of the VIVAconomy. As the first operating mint on the evolving VIVA  Network, it is currently live, in beta, and you can sign up at www.TradeQwik.com  . As Team VIVA prepares for our debut and ICO on May 1st, TradeQwik is  polishing the platform which will serve as the staging ground for the  VIVA ICO. 
The TradeQwik exchange is the official wallet of both VIVA  Crowns and VIVA Coins. Post-ICO the developers of the VIVA Network will  be releasing individualized VIVA wallets in several languages including  Spanish, German, and Russian. All transactions on TradeQwik are done using the network's token VIVA  Coin. Current exchange pairs being offered for trading are Bitcoin,  Litecoin, Ethereum, Steem, Dash, Golos, XAU/GBG (mg. gold), USD and MXN.  By the time of the ICO, TradeQwik plans to have all of the top ten  marketcap coins listed on the exchange for seamless trading into and out  of VIVA.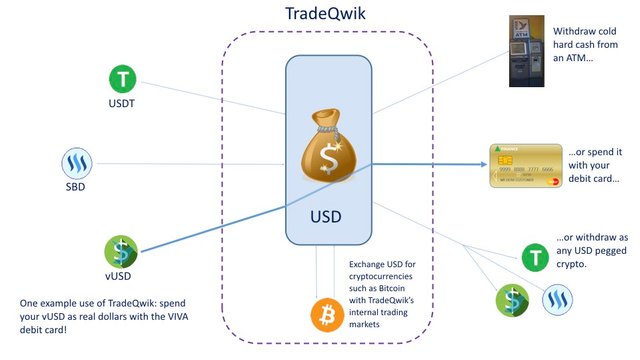 Cashola is a peer to peer payment system that utilizes SMS  text messaging instead of apps. With funding from the ICO, we will be  getting money transfer licenses in place allowing our Network to take a  slice of the trillion dollar remittance industry without over  complicating it for new users. This solution is based on the fact that  many people throughout the world do not have smart phones or reliable  internet but they do have cellular service. 
MedicAxess is an application that will be a game changer in  the medical industry. Our initiative is to have all medical records tied  to the individual rather than scattered between medical clinics,  hospitals, labs, and care providers. Individuals will be empowered to  control who has access to their records when they seek medical care. The  unique thing about MedicAxess is that all medical providers will be  allowed to store medical records safely on the network for free. There  is a small fee charged when retrieving records and this fee must be paid  in VIVA, thereby setting up a way for people to offset their medical  bills with VIVA earned by donating their computing resources to help  others. 
POETS, an acronym for Proof of Educational Transcript System,  is an exciting application for higher education. What differentiates  POETS from other proposed blockchain-backed open course-ware initiatives  is that all courses will be from accredited institutions. A condition  of institutional participation requires that credits be considered  fungible between participating institutions. In short this means that  students are allowed to cherry pick courses and instructors from a  myriad of institutions taking only the very best, and most rigorous  courses, then banking these credits over a lifetime. The student may  "cash them in" when they feel they are degree ready and the issuing  institution agrees. This is a sea change in the way education is handled at the student  level. Students become life-long learners and demonstrate this  competency with a full transcript which is as mobile and fluid as the  individual. 
Votabit is our solution to global election fraud and a move to  more direct democracy throughout the world. Votabit will first be a  platform where citizens store their electronic digital signatures for  occasions which call for signing local referendums, recalling elected  officials not doing their job, and direct impact on the policies shaping  their communities. Plans also include offering open source voting  systems that will be sold to states and government actors moving to  provide time-stamped, secure, transparent elections backed by blockchain  technology. These projects are just the tip of the iceberg that are road-mapped  for just FY1. We have more in the works and just want to show you a few  of the cards we're holding right now. 
In conclusion
The VIVA project is building an entire ecosystem which encourages  the general public to participate. You can sign up for updates and  download our whitepaper at http://go.vivaco.in If you have further questions or want to speak with our development team, join our chat channel at https://chat.vivaco.in 
See who is the team behind VIVA https://steemit.com/viva/@chrisaiki/who-is-the-team-behind-vivacoin
1 Game of Chains by William Banks https://steemit.com/vivacoin/@williambanks/introduction-to-viva-part-6-a-game-of-chains 
2 Hyper ledger  https://www.hyperledger.org
https://steemit.com/viva/@chrisaiki/who-is-the-team-behind-vivacoin