I am a huge fan of airdrops; airdrops or airgrabs are free money openly given to the public to claim for doing simple tasks by an upcoming project that may or may not succeed or by an existing platform to strengthen or market the potentials of their token/project.
Two weeks ago I was introduced to vite airdrop by my very good friend @amec - we call him the vite master or the vite economy maximalist. He was kind enough to make intelligible things I should know about the platform and why I should seize the opportunity of their ongoing airdrop that has little task attached to their project, the only task that may be strenuous to the public is to have a memory that's not retentive to open the app daily and click "pick up" / or refer people.
Moving on,.
I would like share the awareness to all my awesome friends who take their time to check my blog and read my contents. This is as easy as abc or 1-2-3. Below are the steps you need in claiming vite.
" Vite Airdrop
Download Vite wallet from here -
https://bit.ly/2ZXIYXC
Register for a wallet
switch to 12 keyword phrase and save the words
Goto the last tab at the bottom and click invite....
kindly insert my code. 1cw1bQkN to get 10 vite
Go the the 3rd tab at the bottom and wait for exactly 1hr 10mins[you can exit the app]
Click on "pick up now" at the middle of the screen to claim ur free Vite after waiting for 1 hour
You can claim again after every 24 hours" — steps forwarded to me in DM by @amec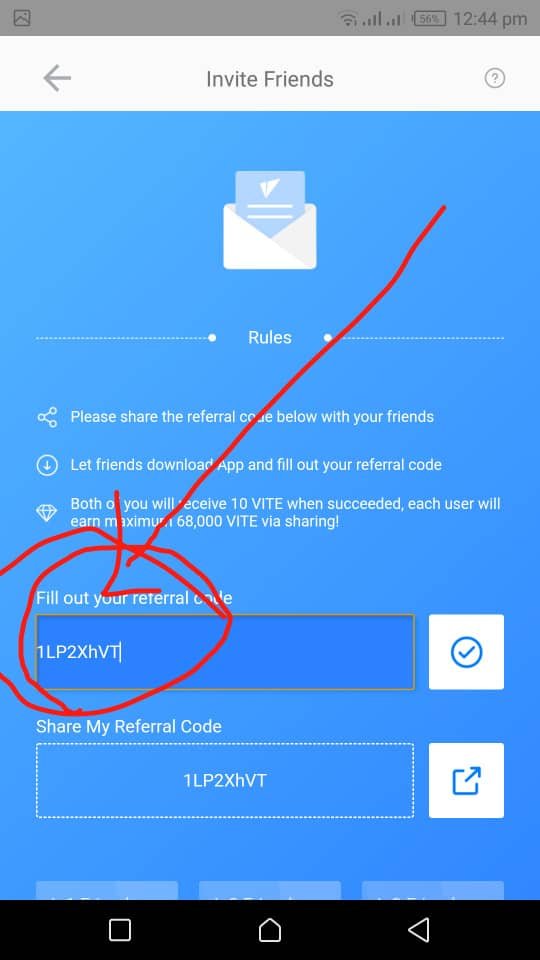 There's no harm in doing this airdrop, the price is little, true! but hey, it's free money and that's half a steem or ten to twenty wls value a day for claim. What are you waiting for? Claim vite today!
---
(image source: culled from my whatsapp status - courtesy vite blockchain - screenshot of the vite app and CMC website)