How NOT to use voting bots
If you've followed some of my posts then it's not a secret that I've been using voting bots to promote my work.
I know that some people don't like it because they think that's unfair to those really great articles that get posted every day and receive no attention (and no rewards). And I understand that there are some abusers to this system that publish spam posts, a simple picture with no text o a two lines paragraph over and over again and pay the bots to get paid. That is something I don't want tosee either.
But I think that anyone who puts the effort to publish something that it's worth at least a few minutes of your/my attention, who reads the news, who makes questions, who tries to help us clear any doubts about this platform or any other, has all the right to promote his/her posts to get them to be seen for as many people as it's possible.
Every product in this world, no matter how good it is, has to make an effort in trying to find it's market. Voting bots are just one way to do it.
And then, if this is the way you're going to use to promote your posts you should know that it can be really effective... if donde the right way. Otherwise you might be just burning money.
First of all you must make an effort in posting something that is worthwhile. Something that might appeal to someone with an interest in a particular subject or to a wide audience, it doesn't matter. Wasting somebody else's time, no matter how much you invest into promote it, it will eventually get you flagged and lose all your rewards. Just don't.
After making sure that you (in all honesty) have something to share with the rest of this community and post it, It comes the time to use the bots to promote it. You can use https://steembottracker.com/ for that.
And here comes the tricky part.
I've noticed that many people seem to be using it but have no clue of how this works. You should know that bots are classified in three different groups:
Bid-based voting bots
Promotion services
Other bots
For promotion services and other bots, you simply are shown the information of how much SBD is their vote value, how much is the minimum accepted payment and a little description of how their services work.
For the bid-based bots, you will be shown this screen: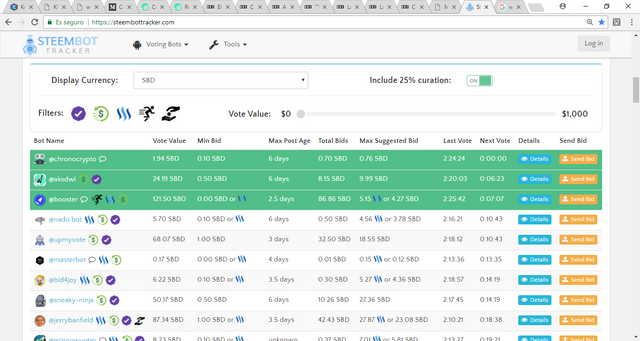 You should acknowledge that although you are doing this to promote your post, you want to receive enough rewards to at least recover what you've invested so that once you claim your rewards you can promote your new posts the same way you did before.
To do that you must consider that up to 25% of your rewards (the amount shown at the bottom of every post you make, right beside the number of upvotes received) will be given to curators, not to you. So whenever you see the vote value on the details window, you must take 25% off of that. Then, you should know that you will be getting only half of that SBD payment and the rest will be given to you in STEEM power (not 1:1, more like 1 SBD: 0.25 STEEM power), so you'll end up receiving less than half of the value shown at the bottom of your post.
Now considering this, you must watch for "Total Bids" on the bid-based bots screen and send your bids only to those bots in which "Total Bids" (including YOUR bid) is less than half of "Vote Value", so you don't end up like this: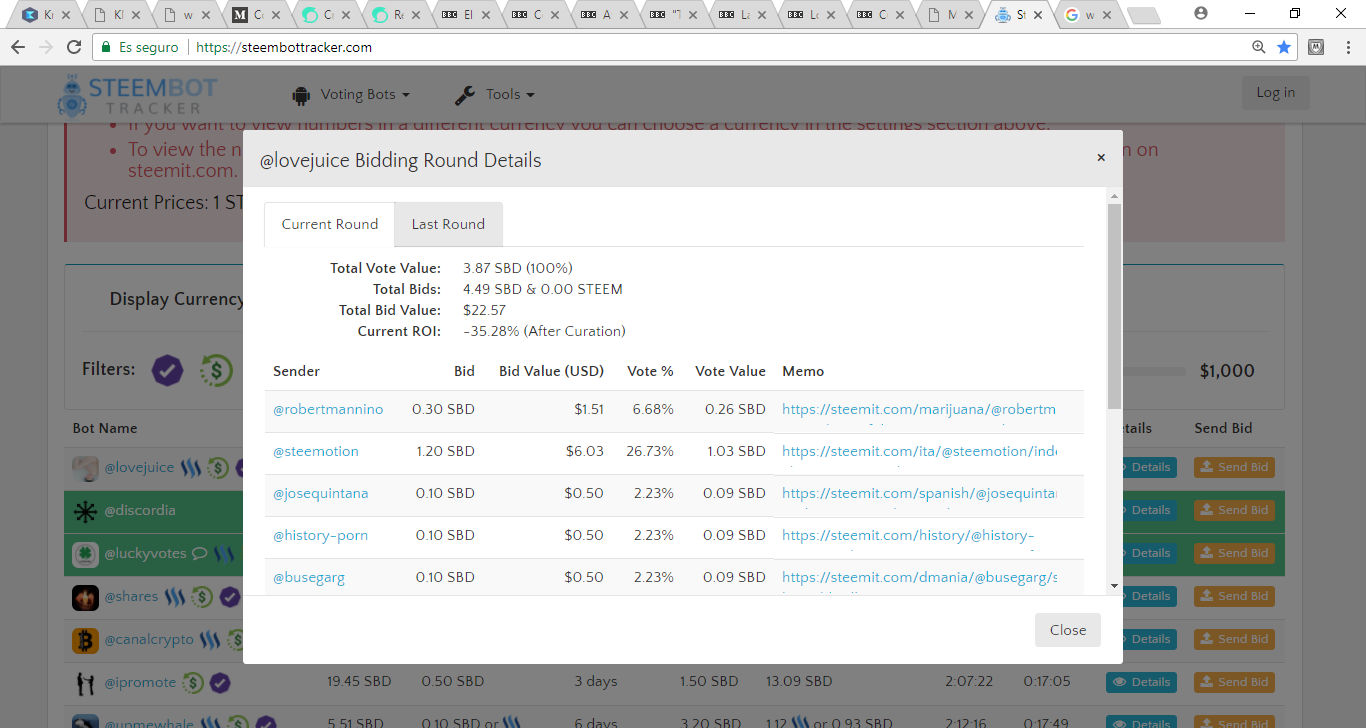 Receiving votes that are worth less than your investment.
This way you won't make yourself and other previous bidders lose money.
Good luck steemers