Hi, I've just invested in a new portable recording device for my Vlog/travel/out of the studio video setup and I thought I'd share this with you in case you wish to get something similar.
This is basically what I'm going to be using to record video and audio when I'm away from home and the studio from now on.
The reason I built this video and audio setup is to allow me to film high-quality audio and video on the go!
I create a lot of tutorials and voiceovers as well as videos, so I thought what can I get that has good video but more importantly sounds great and will fit in a small bag and also won't be too hard to assemble quickly.
So this is what I came up with.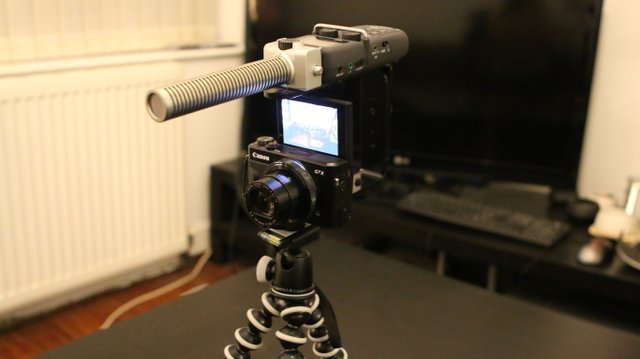 It's my Canon G7x mkII with a Zoom H5 handy recorder with a shotgun capsule attached together with a flash bracket. Then all of this is attached to a Joby SLR tripod with I can either hold out in front of me as a selfie stick or place on a hard surface and use as a tripod
The G7x doesn't allow you to attach external mic so this is my solution.
I will, of course, have to edit and attach the audio to the video later on, but I always do that in post anyways.
My process is to edit the audio in Logic Pro X and then sync this audio with the video in Final Cut Pro X and then edit the video in Final Cut Pro X.
I shot a quick video earlier with this new set up about a new online course that's coming soon.
This video was shot without any decent lighting or script, I really just wanted to test out my new setup and see and hear what it was like.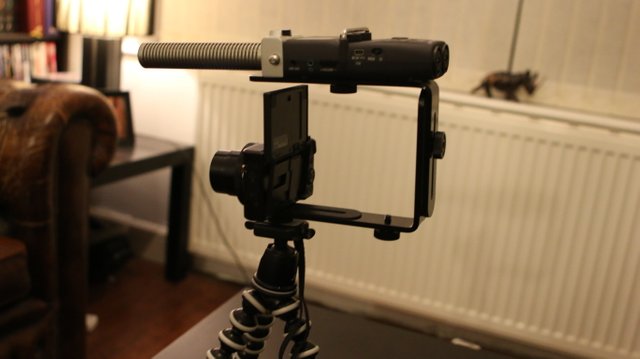 Here's another shot of this new setup. I think this is the solution to providing high-quality audio for my videos on the go without the wires!
(The Zoom H5 also has a mic in for wired lavalier mics just in case I want a lav mic)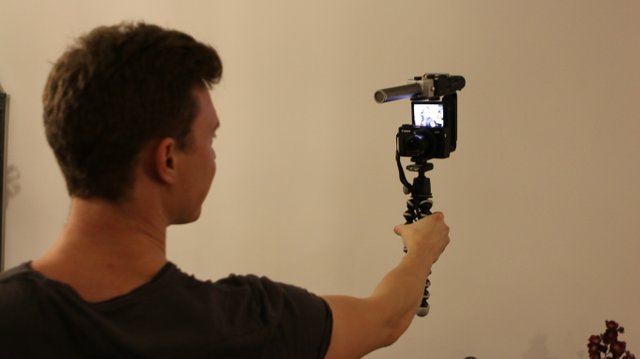 My friend Mike @wphelpandfix testing out the new setup.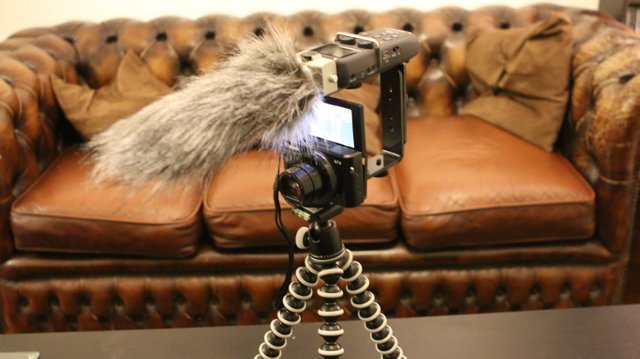 I also have a deadcat or windshield incase I record outside and there's a bit of wind noise. This fury sleeve that goes over the microphone and this conveniently doesn't show up on the video.
I wil also be adding Flash Hot Shoe adapters so I can quickly take off the camera. This will allow me to quickly change the battery and memory card with these brackets screw clips.
Below are links to the exact equipment that I used in case you want to get any of the same gear as me!
Canon PowerShot G7 X Mark II
http://amzn.to/2BbjmK8
JOBY GorillaPod SLR Zoom
http://amzn.to/2oTBDK2
Zoom H5 Handy Recorder
http://amzn.to/2CNBA4F
Zoom SGH-6 Shotgun Microphone Capsule with Deadcat Windshield
http://amzn.to/2DdWZVE
Ex-Pro Double L-shaped Bracket Holder Mount for Camera & Speedlite Flash
http://amzn.to/2BG5t7A
SanDisk Extreme 32 GB 45 MB/S
http://amzn.to/2Dg1LSp
Hot Shoe Mount Adapter Screw
http://amzn.to/2kOqJRo
Hot Shoe Mount Adapter Bracket
http://amzn.to/2BKfqnN
Thank you for reading this and let me know your feedback by commenting below.
Cheers,
Tomas.