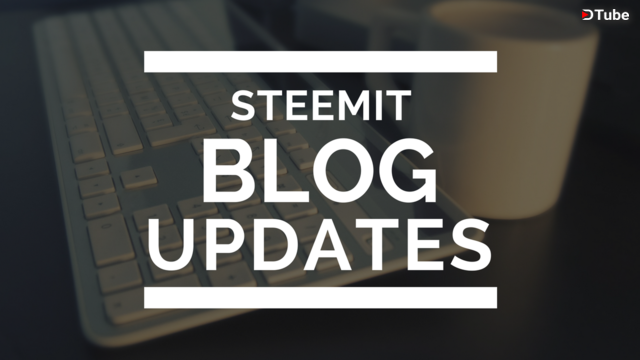 The Future Of My Content
I chose to expand my content creation past just written post form. In the very beginning of my Steem journey, I did not like how apps built on top of the Steem blockchain made my Steemit profile page look so I ignored them.
But no longer!
If you are someone who is picky about seeing several posts per day by a single user I am very sorry. I am moving off of tradition social media and placing my creation efforts 90-ish percent on this Steem account. I say 90 because I won't use this account for short-form content such as @zappl and @steepshot.
I have a new account for this type of material under the name @swab. It is on this new account that you will find photos I take to replace the crapshoot that is Instagram via @steepshot, Twitter-style "micro-blogging" via @zappl, and any other apps that fit the short-form creation that come along.
The bulk of my content on this account (@jrswab) will move to video format via @dtube starting today. While this means less one thousand word blog posts each week, it does mean more variety for everyone who follows my primary account. On this account, there will still only be one post per day to keep everything organized (bellow is the schedule).
So that means instead of a 100% written tech post on Mondays you will get a ten-minute video on a topic with less text. (This also goes for the Tuesday blog help posts.) It may or may not stay this way indefinitely, but I feel giving a video along with a 500 or so blog post allows all of you to consume the content in whatever way is best for you.
Why Do This?
I chose to do this because I believe that the Steem blockchain is undervalued and underutilized. I want to use the services that so many great developers have made for us to use. With each passing month, these third-party steem based apps get better and better.
Now is the time to dig in and make a name for ourselves on these new, decentralized platforms that pay us for the hard work we do. Someday soon the floodgates will open, and the masses will flow into our favorite system. It's at that time I feel anyone that puts in the work will win in one app or another.
Schedule Moving Forward:
| Day | Topic | App Used |
| --- | --- | --- |
| Monday | Technology Video Post | @dtube |
| Tuesday | Blog Help Video Post | @dtube |
| Wednesday | Live Stream Replay | @dlive |
| Thursday | Level Up Your Blog Podcast | @dsound |
| Friday | MSP Science & Technology Curation Post | @busy |
| Saturday | Poetry (as I have them to share) | @busy |
| Sunday | Witness Updates (as there are changes) | @busy |
My new account (@swab) will not have a schedule and will be a spur of the moment kind of deal.
Thank You
A big thank you to everyone who listened to me about this and gave valuable feedback. It is all of you that make this platform tremendous, and I am honored to call you my friends. Even if we never meet in person, you had a profound impact on my creations, and I will always do my best to give back to the communities that support my witness and me.
All images came from royalty and attribution free sources unless specified.
---
▶️ DTube
▶️ IPFS
---
Looking to take your Steem based creations to the next level?
Join us over at the Creators' Guild Discord group! We are here to encourage, support and increase the creation of quality content.
---
If you have any questions about the future of Steem
or my witness, please feel free to message jrswab#3134 on Discord.

Click here to vote with SteemConnect!
Or go to https://steemit.com/~witnesses
You can see all active witnesses on @drakos' steemian.info
---
Click here to join the mailing list and get exclusive SDB/STEEM giveaways!
Looking to support my content creation efforts outside of the Steem Blockchain?
Check out jrswab.com/support
---
Keybase | Twitter | Twitch | Instagram | Gab | Minds | Anchor