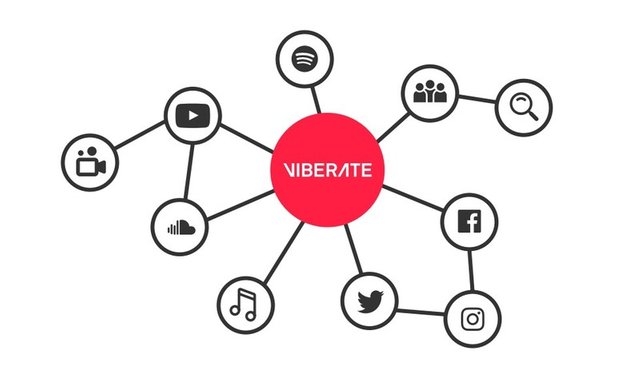 Viberate is a crowdsourced, blockchain-based, live music platform helping to match musicians with event organizers. Startup have data base listing with over 120 thousand musicians profiles and option for anybody to create one. Artists gone be able to quickly create events, negotiate deals and book geeks directly through the Viberate platform. There's also a lot of build-in tools for artists that can help them reach their career goals, advanced statistics and uploading features are only some of them.
How Viberate Platform want attract new users?
For internet users who are looking for something new in the music world 120K new musicians profiles on Viberate should do the trick. What about others? Creators say that they already attract some world-known artists and list gone get longer with time.
How users gone earn VIBE tokens?
There gone be three different ways for users to earn new VIB tokens:
Artists Rewards - artists gone get paid every time their content gone be viewed, downloaded or viewed. Platform claims to have reward system that gone make musicians switch to their platform because of better potential profits, but it's very hard to say how much money every view gone generate.

Content Contribution - users can be awarded with new Vibe Tokens each time they curate information on other profiles, write articles, comments or add any other content on to the platform.

Viberate Referral Program - users can join invite-a-friend program which is essentially affiliate program where you will be awarded VIB tokens for every person that register via your referral link.

Promoting Viberate Service - users who add social media posts,create mentions on blogs and forums or publishing any other kind of promotional material with tracking codes will also be awarded with VIB tokens.
Viberate is already up and running BETA platform
Beta version of Viberate platform is open to public, anybody can try it out before upcoming crowdsale. It's very important from the investors point of view - first version and running proof of concept can drive more investment.
Viberate BETA: https://www.viberate.com/
Viberate ICO
Viberate ICO of VIB starts on 5th Sep 2017 with preset closing date on 4th Oct 2017.
Platform: Ethereum
Total Supply: 200,000,000
Viberate ICO Website: https://www.viberate.io/en
Viberate PDF Whitepaper: https://www.viberate.io/pdf/Viberate.io_Whitepaper.pdf
----------
If you would like more news about upcoming ICOs please upvote this post.
Big THANK YOU for your support of @RocketMining
Website: http://rocketmining.ltd