PEOPLE HAVE ALREADY BOOKED THEIR HOTELS for the PROMO-UK Meetup BIRMINGHAM I THINK ITS THE 150 POUNDS behind the bar that lured them!!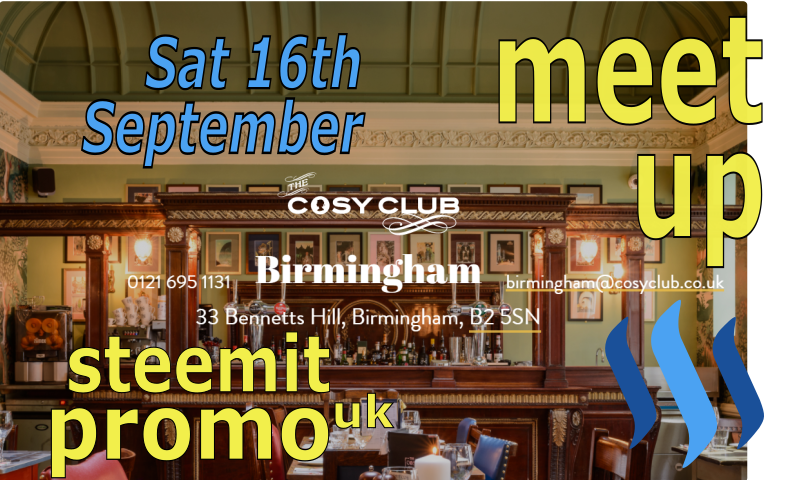 It's a fairly casual event designed to get steemians from across the country together with a bit of fun and a slick event arrangement plus a chance to meet some of the promo-UK Steemit team!
Location of meet up: THE COSY CLUB
Date: SATURDAY 16-SEPT-2017
Time: 19.00
Events:
Free T-shirt on arrival
150GBP behind the bar for the group to enjoy
STEEMIT Laser Projection
Live music by @brahmusic
on to a club (for the dirty stop outs!)
Casual meal (to be paid by you)
Drinks (to be paid by you)
Schedule:
19.00 - MEET UP @ Cosy Club, one of Birmingham's most quirky & lively bars
20.00 - Move to THE CROWN on Corporation Street for some pub grub and meet the team - we have booked a cool corner of the bar with a pool table!
21.30 - Brandon Hill @branhmusic to play his awesome live set
23.00 - On to a club in central Birmingham for those who want to make a full night of it!
19.00 hrs Cosy Club - MEETUP
Meet with new steemians from all over the UK and Birmingham, meet the Promo-uk team and other steemit enthusiasts at Cosy Club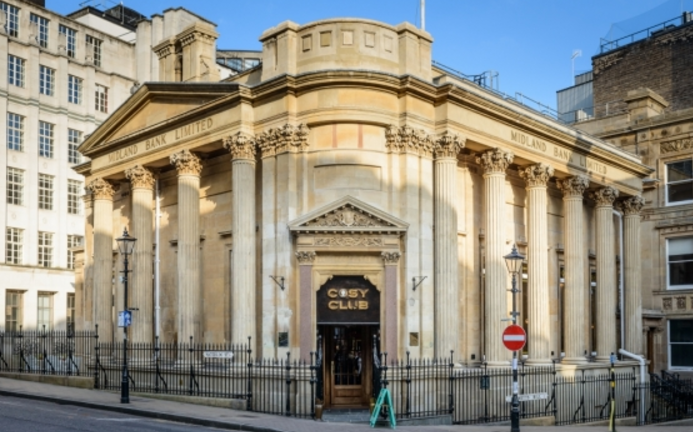 http://cosyclub.co.uk/clubs/birmingham/
Location
20.00 hrs THE CROWN on Corporation Street
Off we go for some food, drinks, pool and live music from the excellent @branhmisuc Brandon Hill along with 150 BEHIND THE BAR FROM the PROMO UK TEAM!! for all to enjoy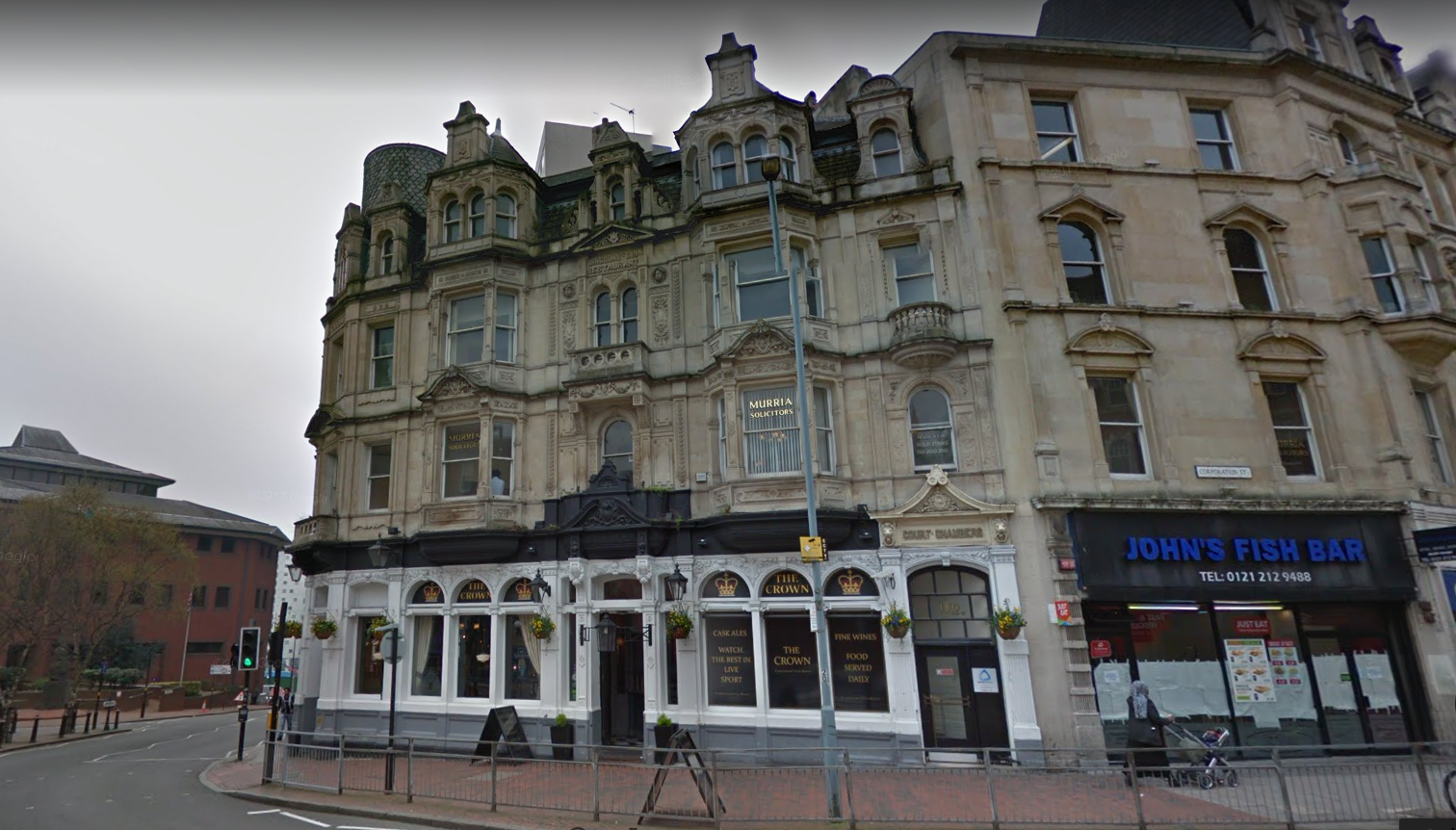 21.30 hrs Live Music on the Night from @branhmusic
Check out Brandon's latest open mic set on Steemit! Great stuff Brandon:
https://steemit.com/openmic/@branhmusic/steemit-open-mic-week-42-original
23.00 PARTY IN DA CLUB!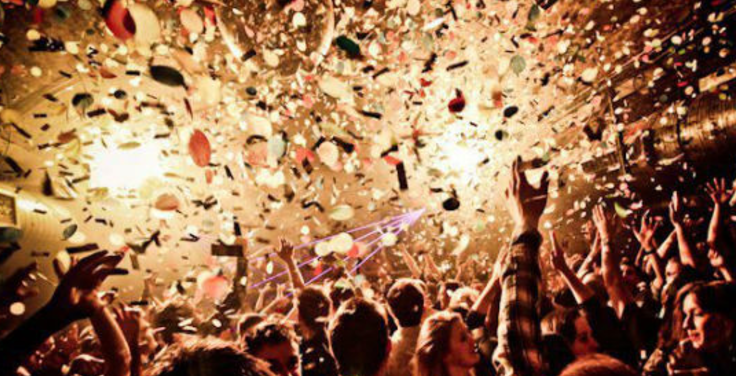 Secret location await more details!!
Nearby Hotel's
IBIS Styles Birmingham City Centre
Premier Inn Birmingham City Centre (Waterloo Street) hotel
SHOUT OUTS TO:
The @promo-uk team for helping to make this all happen!
Stephen @stephenkendal Matt @Starkerz, Dylan @Anarcotech, Curtis @Crypto-Curt, Steve @TecAV, Karl @McKenzie259, Kiran @TheMeanBean, Zoltan @zoltanbristol, Jonathan @JonathanYoung, Adam @Adamm, Richard @MajorLeeBlunt and @Rea @ashleypeat
A shout out to all my local steemians near and far who might be interested in doing this or an event like this!
@honeybee11 @joannaaxinte @jonathanyoung @sarahstarkey @tarasweeney @Opheliafu @cryptofunk @calliestarkey @jjdphotography @mrmatt83 @dpetrov79bg @nantchev @alin-pascalau @branhmusic
Users from Birmingham....
@azeem098, @barrygoldwon, @branhmusic, @brianhphotos, @brianp, @coral8, @deanbratt, @elpablito, @eternalpanda, @geoffpenstone, @hayl3y, @hazey, @hxzeleyes, @iansart, @joannaaxinte, @knight-angel, @looking4llamas, @lozziy, @mbady, @mickgrand, @microsomes, @nikudutta, @pkrishna, @rabiarashid, @rocketmining, @shaf1991, @takmickeymouse, @the3metrewrap, @tokenlot, @tykealmighty, @wheeliekids, @hxzeleyes, @mickgrand, @eternalpanda, @azeem098, @rocketmining
Users from Wolverhampton....
@alin-pascalau, @dpetrov79bg, @jjdphotography, @mrmatt83, @nantchev, @stumpy52
Users from The Midlands....
@akhtar786, @bencolley, @dickturpin, @invwatchuk, @maldavies, @medicopartners, @mrmatt83, @msgrey, @pcmcreative, @sammywright, @steemitwrite, @tannyblue, @tanyasings, @willmoriarty, @zimi
Small selection of Users from the U.K....
@adrianasteems, @alanquinton, @andrei, @andyhenry, @artila, @ashishbhatia, @attalis, @beautifulbullies, @bobskibob, @botty, @calum, @carface, @catonwheels, @christoff5221, @cm-steem, @corvo, @cryptosi, @davidalexander, @diginet, @diracdnb, @dogfried, @dopecoinseeds, @dr00min, @dr0tcl, @dune69, @eco-alex, @fairz, @franks, @geordiesilver, @gportman, @grizgal, @guk, @hannahyoga, @harrietbradley, @hopehuggs, @iamgreta, @ianstrat, @imineblocks, @jawaida, @jmehta, @jonboka, @joshoeah, @karenb54, @lethos, @lexicon, @lifefrommyeyes, @livinguktaiwan, @lobbylux, @louisthomas, @marcusorlyius, @mckenzie259, @minteh, @mlcuk, @movievertigo, @mrmerrington, @nickdavison, @okja, @olayar, @opheliafu, @paniopan, @perceptualflaws, @phoenixisis, @pinky-jangra, @ps9864, @pulsar, @ralph.clayton, @redrica, @rhino, @robertbentley, @ryanwdaviessteem, @scotty2729, @septimusmaximus, @shanzaylizay, @shifty0g, @sienation, @skiveuss, @smarch, @spicetrader, @stillsafe, @sunnyr18, @tecav, @theadmiral0, @thebookdevourer, @thecryptofiend, @thecynic, @themeanbean, @the-sassy-owl, @todaysrant2017, @twinkledrop, @tylergreen, @veganic, @versonika, @walktothewater, @warrenvee, @webdeals, @whobetterthanish, @williams858, @willstephens, @yummymummy, @yuxi
Looking forward to meeting you all there on Saturday 16th Sept!
PLEASE RESTEEM and SHARE WITH YOUR FRIENDS THIS WILL BE A GREAT EVENT!
Please support the #promo-steem and #promo-uk tags to support great steemit promotional work!
Best