I finally got to meet up with someone from Steemit, he is a veteran, as am I a veteran. That as icing on the cake. We first started talking to each other through the Military Veterans of Steemit on discord, @derangedvisions was on a trip covering the reenactments and places of the Civil War. He was headed to Andersonville Georgia, where a Civil War prison was and also the cemetery. We were talking on discord and he told me he would be there and since I am only about an hour away I wanted to meet up and talk and also shoot some photos. I also wanted to get some pointers on photography too, he is pretty good at it and you know that if you have seen his post.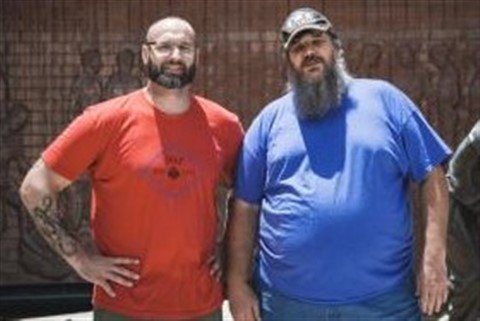 I am in high hopes of being able to meet some more of my friends from Steemit in the future. I will say this will be the first of many if it is at all possible. I shot some photos so here are some of the ones that I shot that day.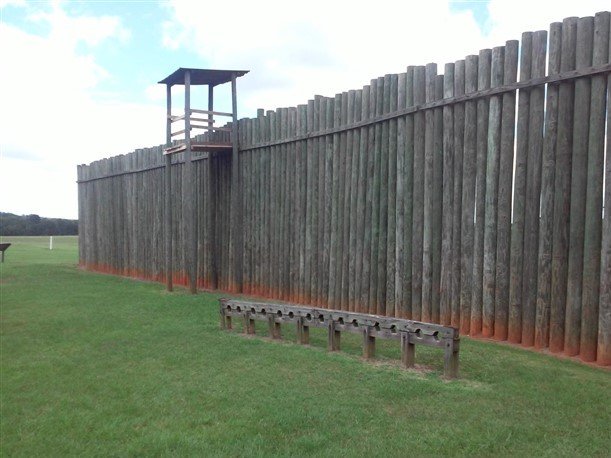 These are pine logs that are 20 foot long and placed five foot in the ground to make the wall around the prison. In the front is some stocks where I assume they locked up prisoners by the ankles so they would not run away. The little hut on top of the wall was called a pigeon nest and that is where the guards were stationed to watch the prisoners. This prison was officially known as Camp Sumter.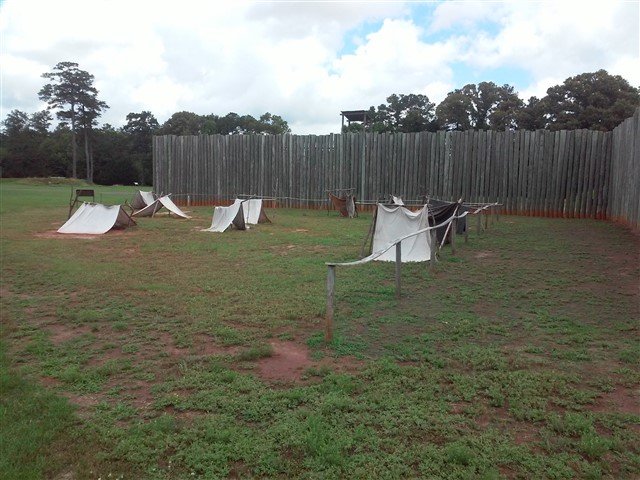 This is how it was inside of the walls. They used limbs and blankets to make a makeshift shelter to sleep under. The rails running along side the wall was called a "deadline" and was 19 feet away from the wall. That was the zone where you did not want to go into, for obvious reasons it is named the deadline.
I took several pictures of the monuments on the property and there are several cannons there and emplacements so there was some protection from the northern army trying to take the prisoners.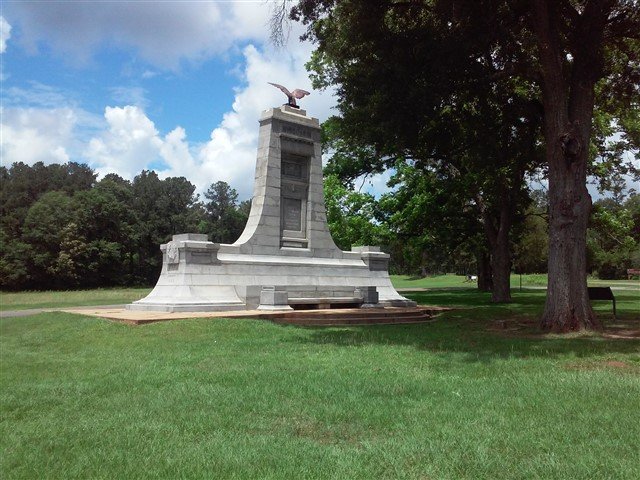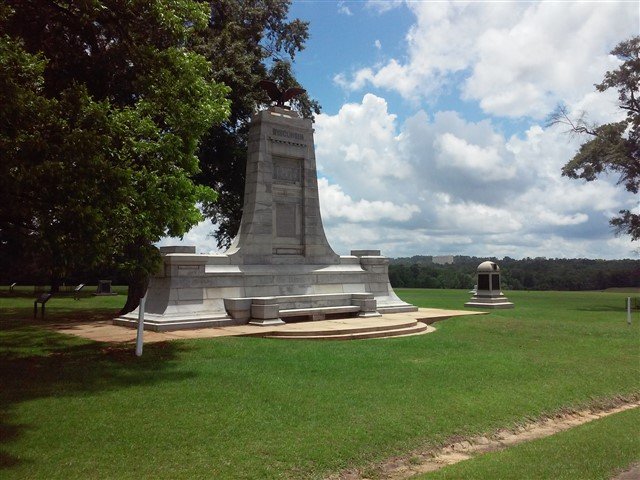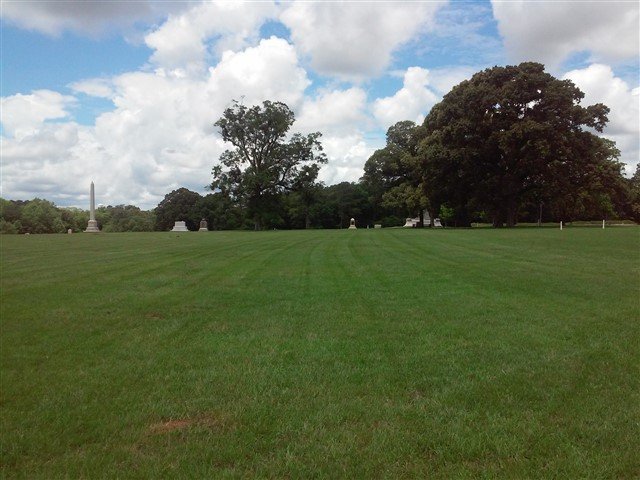 It is all green grass now where the prison enclosed so many soldiers and where so many of those soldiers died from lack of good water to drink and food to eat. It is a beautiful area now but remembering what so many Americans went through on these grounds is mind-blowing.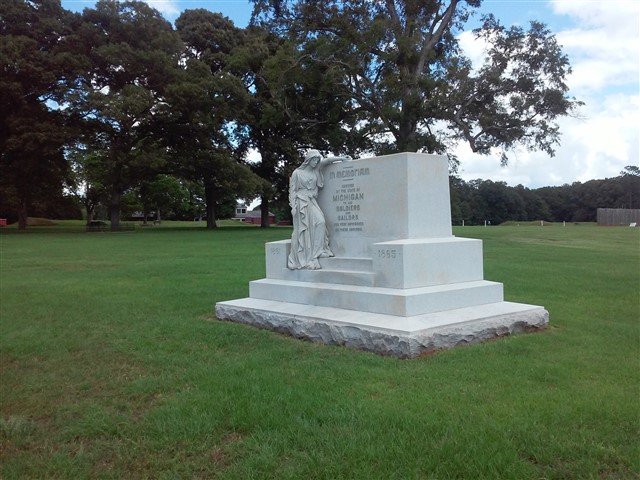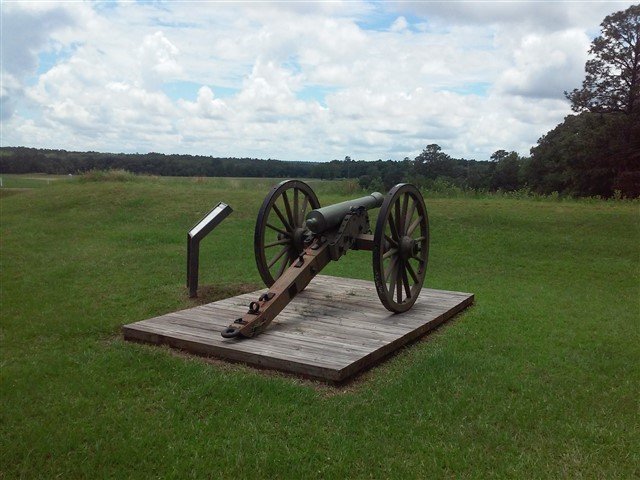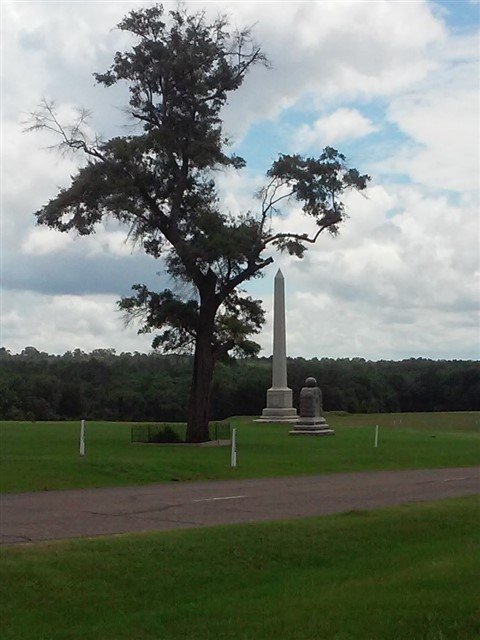 We were walking and talking and @derangedvisions told me that sometimes a picture in portrait is much better than landscape. I thought that if I did this with my smartphone it would have the two black bars running down each side of it. I tried it and this is what it turned out like, no black bars, I was glad I tried it and the picture, I think. turned out really good. Thanks, @derangedvisions I learned something that day. Be sure to go and check out his blog and see some great photos and some great videos that @derangedvisions shoots.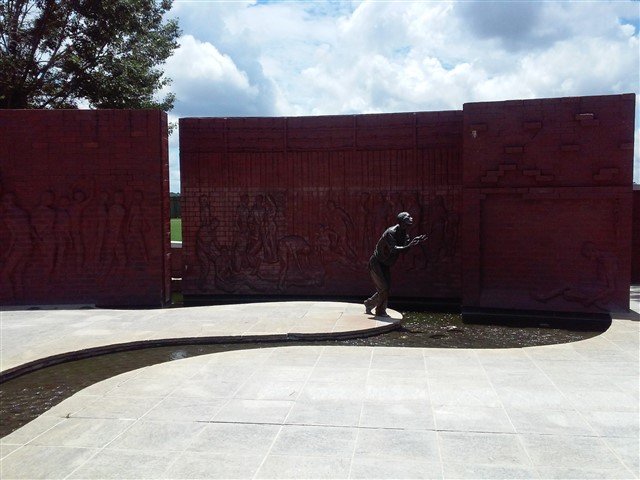 The Civil War was a terrible time in our history of America and I think that all the reenactments and all the national parks on the land that the great battles of the Civil War was fought on and the land all the Civil War prisons are on are a reminder to all us, in my opinion, is do not let history repeat itself as we need to be a nation that stands as, one nation, indivisible, with liberty and justice for all.
Thanks for reading and I hope all of you have a great night/day, whatever it is in your neck of the woods.

Please Do Not Forget To Follow, Upvote And Resteem!

Please Help Support Our Veterans
Delegate To The "Humvee" Bot @shadow3scalpel