View this post on Hive: "Elite Worm Breeding" an online course by Larry J. Shier
---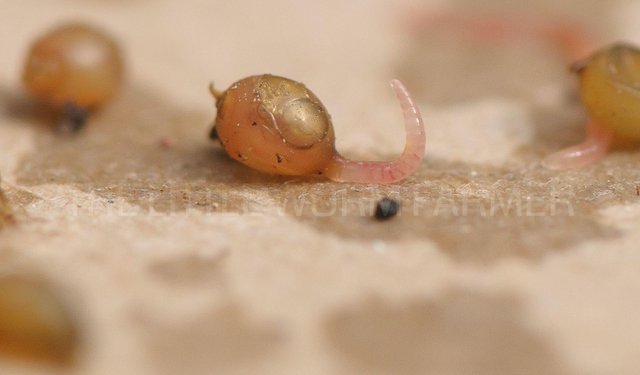 I have met Larry several years ago when I started vermicomposting and joined several Facebook groups on the topic. Larry was one of the admins of many of those groups and was a well respected, not because he is a group admin but because of his wealth of knowledge. If he gives you an information, you can be sure it was supported by scientific evidence or that he has experienced it and confirmed it himself. For many of us, Larry has coached/helped us in our vermicomposting journey.
Larry has written several eBooks and has recently released an online course teaching you a professional technique to breeding large amount of worms. Here are some reasons someone might want to breed a large amount of worms:
you want to sell worms (bait, composting etc...)
you want to sell worm cocoons
you want to setup a large scale vermicomposting system and want to increase your worm population as fast as possible
---
I just finished flying over the course and did a quick summary of each lesson that composes it.

Introduction
The claim that you double worm population every 90 days is false, from statsm you can potentially get 24 per week, that is 155 times in 90 days.
The goal is to aim at getting as close to that number as possible.
Items You'll Need To Start
Larry lists things that you need in order to start using his breeding method. Amongst other items, you will need a minimum of 37 bins, one to use as a breeding box and the 36 remaining as grow out boxes.
Selecting Bins
In this section, Larry gives recommendation on the choice of bins in order to optimise the use of space when you need to store many of them.
Preparing Bedding For Breeder Worms
Like many other sections of the course, this one is accompanied by some videos showing the bedding preparation.
Proper Worm Densities
Getting the proper worm density is important as to optimise reproduction. Larry, shows you the way to calculate the numbers.
Identifying and selecting mature adult breeders.
If you don't know how to tell the difference between juvenile and mature worms, this is what you need to read.
Adding worms to the breeding bins
It's time to add the worms to their love bed(ding).
Feeding worms for breeding
From my own experiments few years ago, I realised that some types of food promote reproduction more than others. So the choice of food is important if your objective is to increase the worm population.
Bedding covers
What beddings are for and why you need them using this breeding technique
Record keeping -Tracking your bins
How are you going to measure success or detect issues? Record keeping will help you with that. Larry shares his own method which can be modified or replace with your own.
Retrieval of adults and resetting breeder bins
When it's time, you will need to separate breeder worms from their cocoons and start the process again.
Estimating cocoon counts
Are you going to count all of the your worm cocoons? I did for my European Nightcrawler breeding experiment, I can tell you that it's not a fun and long process. This estimation process is easy and sufficient for the purpose of breeding worms.
Grow out trays
Short section about the grow out trays.
Hatching cocoons
Getting the cocoons to hatch and getting the babies bigger
Why selling cocoons might suit you better than selling worms.
Did you know that you can sell cocoons instead of worms? See why it can benefit you.
Added notes on African nightcrawler breeding.
How can you apply this method to ANCs.
---

Breeding worms for selling the vermicompost and breeding worms for selling the actual worms or cocoons are two different methods. One will promote the production of a large amount and quality compost while the other promotes a large a mount of cocoons and worms.
This course is compacted to the most critical information you need to succeed in breeding a large a mount of worms. It does not drown you in mountains of information to decipher. I like the fact that Larry has included some videos, for visual people like me, it helps understand and memorise better. There is a comment section at the bottom of each lesson so if you have any question, Larry will be happy to give you a clear answer.