Economic Crisis - Venezuela Hunger and poverty.
Hello, how are you all? Well, I would like to tell you about who I am, where I live and in what state my situation is, that of the city where I am from, and that of Venezuela. I publish the publication in English so that the international community knows what we are going through here.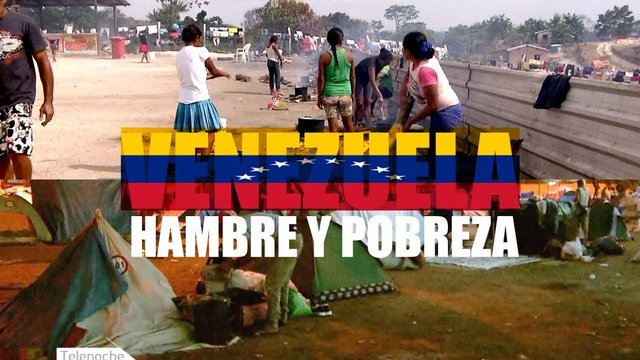 Image source
My name is Marta Sabrina Valles, I am 19 years old and I am a single mother.
Image source
My daughter, is called Grecia Valles, and she is barely one year old, together we have looked for possible ways to keep us, at this moment I only leave greece with my mother, and I start walking the shops and shopping centers of the city looking for employment, but those that are available only give a treatment of work that is not worth it for a person to be able to stay economically.
Image source
We are from Venezuela, to be a little more specific, we are from Sucre State - Cumana City.
Sucre - Cumana, It is a very beautiful city with beautiful cultural sites, very beautiful landscapes and beautiful beaches, with a lot of tourism but little attention, what do I mean with the latest? Well, as you will see in the images, it is beautiful but it is not cared for by those who govern the city or state.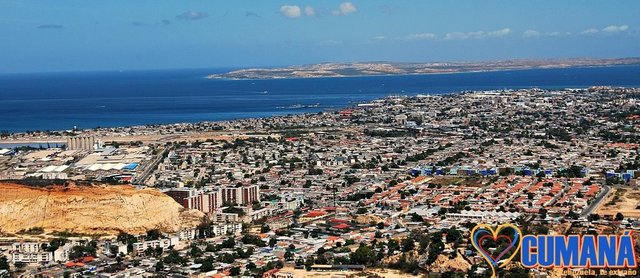 Image source
In the first image, they see how beautiful it can be seen from above, but now see the streets and places what is seen by any person who knows the state.
Source Image 1 - Source image 2
With the garbage thrown by the streets, the electrical problems of the country, the lack of food, the bad way of governing of the revolutionaries, and the lack of medicines and medical products in the hospitals, the situation in Venezuela gets worse day by day and the number of deaths advance even by hours.
The number of diseases and patients increases rapidly, Many people without homes and even without food to live.
Here in Venezuela, I was working in food stores and products, which are owned by Arabs and Turks.
In Venezuela, the most viewed businesses are Arabs, Turks or Chinese and their way of working is treating their workers as employees and as an effort for little money that they pay.
I will explain how a salary would be in Venezuela.
The main currency of Venezuela is the Bolivar Soverano, and the amount of monthly money that a Venezuelan must earn in his work is established by the government.
Established the amount, a Venezuelan must earn 18,000 Bolivares Soberanos Bs Monthly, so they would be 9,000 sovereign Bolivares every 15 days.
The current value of the $ dollar, is 5,000 sovereign Bolivars, and by this I mean that the monthly salary of a Venezuelan is based between 3.5 or $ 4 monthly. Where maybe in another country since I do not know, that's just a simple hour of work.
For people who know the world of cryptocurrencies, a Bitcoin Dollar is worth 4500 sovereign Bolivares, and those who work with currencies such as Steem and Steem Dollars, have a value of
4500 Steem Dollar
2000 Steem.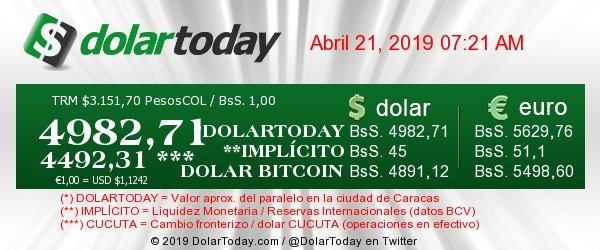 Source Image
My only job at the moment is to publish in steemit, and I thank the people who have given me their support with my art in steemit publications. With the current problems of the country, any help is good and very appreciated by the Venezuelans.
Because I do not have a job I have looked for some financial support but things are very difficult for anyone to help someone, and for the record I do this post in order not only to receive help but for you to give Account that the situation in Venezuela is not easy and is not very beautiful as they do see the media.
I ask for support from those people who may be willing to help, and I want to continue to demonstrate my art to you in the Steemit community.
I hope you can read the publication because it is a bit long, but I hope that you realize how many people suffer and how is the daily life of Venezuelans, Thank you very much.
Source Image 1 - Source image 2
I ask for those who can understand Spanish, or can translate it, please see this video and you tell me what you think about it, Thank you very much.