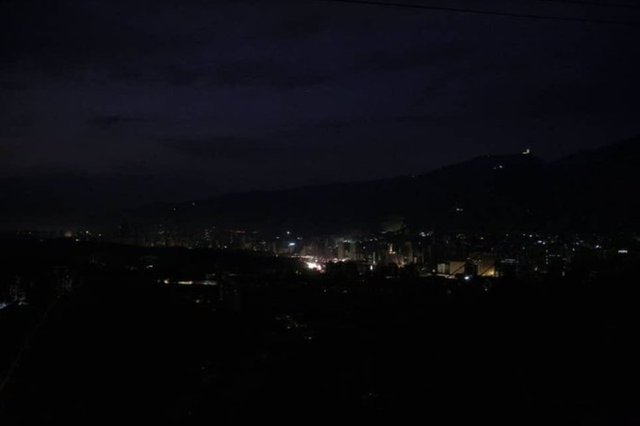 Source
This post won't be long. I will be brief, as I don't know how much time I have to write these lines, while I still have electricity in my house.
Since Thursday, March 7, Venezuela has had the most serious power failure in its entire history, leaving an entire country isolated, people at risk of death in hospitals and clinics, food rotting, medicines requiring refrigeration at risk of being lost, appliances damaged, and the economy paralyzed (most transactions are made through electronic banking, since the denomination of our paper currency has almost no value and, moreover, is difficult to obtain).
We have been living in the 18th century for 3 days.
The narrative of Maduro's dictatorship insists on cataloguing the electrical failure in the Guri hydroelectric plant, which gives energy to almost all of Venezuela, as an "imperialist attack," refusing to assume any kind of responsibility over it, and what is worse, they do not look for any kind of solutions. First they assured that in 3 hours they would have the problem solved. Then they said that the electricity in the east of the country was restored; everything was a lie.
We are on Sunday, March 10, and there are 21 officially reported deaths (murders of the regime) in the different hospitals due to this electrical failure. However, it is presumed that the number is much higher, but it has been impossible to determine due to the lack of communication that we suffer in the nation.
The light comes and goes constantly. When we are left in the shadows, we are totally isolated because the telephone lines stop working, both for local numbers and for cell phones. The radio is almost completely taken over by the officialism, so we cannot even inform ourselves of what is happening in this way. The only thing that is heard on these stations is propaganda for the dictatorship and they feed its narrative, repeating it over and over again. These are hours of seclusion and uncertainty.
I am not a religious person, but I can only pray. For my family, my friends, for my boyfriend with whom I have only been able to speak for 2 brief moments in 3 days. For those who suffer abroad trying to communicate with their loved ones without any success. I pray for mothers who have their children in hospitals and struggle between life and death.
This regime is ruthless and murderous. We live in the darkest hours of Venezuela.
Tomorrow, the interim president Juan Guaidó, who has decided to confront the situation in the face of Maduro's negligence and irresponsibility, will declare a State of National Emergency.
If you want to know what is happening in the country moment by moment, you can go to this page: https://queestapasando.home.blog/ here are hourly reports to inform about the Venezuelan situation.