FinTech on the Block is bringing Fintech leaders together (HSBC, Nasdaq, eToro and others)
FinTech on the Block (FTOB) Conference and TokenExpo is a two-day event that assembles the leading Finance, FinTech and Blockchain players as well as private and institutional investors. We are proud to host Jeff Thomas (Vice President of Nasdaq's Listing Services), Tim Draper (Founder of Draper Associates), Kaushalya Somasundaram (Head of Fintech Partnerships at HSBC), Chris Britt (Co-founder of Chime), Sam Cassatt (Chief Strategy Officer at ConsenSys), Guy Hirsch (USA Managing director of eToro) and others among our speakers.
The event will take place on November 27-28 in San Francisco and will bond over 1500 delegates and 80 speakers that make up the foundation of the fintech and blockchain ecosystems. Use your code DISCOUNT30 to receive a 30% discount.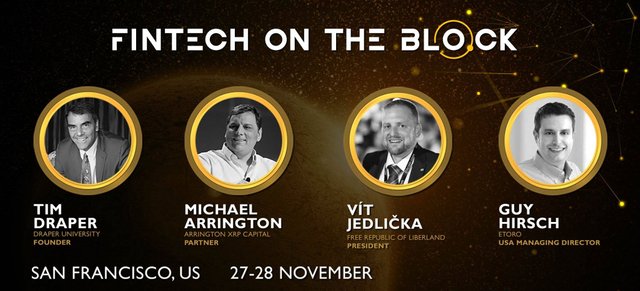 The Forum will feature panel discussions, networking sessions, workshops and a VIP party. There also will be an EXPO with the latest fintech developments.
During the two-day event, venture capitalists, leading fintech startups and top-10 banks representatives** will be discussing the evolution and future of money, adoption of blockchain in finance, cybersecurity, regulation in the Fintech and Blockchain industries and other emerging trends that are disrupting traditional banking and financial industry.
More information on the website: https://www.ftob.io/