THIS IS NOT SCRAMBLED EGGS!
...but it tastes fantastic and is texturally similar.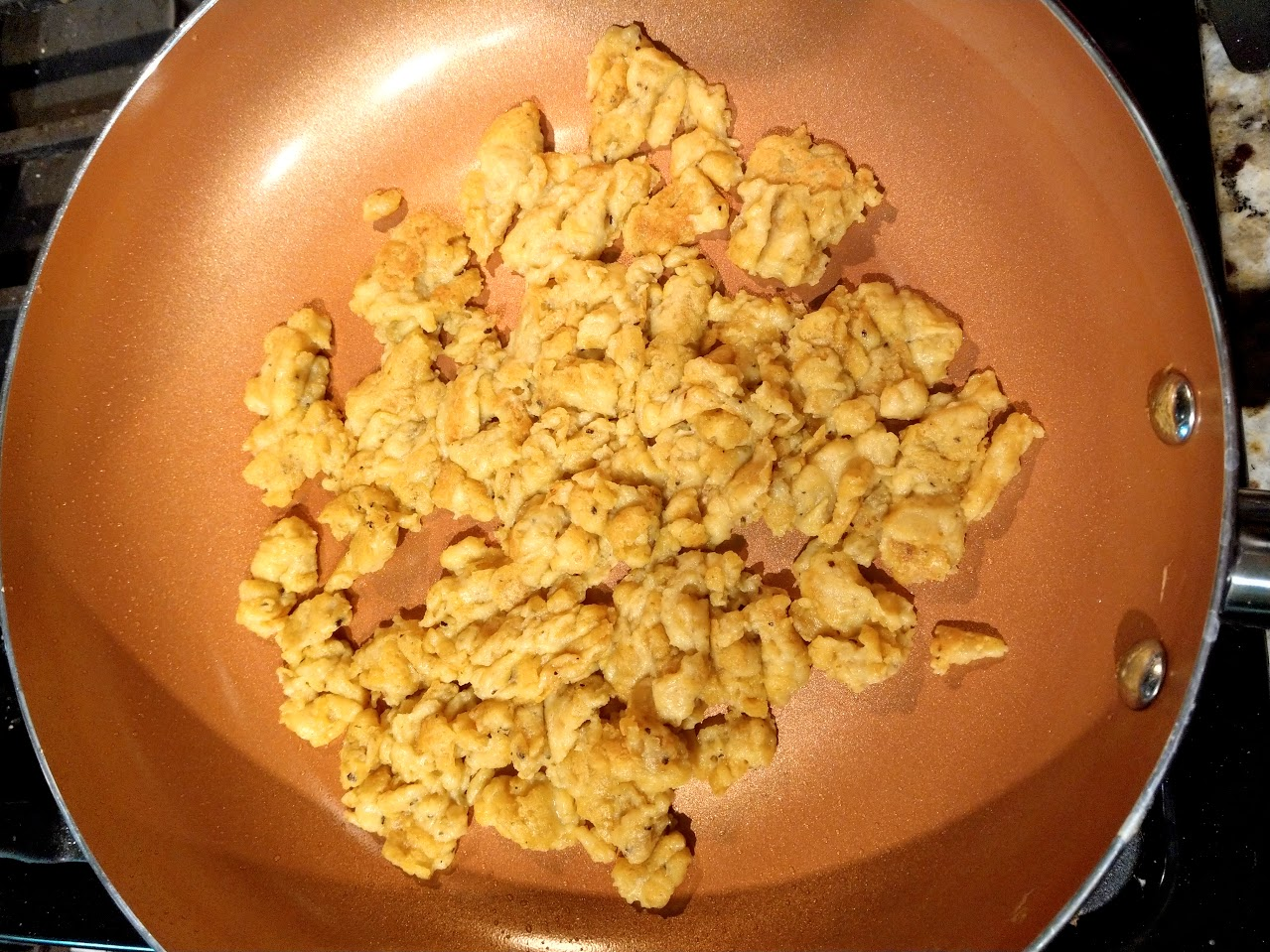 This is the first post in a series I'm starting on #VeganFoodScience. Just what is it that makes vegan substitutes so close to the animal products they seek to mimic?
---
In my Introductory Post I mentioned that I'm fascinated by the science behind vegan food that mimics animal products. Today I had that same thrill while making dinner, and had to pull my phone out to snap some pictures to document what gave me such pure joy. It also sparked the thought of starting this series of food science and making homemade vegan substitutes. The science behind it fascinates me and I want to share what I know and what I learn.

So, today I was craving fried rice. Good fried rice with vegetables and a mock scrambled egg. This tied right in with the fact that I've been craving tofu for the past few days. Normally a simple tofu scramble would be perfect. The problem is that I'm out of tofu, and I wanted to use up some things in my fridge before I do my weekly Sunday grocery shopping.
One of those things was a jar of pre-mixed vegan Chickpea Omelet Mix. That recipe is great and I went through a period where I ate these omelets every day for breakfast.
1 1/2 cups chickpea flour (superfine gram flour or besan or garbanzo-fava flour)
3 tablespoons nutritional yeast
3 tablespoons ground flax seed
1 1/2 teaspoons baking powder
1 teaspoon ground cumin
1 teaspoon salt if desired
1/2 teaspoon turmeric
1/4 teaspoon black salt (kala namak)
1/4 teaspoon black pepper
They're more of a savory pancake, though; not something that would stand up in fried rice. I was looking for more of a rubbery texture rather than grainy (for lack of better explanation). If you've ever eaten eggs or ever eaten egg substitutes, you know exactly what I'm talking about.
That's when I looked over and saw half a can worth of coconut cream that needed to get used sitting right next to the omelet mix in the fridge. The gears in my brain started churning. Maybe there's enough fat and substance in the coconut cream to bring the floury chickpea pancakes to more of a scrambled egg consistency. It was worth the risk.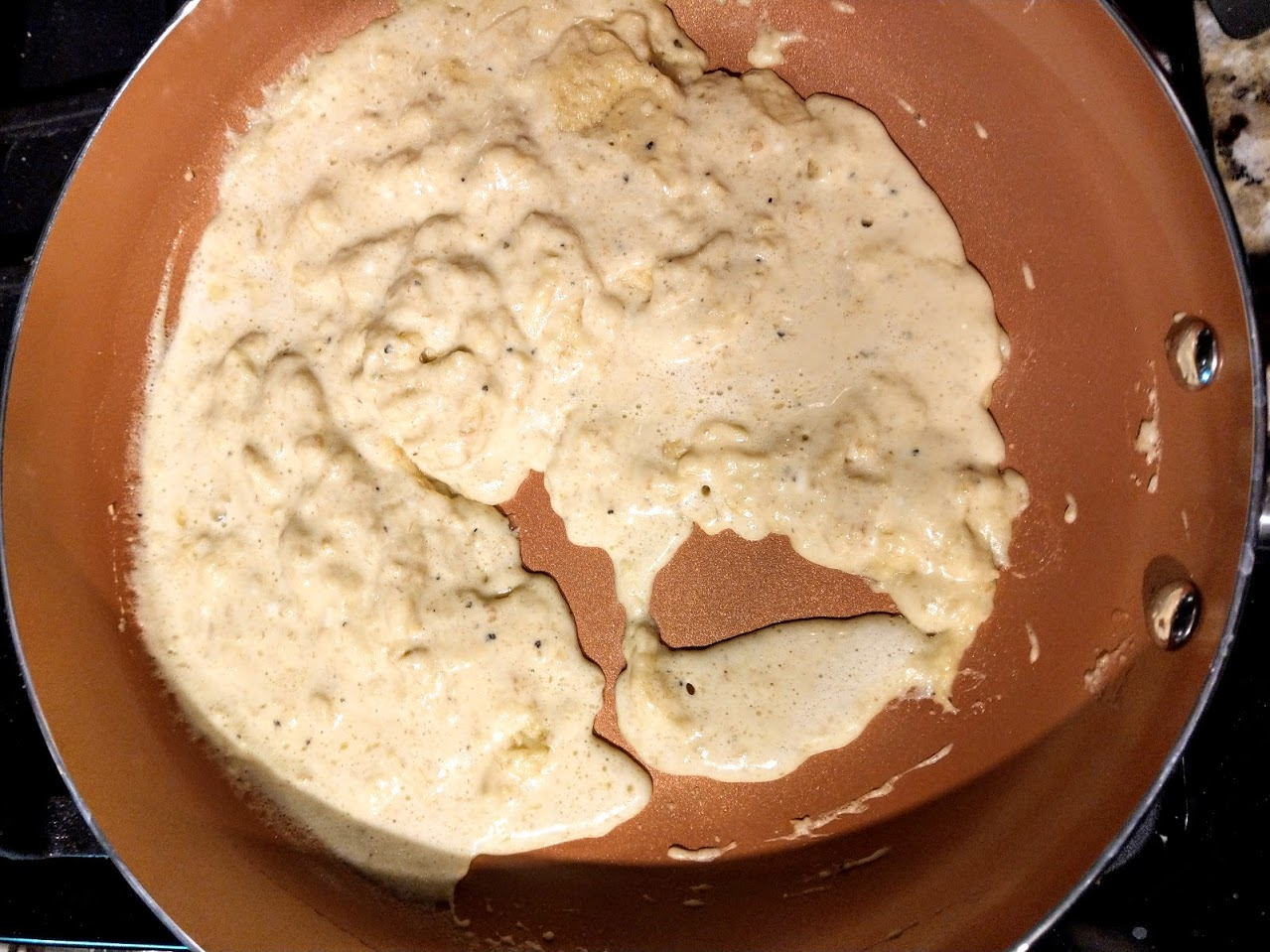 I mixed what was left of the omelet mix with equal parts water and mixed half that amount worth of coconut cream. In the bowl it looks like pancake batter. In the pan, it behaves like scrambled eggs. That's when I ran to grab my phone to take pictures. And also why I don't have any pictures before the mess of what's in the pan. I didn't intend on writing about my fried rice and kitchen experiment until the "egg" mixture was actually behaving like scrambled egg in the pan!
It took forever to finally cook. In my case, that was a good thing. I had my rice cooking at the same time and it took longer than expected. I know you're supposed to use day old rice for fried rice, but I didn't know yesterday that I was going to crave fried rice today! It was also my first time cooking rice on the stove versus in my Instant Pot. To be honest, I should have just used my Instant Pot.
Once my vegan scrambled egg substitute was finally cooked to my liking, I tasted some of it. My intuition was right! Adding coconut cream and the fat in it really did help improve the texture! It didn't do anything to make it healthier, but I wasn't going for that when I started making fried rice anyway.
I set the finished "egg" in a bowl to the side and put half a bag of frozen vegetables into the pan. Once they were thawed out I added minced garlic and a tablespoon of vegan butter. I also added my rice at this point and let it cook until it started getting slightly crispy edges and thats when I added in the "egg" and soy sauce to finish it off.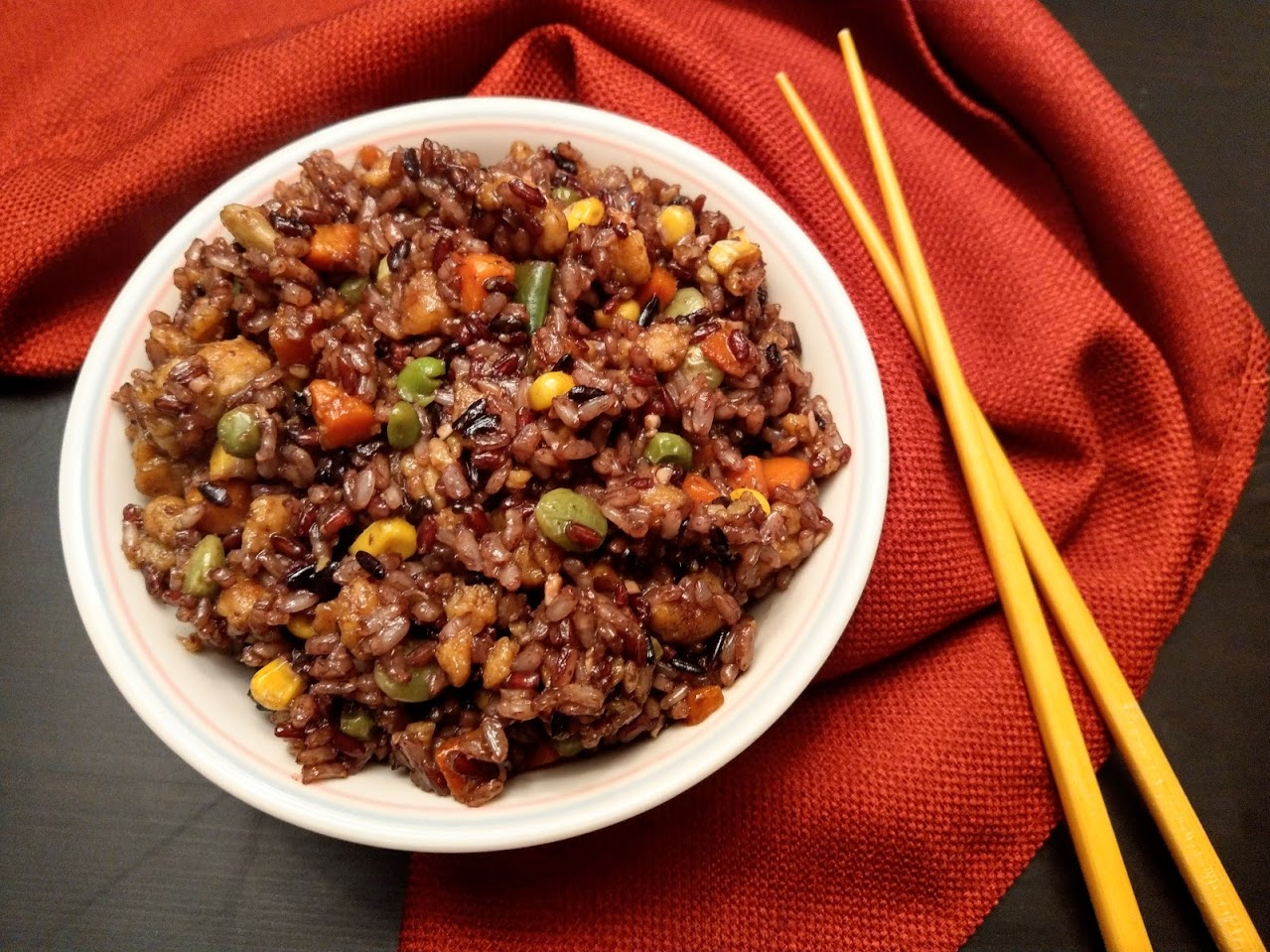 I ended up with tasty vegan fried rice that hit all of my cravings! I also was fascinated by my improved egg texture. My mind is blown that chickpea flour and coconut cream creates a texture similar to scrambled eggs! It kind of makes sense when you think of eggs in their most basic parts; protein and fat. The chickpea flour is full of protein, and the coconut cream is full of fat. In the future, I think I might increase how much ground flax goes into the dry mix (for more gel-ness), nix the baking powder (I don't need this to rise), and increase the coconut cream (even more fat to smooth it out further).
It all comes down to science. You choose your bases for texture and your spices for flavor. Sometimes you nail it first try, sometimes it takes some tweaking. That's what makes cooking fun and exciting.

Have you ever used chickpea/garbanzo bean flour before?
What have you used to replicate scrambled eggs?
Do you experiment on established recipes to achieve different textures?
---
Scroll down and lets chat in the comments. Don't forget to upvote on the way down there if you enjoyed this post, and resteem if you learned something!
---
I used Amazon affiliate links to show what I was talking about. If you feel inclined to make a purchase through my link, that would be appreciated, but do whatever you want.