My Best RECIPE for: Apple Pie 🍎No added sugar!!! [ vegan & gluten free] 🍏
Hello my Steemit Friends,
I love the apple pie! And you?
This cake reminds me of my family home and is my comfort food 😊
Recipe, which I share today with you is my idea for a dough without dairy, eggs and sugar. If you want it to be gluten-free, use gluten free oat flour (certified).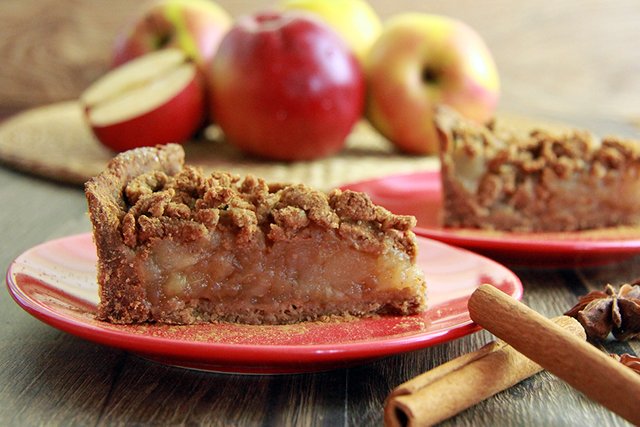 Ingredients:
2 cups of oat flour (gluten free)
1 tablespoon of freshly ground golden flax (linseed) or chia seeds
1/2 cup of coconut oil
200 g dates
1.5 kg of apples
tablespoon of a mixture of spices: ground cinnamon, cardamom, ginger and anise
1 - 2 tablespoons of xylitol
optional: a handful of raisins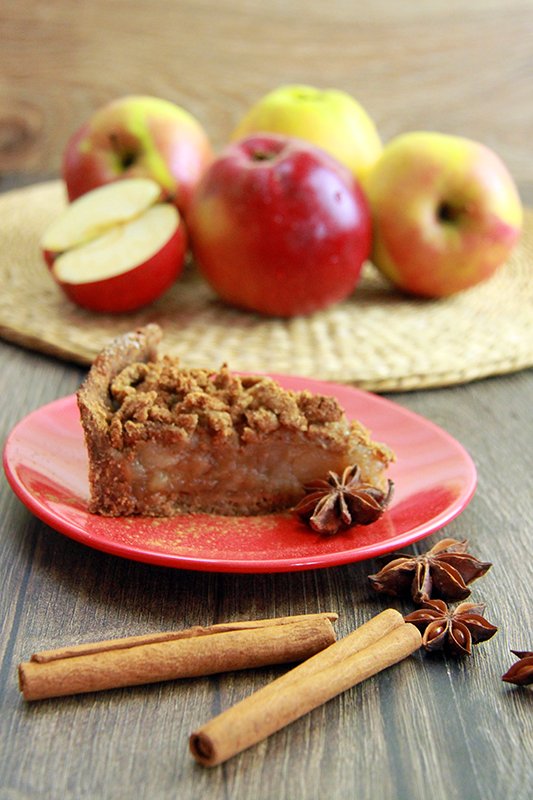 Preparation:
1. Soak dates in warm water for 30 - 60 minutes.
2. Prepare apples.  
Wash apples, peel and cut into pieces. Put in a pot and cook under cover until they soften. If necessary, add some water. Finally, add the spice and xylitol. If the apples are sweet, you don't need to add any sweetener. If you like, you can also add raisins to apples :) 
3. At the time when the apples are cooking, make a dough. 
Drain the dates and put into a large bowl. Add coconut oil, ground flaxseed or chia and blend to a smooth cream.  Gradually add the flour and mix. When the dough is already thick, knead the dough with your hand, adding more flour if necessary. 
Put away a piece of cake the size of a small fist. You will need it later.
Put the dough on the bottom and sides of the round baking tin. With a fork make a few "holes" in the bottom. Put in the oven preheated to 180 ℃  and bake for 10 - 15 minutes.  
4. Bake apple pie.  
Put the apples on the baked dough. Crush the rest of the dough and sprinkle on top of the apples.
Bake for 20 minutes until it gently begins to brown.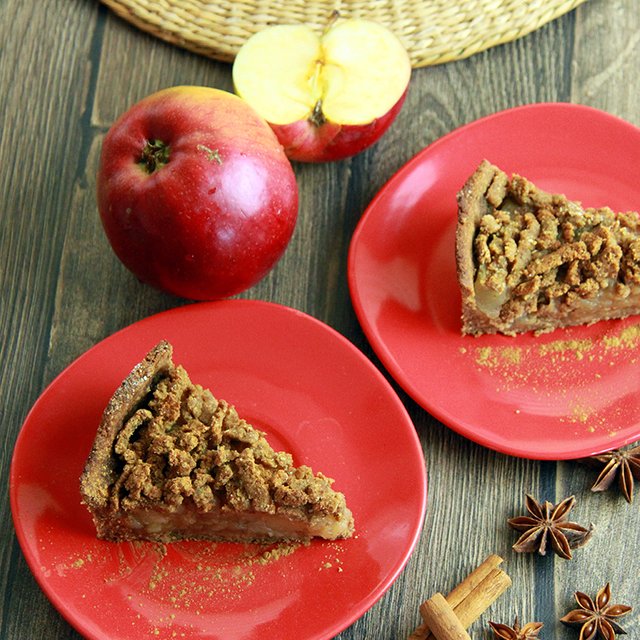 Bless you!
Moni 😍