Jonas Salk: Hero Or Murderer?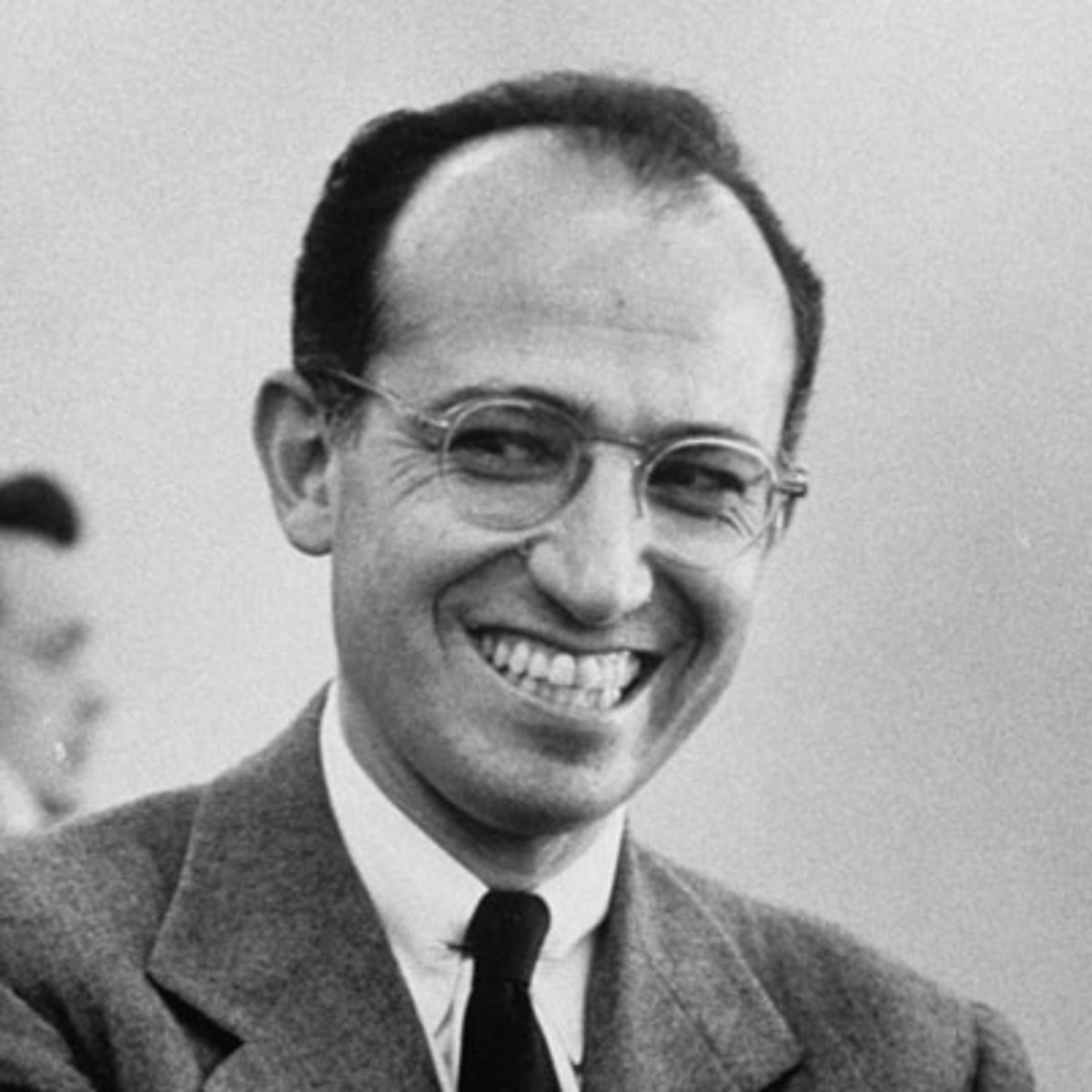 Google Images
Anyone alive during the 1950's remembers the hysteria surrounding the polio scare- the "plague" of the mid-20th Century. Almost everyone alive at that time knew at least one person struck down by this terrible disease. It began with flu-like symptoms and soon turned into something much darker. When Jonas Salk discovered a cure he was hailed as a conquering hero. However, it seems that Salk's vaccine hid something much more deleterious- mutated cancer causing cells called Polynoma. A research scientist from the National Institutes of Health (NIH) named Bernice Eddy warned that the cells from Rhesus monkeys used in the research contained Simian Virus 40 (SV-40) a carcinogenic mutation. Later research shows that an entire generation of children, if not more, may be affected and the current outbreaks of various cancers we are now witnessing may also be attributable to SV-40 exposure.
If you turned on a TV in the 1990's you couldn't miss seeing ads about lawsuits for Mesothelioma. This is one of the cancers directly caused by the SV-40 virus, although at the time it was linked to exposure to asbestos. Makes one wonder how many businesses were sued for cancers they didn't cause (the settlements totaled in billions of dollars). This is only one of many cancers linked to the vaccines as well.
Bernice Eddy's warnings not only went unheeded, she was called an "alarmist" and pulled off the project and transferred to cancer research. One reason may be the mounting pressure to find a cure because of the hysteria caused by the press which had reached fever pitch. The vaccine was rushed through the FDA's approval process in spite of Dr. Eddy's pleas to hold off until more research could be done. The SV-40 virus is also present in the Sabin oral vaccine.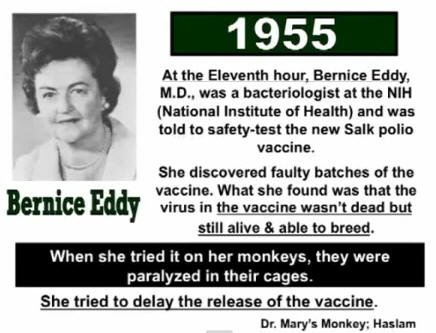 Google Images
While working on cancer research, she became friends with Sarah Stewart and it was these two women that discovered the mutated Polynoma cancer cells. This was confirmed in a 2007 book by Dr. Mary Sherman, an orthopedic surgeon and cancer researcher at Tulane University. Dr. Stewart died mysteriously of a stab wound to the chest, the crime is still "under investigation." It was while working in concert with Dr. Stewart that Dr. Eddy, as well as Dr. Sherman, found conclusive proof that an entire generation had been exposed to vaccines tainted with carcinogens. The vaccines (Sabin) is still in use.
These courageous women who nobody even knows about deserve our undying thanks for exposing this travesty- they are both heroes. (See links)

In 1972 Salk wrote a book- The Survival of the Wisest. As it turns out, Salk was a Darwinist who also believed in Eugenics. In other words. he was one of the pioneers in the population control crowd. At the risk of sounding like a conspiracy theorist, it may be that the carcinogenic SV-40 wasn't in the vaccines by accident. After all they knew the ramifications. I may not be a biochemist, but I can see some unsettling similarities... Ebola and AIDS all come from mutated proteins in monkey cells.
http://eugenicsanddepopulation.blogspot.com/2008/01/rogue-virus-in-vaccine-early-polio.html
http://www.sv40foundation.org/cpv-link.html
https://vaccinesbytheoutliers.wordpress.com/2015/10/23/polio-vaccine-developer-bernice-eddy-predicted-the-cancer-epidemic/
http://www.thevaccinereaction.org/2016/06/bernice-eddy-warned-of-defective-salk-polio-vaccine/
GIF by @papa-pepper