CDC is a Vaccine Company, Not an Independent Agency -- revealed by activist Robert F. Kennedy Jr.
The Centers for Disease Control is a Subsidiary of the Pharmaceutical Industry.

The CDC owns over 20 vaccines patents.

It sells about 4.6 billion dollars of vaccines every year.




It's primary metric for success in all departments in the agency .... are VACCINE SALES!

The CDC is a cesspool of corruption!

PLEASE Take 4 Minutes to WATCH This Powerful Video ⇥ Here on Facebook ⇤

or Watch the Full 1-hour Video by Robert F. Kennedy Jr. Here on YouTube:

... or by clicking ⇥ Here ⇤
(You may begin at the 23 minute mark to hear the 4-minute segment that I am discussing.)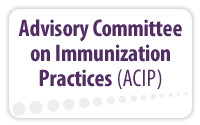 The Advisory Committee on Imunization Practices, at the CDC, determines which new vaccines to add to the schedule.
Almost all of the people who serve on that committee have strong financial ties to Pharmaceutical Industry.
In 1999, Paul Offit sat on that committee that added the Rotavirus Vaccine to the Childhood Vaccine Schedule. He owned a patent for Rotavirus Vaccine. He then was able to sell his vaccine to Merck and pocketed at least $29 million dollars!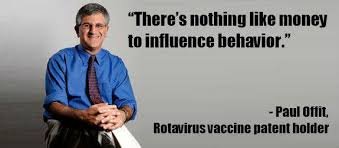 The Inspector General of HHS investigated this and concluded that what Paul Offit did was not illegal under CDC rules! At least 64% of the people who sat on that committee had Conflicts of Interest similar to Paul Offit. And 97% might have Conflicts because the rest never filled out their Conflict of Interest forms!
Pharmaceutical Companies have more Lobbyists on Capital Hill than there are Congress People. They spend twice as much money as the Oil & Gas Industry for Lobbying!
The CDC is a VERY TROUBLED AGENCY ...

Robert F. Kennedy summarizes several Federal Investigations against the CDC (Centers for Disease Control) in an article HERE AT Ecowatch outlining several Federal Investigations in CDC Corruption. ON AUG. 23, 2000,

... following a three year investigation, a House Government Reform Committee staff report criticized the U.S. Food and Drug Administration (FDA) and the CDC for routinely allowing scientists with conflicts of interest to serve on two influential ADVISORY COMMITTEES that MAKE RECOMMENDATIONS ON VACCINE POLICY.

The report concluded that, "THE MAJORITY OF MEMBERS OF BOTH COMMITTEES HAVE FINANCIAL TIES TO VACCINE MANUFACTURERS OR HOLD PATENTS ON VACCINES UNDER DEVELOPMENT." THREE YEARS LATER, a 2003

... investigation by UPI's Mark Benjamin found that CDC had ignored Congress's recommendations for reform, which stated:

"Members of the CDC's Vaccine Advisory Committee get money from vaccine manufacturers."

"Relationships have included: sharing a vaccine patent; owning stock in a vaccine company; payments for research; getting money to monitor manufacturer vaccine tests; and funding academic departments."

A YEAR LATER, in May of 2004,

... Special Counsel Scott Bloch, of the U.S. Office of Special Counsel, sent a letter to Congress urging congressional action on evidence of scientific fraud in the CDC's vaccine division. Bloch described possible collusion between CDC officials and pharmaceutical companies to manipulate and destroy data in order to conceal the links between mercury-preserved vaccines and the exploding incidence of pediatric neurological disorders including autism.

A MONTH LATER, on June 18, 2004,

... Congressman Dave Weldon, MD took to the House floor to accuse CDC of failing to reform: "A public relations campaign, rather than sound science, seems to be the modus operandi of officials at the CDC's National Immunization Program." Congressman Weldon concluded that, "THE CDC IS TOO CONFLICTED TO OVERSEE THIS VACCINE SAFETY FUNCTION."

IN JANUARY 2006,

... amidst the corruption scandals, the prestigious journal Nature editorialized in reference to vaccine safety that, "there is a strong case for a well-resourced independent agency that commands the trust of both the government and the public."

A YEAR LATER, in 2007,

... Weldon and Democratic Congresswoman Carolyn Maloney introduced the Vaccine Safety and Public Confidence Assurance Act of 2007, a bill to create a new agency to supervise vaccine safety that reported directly to the Secretary of U.S. Department of Health and Human Services (HHS) and to mandate independent vaccine safety research. Weldon declared that, despite all the scandals and investigations, there were no signs of reform at CDC. "FEDERAL AGENCIES CHARGED WITH OVERSEEING VACCINE SAFETY RESEARCH HAVE FAILED," he said. "They have failed to provide sufficient resources for vaccine safety research. They have failed to adequately fund extramural research. And, they have failed to free themselves from conflicts of interest that serve to undermine public confidence in the safety of vaccines."(

IN JUNE OF THAT YEAR,

... U.S. Sen. Tom Coburn, of the Senate Subcommittee on Federal Financial Management, published "CDC Off Center," yet another lengthy exposé of corruption and mismanagement at CDC. The report detailed "HOW AN AGENCY TASKED WITH FIGHTING DISEASE HAS SPENT HUNDREDS OF MILLIONS OF TAX DOLLARS FOR FAILED PREVENTION EFFORTS, INTERNATIONAL JUNKETS, AND LAVISH FACILITIES, BUT CANNOT DEMONSTRATE IT IS CONTROLLING DISEASE."

IN DECEMBER 2009,

... the HHS Inspector General published the results of a lengthy investigation of corruption in the CDC's vaccine division. That shocking report painted the CDC as a HOPELESSLY CORRUPTED ARM OF THE PHARMACEUTICAL INDUSTRY. It described, in detail, mismanagement, dysfunction and the alarming conflicts of interest that suborn the CDC's research, regulatory and policymaking functions. The report discloses how CDC allows vaccine industry profiteers to make millions of dollars by serving on advisory boards that add new vaccines to the schedule. In a typical example, Dr. Paul Offit, in 1999, sat on the CDC's vaccine advisory committee and voted to add the rotavirus vaccine to CDC's schedule, paving the way for him to make a fortune on his own rotavirus vaccine patent. Offit and his business partners sold the royalties to his rotavirus vaccine patent to Merck in 2006 for $182 million. Offit told Newsweek, "It was like winning the lottery!" HHS investigation revealed that 97% of CDC's scientific committee members failed to complete the mandatory conflict of interest disclosures and that as many as 64% of committee members disclosed conflicts of interest that were not acted upon by the CDC.

IN 2014,

... the chief of the HHS Office of Research Integrity (ORI), David Wright, announced his resignation in a scathing letter that characterized HHS as a remarkably dysfunctional agency. ORI's function is to monitor research misconduct including, "falsification" and "fabrication" of science at the CDC, FDA and other public health agencies. Calling the post, "The very worst job I've ever had," Wright decried an "intensely political environment" where his supervisors told him that his job was to be a "team player" and "to make my bosses look good" and where he spent "exorbitant amounts of time in meetings and in generating repetitive and often meaningless data and reports to make our precinct of the bureaucracy look productive," rather than pursuing its mission of detecting and punishing scientific fraud.

We clearly can not trust the CDC with Public Health. I have written about corruption at the CDC before. You can read those articles here:

For More Articles about Vaccine Truth, Visit My Blog And Follow Me: @canadian-coconut

Please Comment Below and Let's Have a Productive Conversation!

I know that this is a very controversial topic ...

but if you care about children as much as I care about children...

surely we can all be civil and help each other discover the best way forward for all our children and future generations.