An idea of a Mediawiki extension to connect with Steem blockchain and its content reward system
Repository
https://github.com/Pavelovich/WikiBanner/
Or any other listed in: https://www.mediawiki.org/wiki/Category:Advertising_extensions
Components
A new Mediawiki extension that rewards wiki collaborators with Steem tokens. Based in the existent WikiBanner extension it shows the recent wiki contributors (previously registered as Steem blockchain users) and allow viewers (Steem users also) to upvote them.
Proposal Description
As many may know a wiki is a website that allows every visitor or registered user to create end edit any of its page. Mediawiki (https://github.com/wikimedia/mediawiki) is the popular wiki engine, used by the most famous wiki - Wikipedia - and also by Steem.center, the wiki of all things Steem created by Steem witness @someguy123 in 2016.
Steem (https://github.com/steemit/steem) is a blockchain with social media and blogging features that allow content producers being rewarded with cryptocurrencies. I believe that it will be valuable if we find a way to join these two systems (Mediawiki + Steem). I already tried to do this integration manually, with the @steemcenterwiki project, a proposal that is working since 2017, while other initiatives in mixing wiki, blockchain and crypto like Lunyr and EveripediaIQ tokens were launched too.
I'm the @steemcenterwiki project creator and community manager but with none programming skill. My following suggestions are only from an experienced user of both Mediawiki and Steem platforms. To help describing the proposal I'll use links to Steem.center wiki. Please, feel free to comment or criticize anything you want.
Mockups / Examples
A) System Mechanics
A crawler or any PHP function that could catch the info from Recent Changes, Active users list and any other requested wiki pages.
By default the system would show infos (time, wikipage, bytes and bytes variation) and links to the 3 (or other quantity of pre-defined numbers of last Active users with Steem accounts) most recent contributors in the banner, aside the buttons to upvote, comment or resteem each one of them in the Steem blockchain.
When defined and as above, the system would show in the banner of each wiki page, the info and links to the most recent contributors with Steem accounts appointed in the editions history, aside the buttons to upvote, comment or resteem each one of them in the Steem blockchain.
When defined, the system would allow to include in every banner, one link to a specific Steem user that represents the owner or admins of the wiki, aside the button to upvote, comment or resteem it.
I believe that with this system it would be possible to identify the recent collaborators of a Mediawiki website or a specific Mediawiki page, promote, upvote and reward them using the Steem blockchain and its tokens.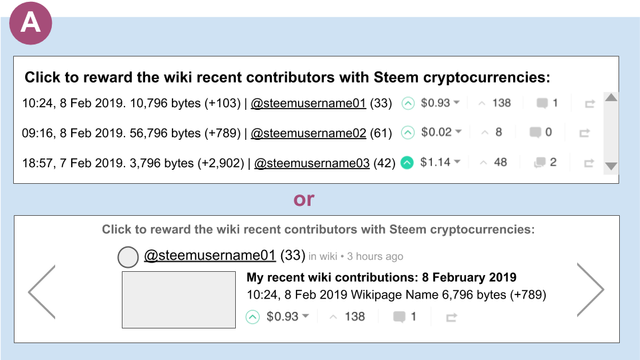 B) Steem Connect Integration
My proposal is to use the Steem Connect (https://github.com/steemscript/steemconnect) to integrate the Mediawiki and Steem blockchain accounts relating the actions of both platforms to a common user.
If possible, it would be good to create a new Mediawiki account using the same Steem username when a user log in through Steem Connect.
To generate the links described above (A2, 3 and 4), the logged user would set up a configuration, allowing the system to publish a post on his blog on Steem blockchain with a summary of his Mediawiki contributions. With available options like: when happened, publish my wiki contributions every 24 hours, 3 days or 7 days. The most recent of these posts links were the ones shown on the banners, having the chance of being upvoted, commented or resteemed by the Mediawiki viewers.
I believe that with this integration it would be possible to stabilish a relation between a Steem account with a Mediawiki account, so the recent collaborators of a Mediawiki or a specific Mediawiki page could be promoted, upvoted and rewarded using the Steem blockchain rules and its tokens.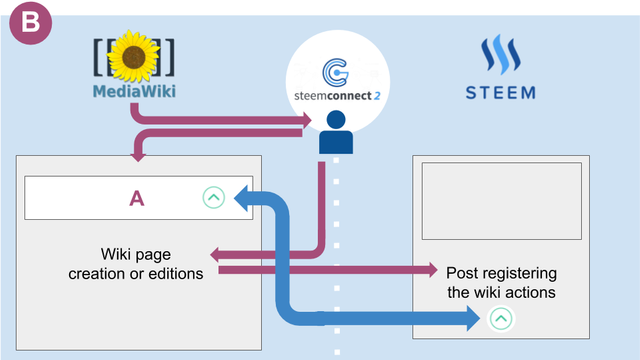 C) Dynamic Banners, Ad Management and Stats
I don't know if the actual Mediawiki Banner extension allows dynamic and html 5 banner features, needed for the proposal to work properly.
I think the chapters above may work as the MVP of the system but the developers could add more possibilities using banners management and statistics featured in other open source ad servers like Revive (https://github.com/revive-adserver) or others.
Some of the aditional features could be the rotation of the banners (showing all recent wiki contributors or the specific page contributors) or even the inclusion of third-party banners (manually by the wiki admins or by automatic request from visitors and users). Maybe this features could interest the creators of Steem blockchain Dclick project.
Benefits
Here is the first draft of my proposal to offer a system that connects the two popular, stabilished and mature projects to gather the benefits of wiki, blockchain, open source and cryptocurrency technologies. The community driven code, information, content and social media will get a new, easy and affordable system to grow, engage and reward its participants.
Mediawiki and Steem developers and enthusiasts, what do you think?
GitHub Account
https://github.com/wagnertamanaha
This is my first contribution for the Utopian.io project, sorry for any misuse of the participation's rules and I'm open to review or change it to fit to the moderators concerns.
Thank you very much and good luck again!
All liquid rewards of this post will be donated to @steemcenterwiki project.