Utopian Status: HF20, Witness Servers & More
With the Steem blockchain still catching up and normalizing after hardfork 20, we felt it's important to update you on the state of Utopian during this time, and on our current plan of action. In addition, this post includes updates on the Utopian witness server, and a few upcoming events.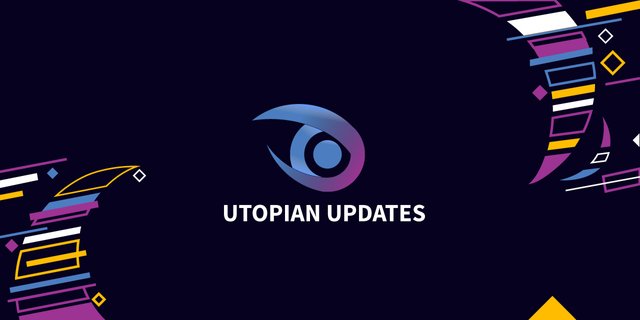 Pausing Operations
Due to the current technical situation, we are unable to review submissions made to Utopian or vote on the contributions scored. Unfortunately, this means we are forced to pause all operations until the Steem blockchain is once again accessible and usable for all community members and moderators.
According to estimates, the voting power of @utopian-io will reach 100% in roughly 100 hours. We will be sure to update you once submission scoring is resumed, and are sorry for this inconvenience.
To stay up-to-date and speak to the Utopian team, we invite you to join the conversation on our Discord server.
Witness Server Status
Coinciding with the hardfork is Utopian's rise to the top 20 list of Steem witnesses.
We have been working closely with the other top 20 witnesses throughout the night to make sure the blockchain could resume normal operations. Both main Utopian witness server and backup witnesses have been upgraded to version 0.20.3 and are running properly.
We couldn't be happier to make it into the list of top 20 witnesses, especially at this critical time, and we'll make sure to publish a dedicated witness update post with all the exciting plans we have for it, as soon as the blockchain returns to normal operations.
Hackathon Winners & Meetup Summary - Coming Soon!
We are happy to have received so many awesome contributions for the first Utopian Hackathon. Despite the issues with the blockchain we were able to score and pick the winners! But we're not quite ready to reveal them.
Due to the voting power recharge process, we won't be able to release rewards for the winners just yet. We'll make sure to publish the list of the winners shortly, and immediately release the liquid prizes. For the post upvotes on the winning submissions, we will ask the winners to publish a comment under their contributions in order for Utopian to give them the upvote value their submission is due.
Join Us Tonight on The Utopian Open Source Radio Show on MSP Waves
Tonight's show comes at an interesting time! In addition to the regular dose of news and updates from Utopian, we're scheduled to host @nothingismagic from the Quasar Framework, as well as a number of prominent Steem witnesses.
Be sure to tune in at 6 PM (UTC) to learn more about the Quasar development platform and hear what the Steem witnesses think and feel about the current state of the blockchain. Find out more in this post by our show host, @jedigeiss.

First Time Contributing in Utopian.io?
Learn how to contribute on our website