Weird Stuff On Github #1 - Trumpscript, Let's Make Coding Great Again!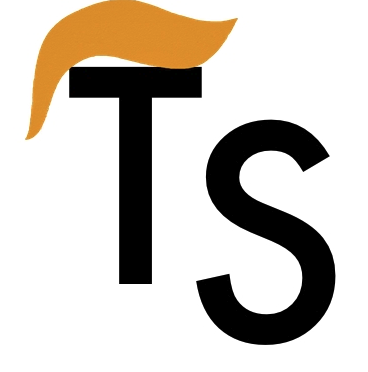 TrumpScript - Making Coding Great again! (credit)
So, as the "#1" on the title implies, this is a new series of posts I am beginning!
But, before talking about the main topic of the post, I'd like to make a short introduction about how I came up with the idea.
Let's Bring Some Fun To The Table
Let's be honest. I think we will all agree that @utopian-io is one of the greatest ideas that have materialised on steemit and has probably reached only a fracture of its maximum potential. And I am very lucky to be a part of it through the Davinci project :D
But...But! I think many will also agree that for the most part, most posts, due to their inherent nature, are boring for the average Joe. The average Joe simply doesn't care for that weird bug you found or that suggestion you have.
Take the translations I do for @utopian-io for example. Usually, I have relatively good engagement on my posts (at least for Steemit standards) but when it comes to my translation posts all you can hear is crickets. 
So that got me thinking.. How can I bring some fun on the table?
Well, here's what I came up with first: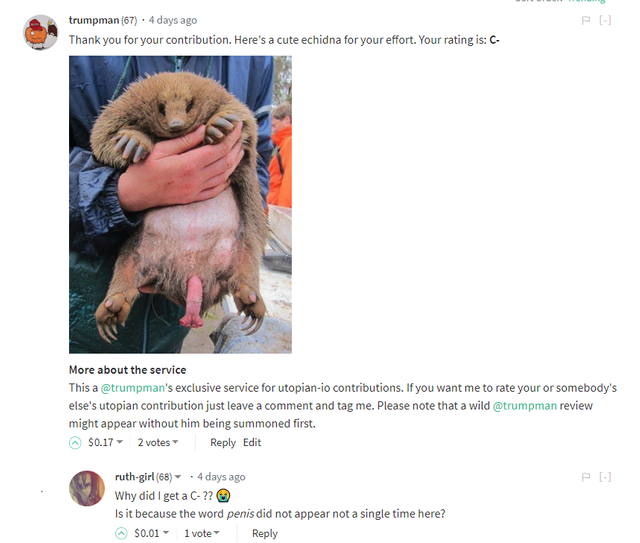 Obviously, it's a joke I play on my fellow LMs (Language Managers) and the "thanks for your contribution" comments they leave after each review. Sure, it's good for a quick laugh (at least for me XD) but this is not a long term strategy. Soon, the joke gets old and it's not a joke I can play with people I don't really know as they might get offended...
At some point I even asked my readers if they could think of something, since I couldn't, to make my @utopian-io posts more engaging and this is what I got:

So the question continued to linger for some time in the back of my head... How could I bring some fun on the #utopian-io tag that everybody would enjoy....
And then it hit me! I spend some time googling and after an hour I had all kinds of notes for future posts.. 
What's the purpose of this series?
To have fun! I am not here to teach you coding, after all, I suck at it. I am not here to highlight bugs or make recommendations. I am just here to highlight some of the weirdest, craziest and most funny stuff you can find on Github that you hopefully didn't know they exist. 
Things that will make you smile. Things that you can share with your friends and have a good laugh..
Now, if you decide to take that a step further and actually learn to code or whatever, props to you!
So, with out further ado, I present you... 
Weird Stuff On Github #1 - TrumpScript, Making Coding Great Again 
Out of all the stuff I have picked to be featured at some point on this series, Trumpscript is the obvious starter for a guy who picked "@trumpman" as his nickname on Steemit!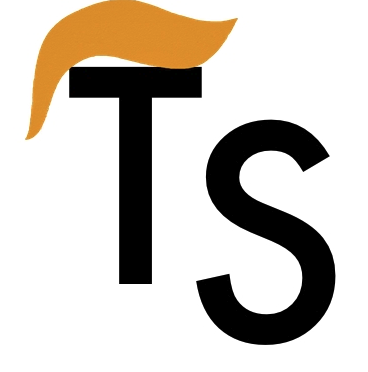 Trumpscript Logo (credit)
What is Trumpscript?
Trumpscipt is a "programming language", released under the MIT license, that makes a big promise, to "Make Python great again". Obviously, as it's clear right from the start, this is a joke on Donald Trump:
TrumpScript is a language based upon the illustrious Donald Trump. As the undeniably best US President, we found that the current field of programming languages does not include any that Trump's glorious golden combover would approve of.
TrumpScript is our solution to this. It's the programming language Trump would approve of. Just like he is going to make America great again, we hope our efforts will make programming great again [credit]
To be honest, I have no idea if the guys who made this thing are republicans or not, all I know is that the final result is pure gold comedy material. Just have a look at these awesome"features":
"Our language includes several convenient features, perfect for any aspiring Presidential candidate including:
1) No floating point numbers, only integers. America never does anything halfway.
2) All numbers must be strictly greater than 1 million. The small stuff is inconsequential to us.
3) There are no import statements allowed. All code has to be home-grown and American made.
4) Instead of True and False, we have the keywords fact and lie.
5) Only the most popular English words, Trump's favorite words, and current politician names can be used as variable names.
6) Error messages are mostly quotes directly taken from Trump himself.
7) All programs must end with America is great.
8) Our language will automatically correct Forbes' $4.5B to $10B.
9) In its raw form, TrumpScript is not compatible with Windows, because Trump isn't the type of guy to believe in PC.
10) TrumpScript boycotts OS X and all Apple products until such time as Apple gives cellphone info to authorities regarding radical Islamic terrorist couple from Cal.
11) The language is completely case insensitive.
12)If the running computer is from China, TrumpScript will not compile. We don't want them stealing our American technological secrets.
13) By constructing a wall (providing the --Wall flag), TrumpScript will refuse to run on machines with Mexican locales
14) Warns you if you have any Communists masquerading as legitimate "SSL Certificates" from China on your system.
15) Won't run in root mode because America doesn't need your help being great. Trump is all we need.
16) Easy to type with small hands
17) If you find you can't get any TrumpScript to run on your computer (probably because we disallow the two most popular operating systems), you can specify the --shut_up flag to let the interpreter know you just want your code to run, damn it."
In case you wonder, here's how Sam Shadwell, one of the two junior Rice University computer students came up with the idea:
Sam: That morning I had watched that weird, that strange video that's like "The Trump Song," or something? It made me uncomfortable. And I was like, 'Man, that's really weird. Boy, I would love to just satirize this guy." [credit]
There are a ton of other stuff that I haven't covered about Trumpscript that will make you die from laughter but they would simply take me ages to cover and frankly, covering these stuff in-depth is not the purpose of this series. 
But, if you want to have some good lulz or even learn how to program with Trumpscript then just visit any of the links below:
But I Hate Trump!
Well, that's understandable.. Don't worry though. I have something for you too. A programming language based on someone who doesn't have the best feelings for him either. And not just any someone... 
The one..
The only...
The TERMINATOR!!!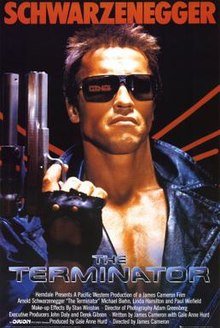 (credit)
Coming To A Theater Near You: ArnoldC
Yeah, you probably won't be able to make your very own Terminator with this language but you will probably get some good giggles. As explained on the github, ArnoldC is a programming language that:
"tries to discover new meanings from the Arnold movies with the means of computer science."
To give you an idea of the language here's is how to say "hello world" on basic:
PRINT "Hello World!"
END
And here's the equivalent in ArnoldC
IT'S SHOWTIME
TALK TO THE HAND "hello world"
YOU HAVE BEEN TERMINATED
Other hilarious commands include:
"I LIED" for False
"NO PROBLEMO" for True
"YOU HAVE BEEN TERMINATED" for EndMain
But I have saved the best for last:
"I'LL BE BACK" for Return & "GET TO THE CHOPPER" for "AssignVariable"
That's only a small taste of the fun this project has to offer. Again, here are some links, give them a visit and I promise you won't regret it:
My Challenge From Me To You
Well, as I mentioned before I am a dumb dumb when it comes to coding. Still, this doesn't mean we can't have some fun! So, here's my challenge to you. Try any or both of these languages, see if you can come up with something and make a post about it on Steemit.
I promise I will give it a full upvote and a resteem! At the moment my vote is worth about 50 cents but again, this is more about the fun and less about the money.. And don't forget! If your contribution is good enough you may even score a vote from @utopian-io! :D
UPDATE: @dimitrisp already made a post about my challenge and even got an @utopian-io vote for his contribution. So, if you are reading this.. What are you still waiting for ? :D
The End
Ok, that's enough weird github stuff for today! I hope you had some good chuckles but unfortunately all good things in life eventually come to an end... Don't despair though cause...
I will be back!