Simple Tools to Aid in Proper Management of Your Steem Account; #Steemauto (Part 1)
Proper management of steem account has been one of the major difficulties facing newbies. The steemit website lacks a lot of features that helps one understand his account and make proper use of available features of a steem account.
Such problems are being solved by different apis that are linked with steemit. Steemit is an open-source project, therefore it's source codes are available for all to edit so as to perform several other actions as they please.
On this series I will be looking into a couple of very helpful steem tools to aid you in proper management of your account and in monitoring of other steem accounts. The steem tools come in their hundreds, but this series will feature primary tools for your steem account management.
Today's post will be on a steem tool that aids you in proper management of your curation activities on steemit, known as Steemauto.
WHAT IS STEEMAUTO
Steemauto is a world of automation for your steemit account. It makes use of your steemit posting keys to post, upvote and claim rewards for you. You login to steemauto through steemconnect (a third party interface between your steemit account and steemit plugins) and make use of their amazing automation tools without risk of compromising your steemit keys.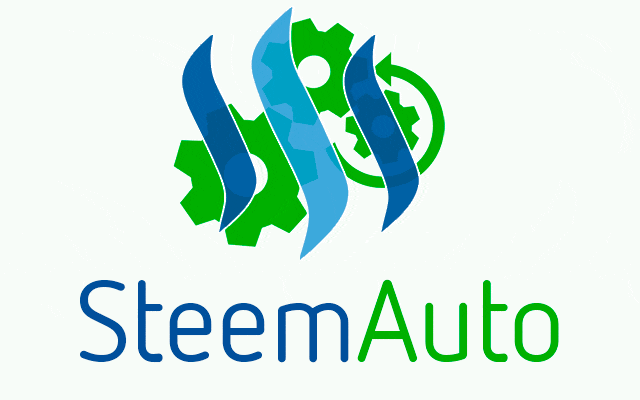 Source
Steemauto is owned and managed by @mahdiyari and is one of the most used curation tools on steemit. It has a very user-friendly interface and very easy to operate.
AMAZING FEATURES OF STEEMAUTO
Steemauto has four main features which it offers to aid in automation of your steem account;
CURATION TRAIL
As a steemian, growing your steempower is one of the priorities, and proper curation is one of the best ways to achieve it. A curation trail is consists of a chief curator (usually an account with large Steempower) and other follower accounts that will upvote any post the chief curator upvotes. Accounts with little SP will gain more curation rewards from posts with bigger payouts than on posts with little payout, so it's good to follow a trail with a top curator with large steempower.
With Steemauto you can join a curation trail or create your own trail for others to follow. When you follow a curation trail, you can customize how you want your account to function with the trail. You can set your voting weight to align with that of the chief-curator or you can set the percentage voting weight which you want to follow the trail with. You can also set what time to vote after the chief-curator votes or leave it at default which will vote immediately after the chief-curator votes. It is advisable to leave your voting power to align with that of the chief-curator, especially if the curator makes a lot of votes everyday so as to prevent your voting power from draining up.
Joining a curation trail most times serves as support to a community or project to increase it's upvote worth on its community members posts. It also helps you maximize your curation rewards.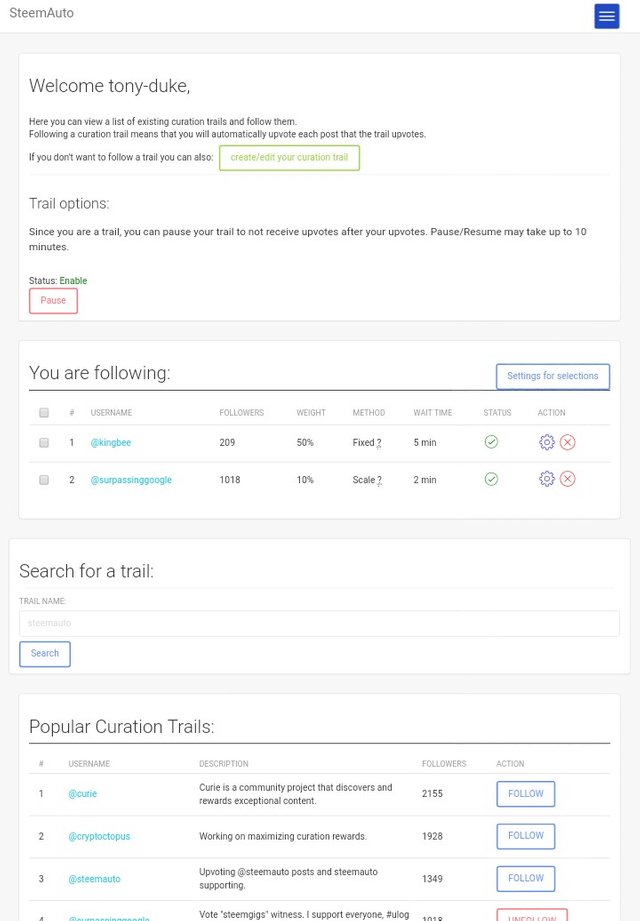 FANBASE
Curators on steemit who want to reward their favorite authors on all their posts benefit the most from this tool. On steemauto you can join an author's fanbase. If you have an author who you love his posts and would want to support and encourage him to keep blogging good contents with your upvotes, you simply join his fanbase. This will lead to an auto-upvote by your account on any post the author makes. You can customize your voting activities such as when to vote and the voting weight to vote with.
Joining an authors fanbase helps reward the author and in return helps you to grow your SP through better curation rewards. To get the best possible curation reward, you vote at the 30th minute after the post was made.
On the negative side, this feature creates room for some authors to spam the blockchain due to sure upvotes from a curator, which will also lead to the draining of the curators voting power. To correct this, steemauto created room for the curator to select a maximum amount of times an author should be voted within 24 hours, making it a lot more better.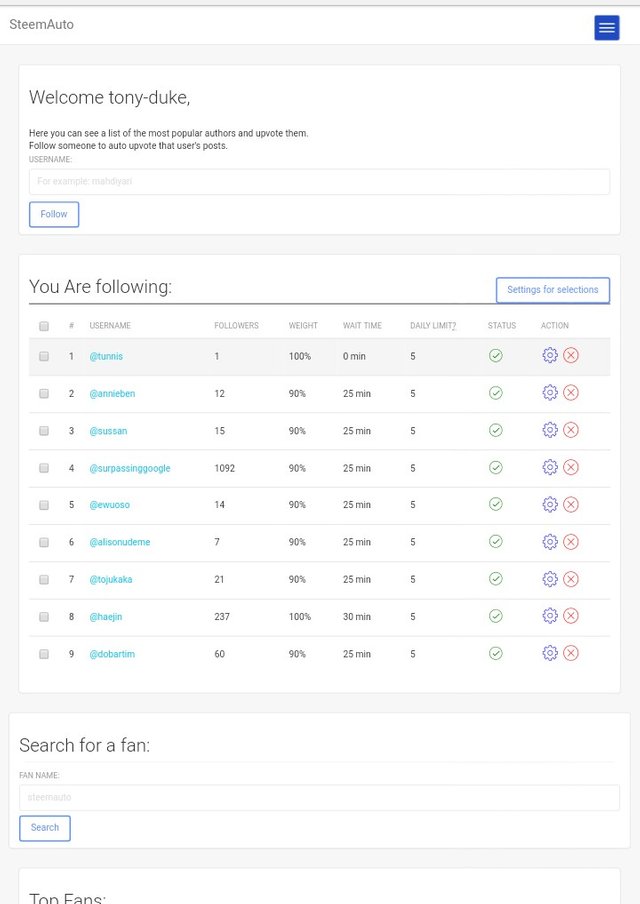 POST SCHEDULING
This is a great automation tool to control when to drop a post. It will be very useful if you are running a series and would want to drop a post at a particular time everyday but might not be disposed at that time due different circumstances (like busy offline schedules). But this feature has a slight flaw because you cannot upload a picture through steemauto. So to use this feature, you go to steemit's create post page and prepare your post with markdowns and pictures, then you simply copy all and paste on steemauto. As simple as that, then you schedule what time you want the post to be made.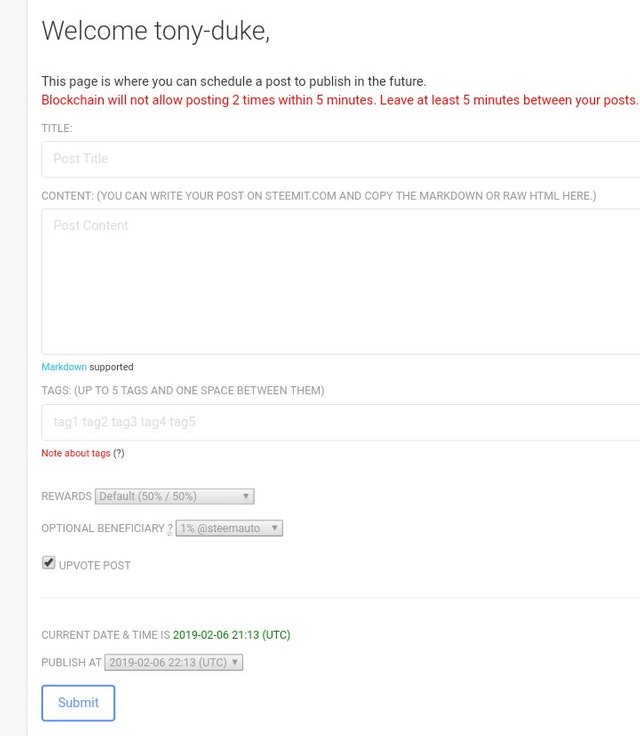 CLAIMING OF REWARDS
This is a minor feature of steemauto. It simply helps you claim your rewards after payout is available. You can do this manually by going to your wallet and claiming the rewards.
Steemauto is free to use and it's a great tool to help you manage your steem account with its great features. The fact that it aids in one of the core activities on steemit, which is curation, should not be undervalued, because supporting and encouraging active curations increases the reward pool on the steem blockchain.
UPDATES ON STEEMAUTO
Currently @mahdiyari is working on the version 2 of steemauto. He plans to create an improved front-end to the website and also put additional features which will make using steemauto more interesting. The beta version is scheduled to be available in about one month. You can click here to see more details about the Steemauto V2 and the features that will be added.
CONCLUSION
With Steemauto you can handle your steem curation activities with ease. As a newbie, a whale or a random minnow, steemauto is a great tool for you to make proper use of your steempower if you are not so active with your curation.
If you enjoy using steemauto, you can vote @mahdiyari as a steemit witness to help increase his witness influence.
Thanks for Reading
Links
Github Repository: https://github.com/mahdiyari/steemauto
Github Profile: https://github.com/tony-duke