Github Repository:
https://github.com/4ian/GDevelop
Project Details:
This is my 14th contribution on GDevelop that I contributed in behalf of @utopian and @davinci.polyglot. The GDevelop is one of the difficult translation project that I worked with.
What is GDevelop? GDevelop is one of those game engines tha have a visual programming interface you don't really need to write the code per set, at least not in the traditional sense, instead you use a visual interface. Now the cool thing about GDevelop is it's completely free, it's an open source, MIT licensed for the base engine and framework and then the editor itself is available under the GPL 3 license..
That is one of the very nicest thing about GDevelop this is an open source project and all of the whole code is available on Github. It was created via C++ language so if you know C++ this is an engine for you.
---
Contribution Specifications:
- Translation Overview:
This is the fourteenth part of my translation on this project with a total of 24,326 words this is not a very huge project, but this is a really difficult project to translate and I am not the only one who's translating Gdevelop into Filipino. You can see the total words of this project down below.

Today I have suggested 195 translations and deleted 3 translations in GDevelop 5 and I didn't find any errors or typos on the source string.

Non-translatable Texts:
Layout
Origin
Layer
Effect
Parameter
Children
Timer
Variable
Behavior
Frame
Sprite
---
Language
Source language: English
Translation task: From English to Filipino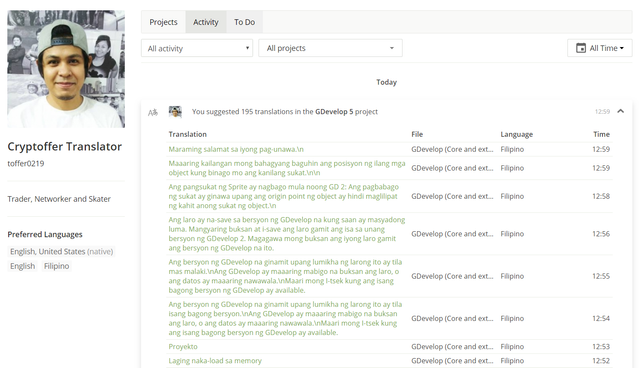 ---
Word Count
The total words that I translated into Filipino is about 1,390 words with 79 words deduction, because there are words that cannot be translated such as links, codes and all of the words which don't have a translation such as computer and programming language.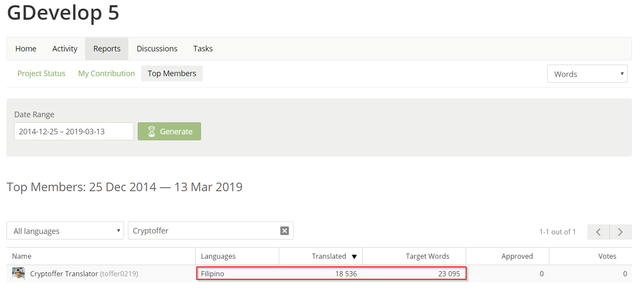 ---
- Previous Localization Reports
Proof of Authorship
---
---
Thank you very much, @davinci.witness and @utopian, for this wonderful opportunity to the community.