Github Repository:
https://github.com/4ian/GDevelop
Project Details:
This is my 13th translation contribution on GDevelop that I contribute on @utopian and @davinci.polyglot. The GDevelop is one of the difficult translation project that I worked.
What is GDevelop? GDevelop it's one of those game engines tha have a visual programming interface you don't really write the code per say at least not in the traditional sense instead you use a visual interface. Now the cool thing about GDevelop is it is completely free, it is open source, MIT licensed for the base engine and framework and then the editor itself is available in under GPL 3 license.
That is one of the very nicest thing about GDevelop this is an open source project all of the whole code is available on Github. It's a C++ project so if you know C++ this is an engine for you.
---
Contribution Specifications:
- Translation Overview:
This is the thirteenth part of my translation on this project with a total of 24,326 words this is a not a very huge project, but this is a really difficult translation project and I'm not the only Filipino's was translated of the GDevelop. You can see the total words of this project down below.

Today I have suggested 193 translations and deleted 2 translations in the GDevelop 5 and find any errors or typos at the string source.

- Text Translated, Untranslated and Purpose
Frame
Mode
Transparent
Opacity
Opaque
Sprite
Scene
Interpolate
Lerp
Tangent
Square Root
Torque
Offset
---
Language
Source Language - English is the source language of my translation project.
Translated Language - Filipino is translated language of my translation project.
Here are some strings or words that I translated on this season and approved by LM @ruah.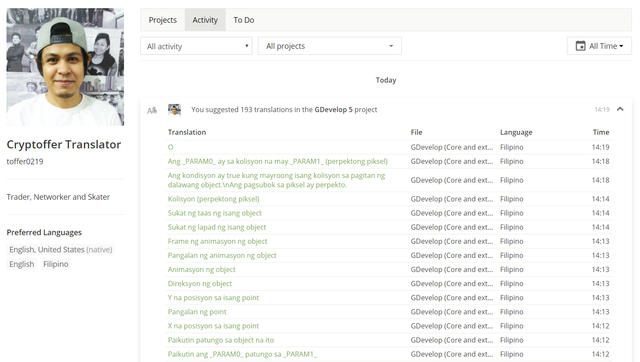 ---
Word Count
The total words that I translate in Filipino is 1,313 words with 53 deduction words, because there are words that can not be translated such as a link, codes and all the words don't have a translation such as a computer words or programming words. So the total words that I translate in Filipino is 1,260 words in this season I translate the GDevelop (Core and extensions) file with the total words of 24,326 words. Thanks to LM @ruah for proofreading my contribution.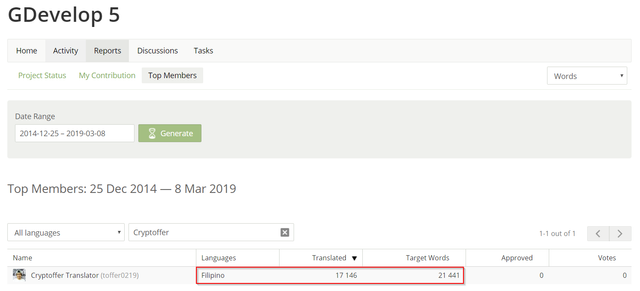 ---
- Previous Localization Reports
Proof of Authorship
---
---
Special thanks to @utopian-io and @davinci.witness for giving this an opportunity and thanks to my LM @ruah for proofreading and correcting our mistake. Thank you all have a nice day!