Ulogs.org Development Report: The Journey OnTo "True Celebrity-hood For Everyone, Once And For All."
In this post, i will be giving a report on the "overall development" that has occurred on ulogs.org so far. 
First off, ulogs.org started out as a fork of @busy.org and has began to shape up since then into its own model. A reshaping will continue to occur over-time as ulogs.org will continue to add new features ever-constantly and organically as it tries to play-out "community feature".
Development started out very slow but then, we implemented a model of development involving "micro-programming-tasks which has drastically improved the pace of development i.e we broke down each issue on Github, into very small pieces and added some form of bounty per task. 
Micro-programming-tasks can be as simple as "change icon", "embed a video", "replicate an existing feature", "change text" etc By this means, we removed "all barriers to entry" for developers to participate.
The first thing we adjusted is the preface of the website. Being a social interface for ULOGGERS, we had to change the general look of the homepage as seen below: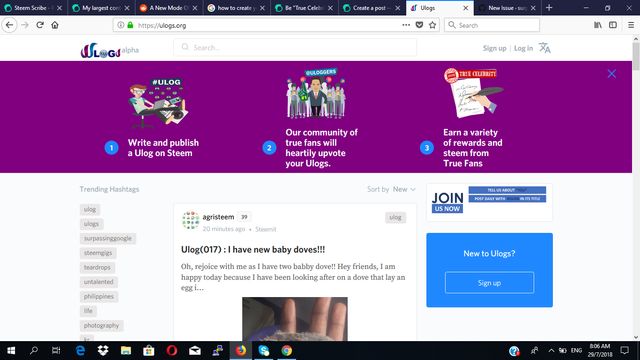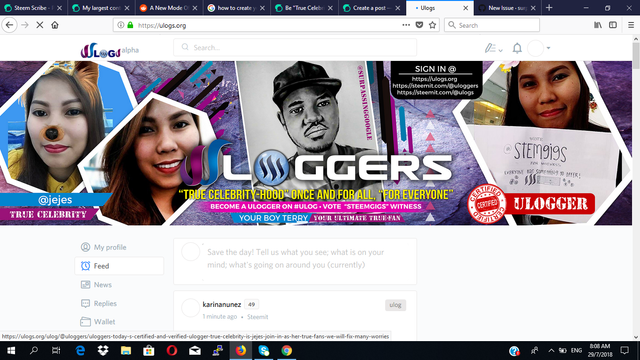 Our main hashtag is #ulog and this is what you will meet upon visiting https://ulogs.org as seen below: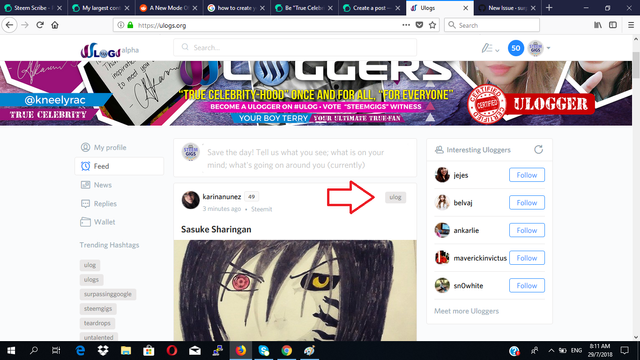 We also change the default display for #ulog to "new" in place of "trending". So basically, the homepage is vibrant and fresh as new ULOG posts are published. 
In due time, we will change the default settings for each prominent #ulog-subhashtag to display "new" as well instead of trending.
Another key thing we changed is the algorithm that determines or recommends "interesting ULOGGERS".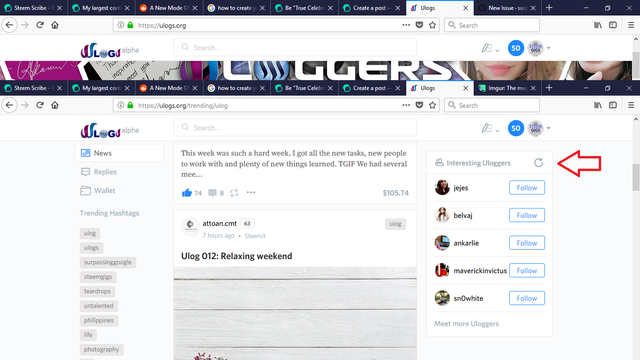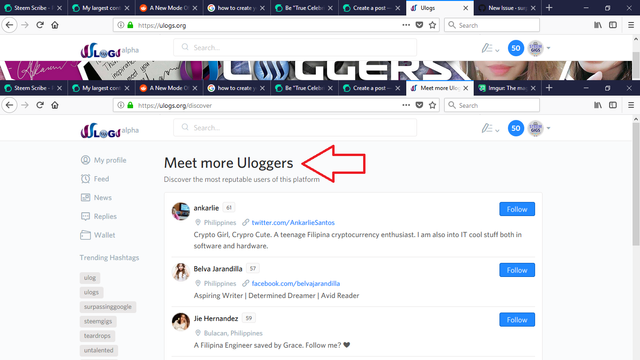 We want to created value for "becoming verified and certified ULOGGERS"; thus, we added a rule the grows a list of these ones determined by "steem accounts" followed by the @uloggers account, while keeping the "account age and reputation intact rule" intact.
Over time, ulogs.org will look for every avenue to celebrate and place the names of certified and verified @uloggers in additional light.
For the comment section, we changed the default display of comments to "sort by reputation" i.e display comments in order of reputation score.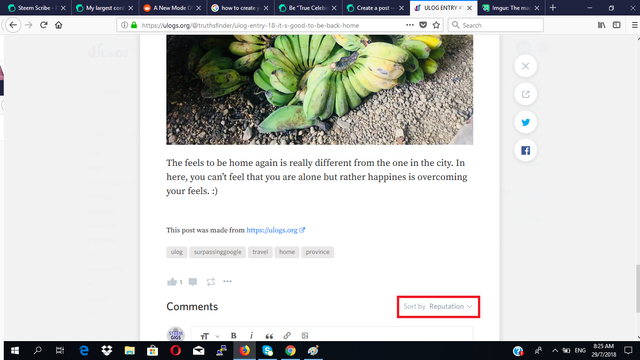 Among the reasons we did this, is to curb on the damage to user, that especially comments with phishing links can do, by keep these comments towards the bottom still, in cases these comments are voted up. 
In general, even if some of these comments can be graded out etc, in some cases, graded out comments spark curiosity more than its does apprehension. So, we decided to add one more step and have comments display by order of reputation score by default. 
Ofcourse, users can go ahead and change this display settings as desired. 
We changed the mainframe/structure of the main editor by adding a style guide, a drop-down menu leading to other areas of ulogs.org, a collapse function and a video embed area. The main editor now looks like this: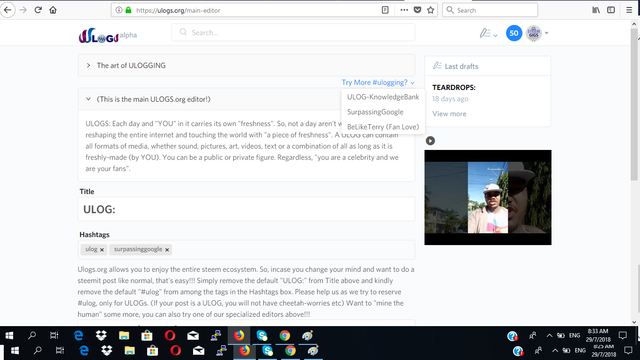 Overall, we will have a growing number of specialized editors and each of these editors will have its own style guide.
We have started the development of that as well. For now, you can write a normal steemit post on a separate editor: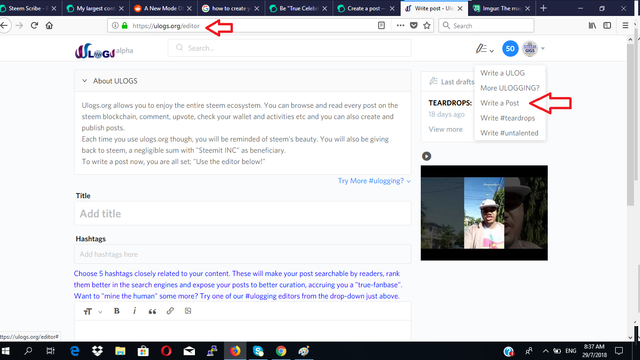 You will have noticed from the drop-down in the screenshot above that you can also select editors for use, to write under #teardrops and #untalented but these editors aren't ready just yet as we are currently working on a bug on the main editor that disrupts the auto-save/draft function. 
There is also a "more ulogging?" tab as you can see in the drop-down above. Clicking on that will lead you to a core segment of ulogs.org as seen below: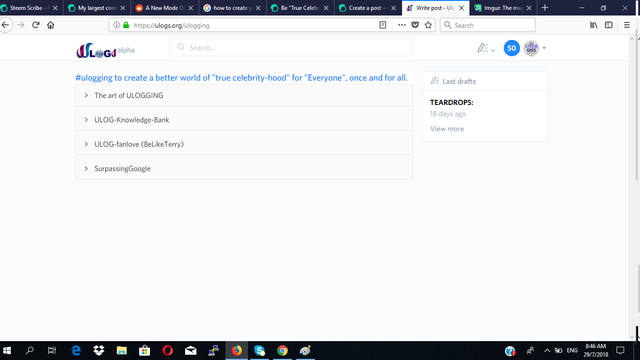 Basically, ulogs.org has an entire space that incentivizes learning through the art of #ulogging (the conscious fun art of mining the human).
Expanding each of the segments as seen in the 4 screenshots below gives insight about what this segment is about:
From top to bottom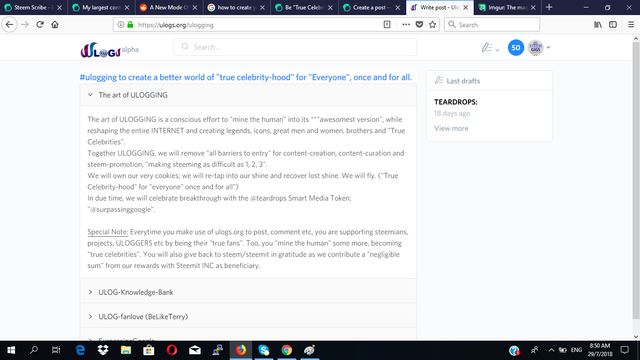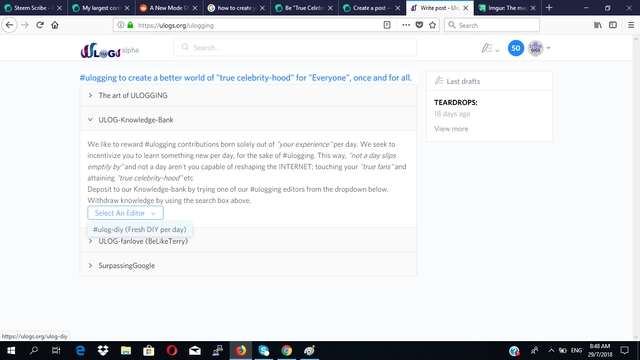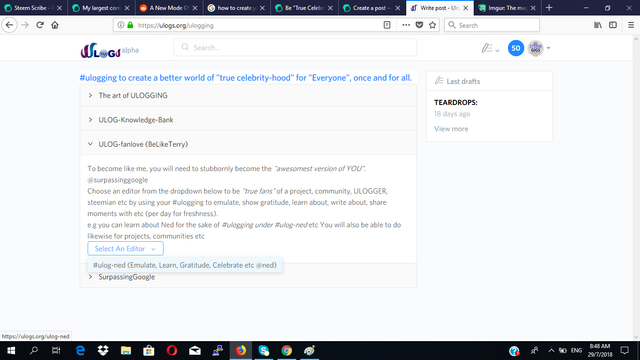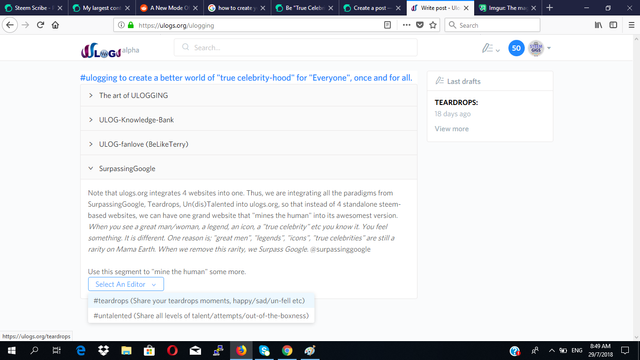 Alot will fill this space over the course of development.
In general, over the course of time, ulogs.org will begin to take shape; shaped around the world of #ulogging and #uloggers. It will be among the steem-based interfaces that will distribute the Teardrops SMT when the SMT protocol executes.
Kindly visit ulogs.org to test it or use it. Note; that ulogs.org allows you enjoy the steem ecosystem, so do well to enjoy time on it as you use it not only to create posts but also to comments, curate as "true fans" etc. With the implementation of micro-programming-tasks and bounties, development will move fast, once we are settled with core features as most of the tasks after that will simply involve replication of existing features.
This report is done under #utopian-io to intimate the world of developers out there that they can all participate. Even in the presence of time constraints or level of skill, you are sure to find a micro-programming task on our Github that you can take on. See our Github for a list of open issues:
https://github.com/surpassinggoogle/UlogsV2/issues
You can indicate interest in taking up an issue either in a comment on Github, on our telegram on https://t.me/teardrops_smt (look for @surpassinggoogle) or on discord: https://discord.gg/wWrnSXK (look for @surpassinggoogle)
You can also leave a comment below!
One more thing that was added on ulogs.org is an area to support the "steemgigs" witness. It is a "small box" area (on the right side) of the homepage of https://ulogs.org, which only shows up if you haven't already voted for the "steemgigs" witness. See screenshot below: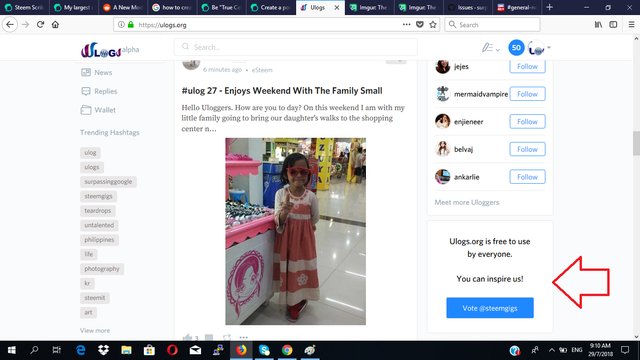 You can support what we do and the entire #ulog movement by voting for the "steemgigs" witness here: https://steemit.com/~witnesses or simply click Here to do it on one click! 

 Join the community here: https://discord.gg/gvGc6fj  
Join us on Telegram: https://t.me/teardrops_smt
Your Boy Terry