Welcome to the SteemMakers Community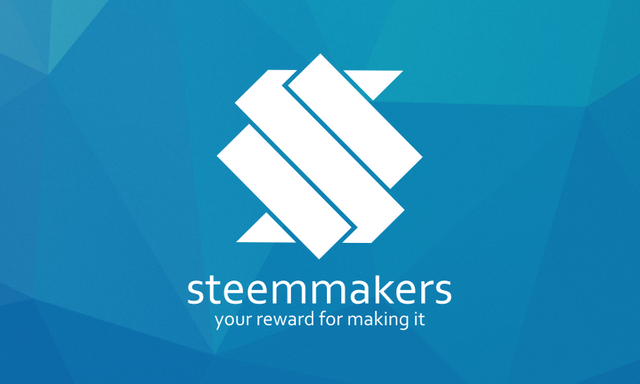 Our community has slowly been growing over the past couple of months.
As we grow, we think of new ways of interacting, helping the community, and eachother.
For our long term followers, this all makes sense, but for someone new, the information might be scattered, and sometimes outdated.
With this blog post we would like to summarize the current state for newcomers.
About SteemMakers
Audience
Even though describing our audience sounds easy, it sometimes is the subject of some discussion. What is a maker and what is a DIYer? We don't have the intention to exclude anyone, but at the same time we can't include everyone.
We can't really define these communities in a couple of paragraphs, and even if we did, it would be incomplete.
For us, "DIY" means you build, modify or repair something by yourself, rather than relying on someone you pay to do it for you. This can be anything from making a doghouse, painting your kitchen, to fixing your lawnmower.
"Makers" are a subculture of DIY, and are more involved with technical aspects like electronics, 3D printing, laser cutting, etc. But also, craft or technical skills are included, such as woodworking, jewelry and others.
We don't wish to set a strict definition to the terms, and what comes closest to our idea is the way both communities are described on wikipedia. If you are unsure head over to wikipedia and you'll find a lot of information about both DIY and makers.
Mission
Our mission is to help all maker and DIY related authors share their work and knowledge, to improve their skills, and finally grow outside their workshop, as well as on the blockchain.
To help you do this, we support your articles with a vote from our community account, and with many votes from the SteemMakers trail.
You can also use our discord server to discuss everything, and get support for maker, DIY, and Steem-related questions. Or, just hang out with us and enjoy the daily chatter.
Help us help you
A community is not a one or two-man show. We also need you to help us to help everyone.
With some minor effort from everyone, we can make a big difference to ALL makers and DIYers on the Steem blockchain.
Below we line out some ideas how you can contribute to SteemMakers community and at the same time also help yourself become more successful.
Curate and Comment on other Maker & DIY Content
If you are not just new to SteemMakers but also new to Steem or other social media platforms, this should be your first and most important step at the beginning.
I know this might not sound obvious, but showing interest in the work of others and what they write is the easiest way to generate interest from them in the work you do. They will appreciate your attention, and in the long run, you will help each other to get more attention.
Find other makers' and DIYers' posts and help them with your curation, comments, and wisdom. You probably should spend a more significant share of your Steem time with this instead of writing, until you have already attracted a large number of followers.
If you find new makers and DIYers you can do them a favor, not just by voting and commenting on their posts, but also by publishing the link to their article in the "request-review" channel on our Discord server. This will also help the community to grow.
How to find them? Scan steemit for new authors on specific keywords, such as 'printing3d', 'arduino', 'homesteading', 'diy' and of course, 'steemmakers'.
The best and most consistent curators will be given the 'reviewer' role, and will be enabled to enter contributions into the database directly.
Of course, to make it easier to find your articles, you should also post your articles there, but only those that are related to SteemMakers.
Show your love for SteemMakers and add a banner to the footer
After you've looked around in the community and made some friends, you can start with the next step. Show your love for SteemMakers!
Our community graphics hero @podanrj, who is responsible for all of our amazing artwork, created a fantastic banner that you can link in the footer of your articles.

An example from @drmake
You can request your footer in the discord channel "footer-request". It will maybe take some time, but usually, @podanrj is very fast in providing these images.
Talk about Steem and SteemMakers outside the blockchain
Are you ready to commit even harder to your maker career?
While there are lots of makers on steem, the maker communities outside of steem are much more significant.
When you write a new post, you should not only try to promote this post on the Steem blockchain. Go out and use other social media platforms (Facebook, Twitter, Youtube, etc. ) that will soon be replaced by Steem, and use them to promote your Steem articles there.
There are also many maker websites out there with passionate and beautiful communities, and they might like to read about your project.
While you are already outside of the blockchain, it doesn't hurt to talk about SteemMakers on other platforms. Every maker can use some support from SteemMakers to fund or help with their next project.
Don't worry - the more the community grows, the more we will have to distribute! You won't get less just because your friends join here as well.
Talk about Steem and SteemMakers outside the internet
Creating physical objects with your skill, passion, and dedication is not virtual. You should not limit your self to promote those things in a virtual environment like Steem or the internet!
There are probably 1 or 2 Fablabs and Makerspaces close to your neighborhood. There might even be a Makerfaire, Comic Con, or other exhibition once or twice a year in your town or close to it.
Go there, promote your work and talk about the support you get from SteemMakers. We would appreciate spreading the word.
Follow the trail & delegate steem
You are by now convinced that Steem is the future, you either earned or bought a decent amount of Steem, and you want to give back to the community and support other members with your stake.
Without the steem voting trail and the delegations, this community would still be great, but it would just be a community like all the others out there.
The unique part of Steem is that it gives you the chance to give something back without losing anything.
Follow our trail, and you can automatically vote for each post that SteemMakers vote on!
Read on our "Follow our trail" page to learn how to join the "trail".
You can control how much voting power you want to invest. This way you will always have Steem power left to vote yourself on other posts.
Delegate to SteemMakers to directly allow us to use your Steem power without you risking anything. That's right, you retain full control over the delegation and can take it back any time you please. The community will use it to vote for all maker and DIY posts.
Also for the delegation process, there is a special page with all the details and a list of delegates.
You can follow the trail or delegate steem without the risk of losing anything from your wallet.
Support the development of the SteemMakers website
This request goes to all the developers among us. The SteemMakers community relies on software. As such we need developers to improve the website, the bot and the discord server. Everywhere we have a long list of ideas but only a handful of active developers.
SteemMakers is an open source project. All the code is publicly available on gitub, and you are more than welcome to join, offer ideas and help us to add features and functions to all our pieces of software!
The best part is that you can leverage the power of utopian.io! Utopian is not only the biggest sponsor and supporter of our SteemMakers community, they also support every developer and contributor to open source projects.
By helping us with the development of the website, and all the other components, you have a good chance to earn Steem and SBD from utopian.io when you post corresponding articles about your contributions on utopian.io
Further questions
Have a look at our FAQ page on the website and if you can't find the answer there just join our Discord server and we'll be glad to answer them.
Many thanks to @drmake for the contents.
Edited by @jefpatat and @makerhacks.