steemit.events: Introducing a One-stop Portal for All Steemit Events, Meetups and Contests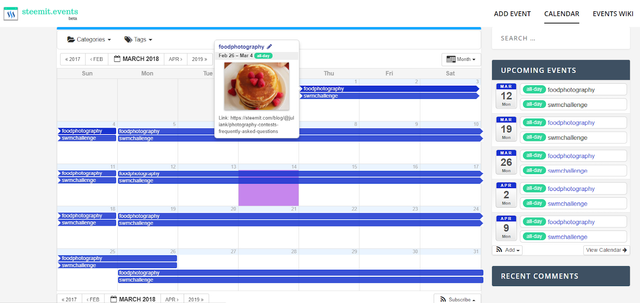 "What gets scheduled gets done."
― Michael Hyatt, Living Forward: A Proven Plan to Stop Drifting and Get the Life You Want
This quote very well justifies the need for a schedule in order to make our life easy and organized.
What if we could have a tool to keep all Steemit events/contests well organized in one place and that keeps us conveniently on schedule for Steemit events. And we get a reminder for events of our interest or those happening in our location.


Welcome to steemit.events - a one-stop application to create, manage and subscribe to Steemit events and contests.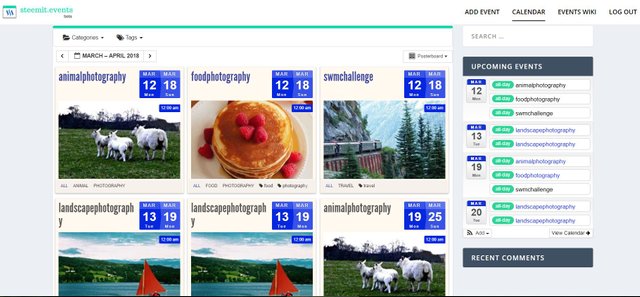 Beautiful Posterboard view on steemit.events
We built steemit.events out of our own frustration to keep track of Steemit events and contests. Below are the high level features that are part of the application currently:
All Steemit events (Contests, Meetups etc.) in one place, sorted by dates
Add Steemit events and contests in the calendar
Filter events with categories and tags of your interest
Subscribe to Steemit.events. This enables you to sync the steemit.events calendar to your favorite calendar like Google Calendar, Outlook Calendar etc. and get a reminder
Helps organizers/hosts in promoting their event and reaching a larger audience
Calendar with various view options of Day, Week, Month, Agenda, Posterboard, Stream. Currently default is Month but our personal favorite is: Posterboard! Once you've had a look at the calendar application, do let us know which one you like?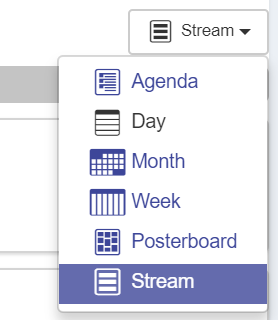 Different View options on steemit.events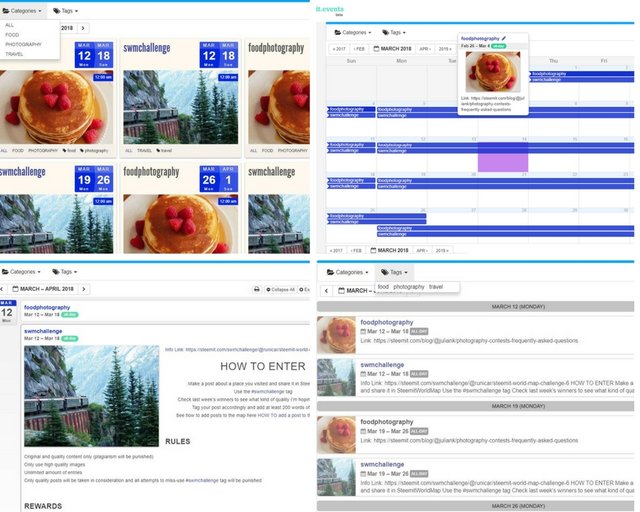 Different Calendar views on steemit.events
Category and Tag based filtering: Very useful if you are looking for a specific category of event/contest as per your interest


()


Few Categories shown in the filter drop-down

Subscribe to add to your favorite calendar: So you never miss any important event or contest ever!



Subscribe option in the bottom right corner of the calendar

Add Event: Add Steemit contests or meetups to appear in the steemit.events calendar. Event information can be provided by anyone, not just by the organizers. Just fill up the form and you are all set!
*Form Link: https://steemit.events/add/ *

Add/Submit Event Form

Login securely using SteemConnect or Facebook Login. Currently login is required only for adding events.


Wiki: As the name suggests, that's a collection of and info on all events on steemit.events. You'll also be able to comment from Wiki page, which if found useful can be added to Wiki. Quite handy!
Team
steemit.events is conceptualized by @girlinchief and developed/managed by @kwlvarun
@girlinchief is active on Steemit and regularly posts about her travel adventures across the world. She loves participating in contests on Steemit but found it difficult to keep track of the various contests. That's what led to steemit.events
@kwlvarun is a techie and a crypto enthusiast. After the recent crypto crash, he started meditating and building apps useful for Steemit. He loves following @girlinchief on her adventures across the world! :)
Collaborate with us
If you like steemit.events idea and want us to actively develop it further, please do upvote, resteem, comment with your feedback and follow @steemitevents!


Link: https://steemit.events
---
Posted on Utopian.io - Rewarding Open Source Contributors
---