It's awesome knowing how technology has evolved and had created a means to solve several issues. Yes, I keep saying this over and over again because I'm overwhelmed seeing how digital tools are making life simple for every one of us.
I have read blogs and watched videos on how hard it is to get a presentation screen projected for the viewers. The experience can at times be extremely hectic and uncomfortable especially when cables are to be used. Although, the world now has the latest set of projectors that don't require cables to function. They've been able to reduce the stress while setting up for a presentation. However, presentations would be more fun if everyone in the audience is able to get the presentation live on their devices rather than viewing from the main projection screen.
The above paragraph will lead me to the introduction of a mobile application that allows users to view a hosted device screen in a web browser. I have used this application for a while now, and I have seen how awesome it is, which is why I have decided to share my experience with it in this blog post.
Introduction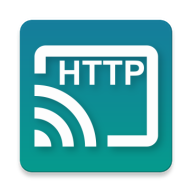 Dkrivoruchko is a developer who built ScreenStream application which enables live streaming from an Android device to a web server. The huge advantage of the application is that it can be used to generate a streaming link for a mass number of people to join the live streaming. Imagine a situation where a lecturer wants to lecture a large number of student in a classroom, the use of the application developed by Dkrivoruchko would be the best option. Another awesome feature of this application is that users and the hosted user don't need an internet connection to view live streams. All they need to have is a common network.
Installation & UI overview
As usual, I prefer downloading the most lightweight app from lists of similar applications on playstore. So, ScreenStream is definitely a lightweight application that doesn't require much space on my device storage.
After installation and launching, the home screen has a neat interface as expected.

It includes the hosted device address, a traffic graph and a section that displays the number of connected users. I didn't use pin code in my first stream but I later enabled it.
---
There are different options on its settings page which enhances its appearance and functionality. One of the advantages I found using ScreenStream is the ability it uses to manage my device battery. I was able to enable it to stop streaming while my device screen is asleep, and also with an option to automatically enable dark them at night.
---
Demo
After I started the live stream on my Android device, I then entered the server URL on my chrome browser from my Pc, which then requested a pin code to fully access the live stream. I was able to restrict unwanted users from joining the stream by encrypting the live stream.

The rate at which the developer allowed the app users to configure the app is really amazing. There is an option that lets users tweak with the background color. The default color was set to black by default, which was why I needed to change the color to a brighter color, preferably red and light green. I tried changing the background color during the live stream, but it automatically stopped streaming. I had to start all over again. I later changed the background color from black to green and finally red. I disconnected the stream before I successful made those changes.
---
There are several ways to tweak the app as the host.
The application uses MJPEG to encode screen images and send them through the network. So it works with any desktop or mobile browser which supports MJPEG (Chrome, Safari, EDGE, Firefox).
I can decide how the image should be displayed on the client screen. The developer provided an option to resize the display image, the angle at which it displays and JPEG compression quality. At times, the stream becomes so tiny on some screen. Using those options made everything viewable.
The Last image below was the last screenshot I captured during the stream section. It proves how many users I had on the stream server. It also displayed the activity graph.
Lastly, I wish audio broadcasting is supported alongside while streaming, but this isn't possible since the app uses MJPEG standard which has no sound feature supported.
I will rate ScreenStream 8 of 10 for its awesome features and how its users can configure the setting to suit their need.
project update
Repository:
dkrivoruchko/ScreenStream
There isn't really any recent update. Although, a user tried building the project with Android studio but got this error File google-services.json is missing. The Google Services Plugin cannot function without it which he later figured by himself, the problem was where the developer enabled a setting to build variant to fabric free in Android studio. The project owner had fixed the issue has released an update 9days ago.
Summary
This is the best Screen streaming application on playstore because it allows its users to customize how they want their connected device(s) to view the live broadcast. It's also ads free and there isn't any in-app purchase unlike other similar apps on playstore with the same or similar name.

I recommend ScreenStream to anyone who wants to live stream presentation with ease.
Till next time, Thank you for reading. Bye.