POCKET-JS, the NodeJS POCKET confirmer
View this post on Hive: POCKET-JS, the NodeJS POCKET confirmer
---
Repository
https://github.com/quochuy/pocketjs
What is the project about?
POCKET stands for Proof Of Concept Electronic Token (the K is silent).
POCKET is a project by @biophil. In a nutshell, it is a cryptocurrency that uses the STEEM blockchain as a base. It uses STEEM comments to execute commands such as sending tokens and confirming them.
The distribution of POCKET tokens has already stopped but many people still own some tokens and distributing them as tips via comments.
I started this project after seeing @sn0n asking @biophil if the project exists in Javascript on the following post:
https://steemit.com/pocket/@biophil/pocket-announcement#@sn0n/re-biophil-pocket-announcement-20180112t011307004z
The original implementation of the POCKET confirmer was developed with Python.
Screenshots
Here is a screenshot of @pode sending some POCKET to @dmaniabot via a comment. The transaction was then confirmed by @pocketjs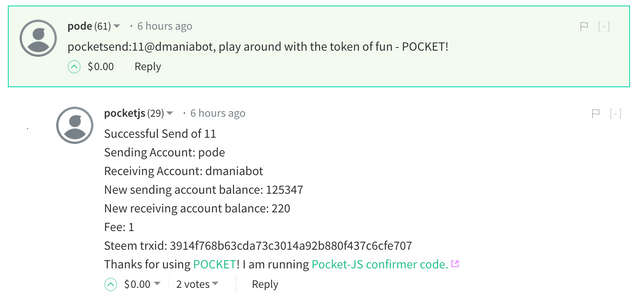 ---
Here is the activity logs from the bot:


---
Here is a recent activity logs from https://steemd.com/@pocketjs: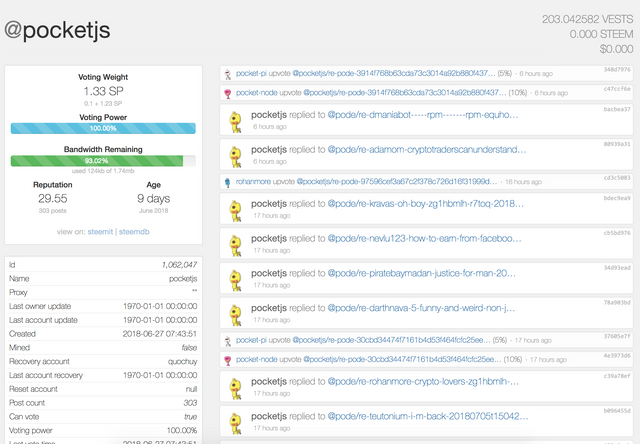 Technology Stack
Javascript
NodeJS
dsteem
JSON format for the file-based database
Docker + Docker Compose
Installation
Using GIT, clone the repository: git clone https://github.com/quochuy/pocketjs.git
Customizing the config file
make a copy of bot/config/config.distrib.json and name it config.json
edit the file and update set confirmer_account to your bot's Steem account username and confirmer_key to your bot's Steem private posting key
you might want to also set mode.test to true and mode.debug to 1 or 2 to increase log verbosity.
Once the confirmer is caught up with the head of the blockchain, you can set confirmation_active to true.
Running with NodeJS
You need to install NodeJS and then run the bot:
cd /path/to/project/bot
node confirmer.js
Running with Docker
You will need to install Docker and Docker Compose first then build the bot:
cd /path/to/project/bot
docker-compose build
Once the build is successful, you can run the bot with: docker-compose up -d
Check the logs with: tail -f bot/logs/bot.log
Generating a DB snapshot from an existing running Python confirmer
If you are already running @biophil's original confirmer written in Python and would like to help test this project, you can generate your own DB snapshot by copying the following file under the same directory as the blockchain_reader.py file:
https://github.com/quochuy/pocketjs/blob/master/bot/utils/convertDb.py
Then just run: python3 convertDb.py and this will generate a db.json file that you can just move into the bot/database/ directory of the POCKET-JS project.
Roadmap
The current version has been running fine for a couple of weeks already under @pocketjs but there are still few missing features:
replaying from block #1
replaying from Genesis
upvoting confirmation comments from other confirmers
rotate RPC nodes in case of connection issue
don't upvote or send confirmation comment until the replay reaches the head of the blockchain to prevent upvote/comment spamming
To run this script, it requires a post-genesis snapshot of the database. The GIT repository is currently hosting a DB snapshot as of 2018-07-06 at 6:00 pm AEST.
Ideas for extra features:
add an extra command (not part of the protocol) to allow requesting for an account balance: [email protected]
create a simple blockchain explorer for POCKET
How to contribute?
Please contact me on Discord, my username is QuocHuy [witness]#4676
GitHub Account