Repository
https://github.com/nirvanaitsolutions/swapsteem
Introduction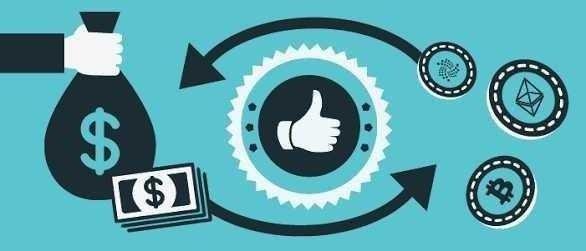 Image source
Hi, @princekelly here.
I bring you a topic on the Steem Blockchain which affects a lot of Steemians.
Trading your Steem/SBD to fiat and vice-versa.
I can state that over 50% of minnows, including myself have been at the receiving ends of scammers. They pretend to buy and end up carting away with our hard earned Steem/SBD.
If a survey is being carried out on the number of Steemians who have lost their coins.
The result would show an alarming figure, of Steemians who have fallen victim to this scam.
Most of their victims are unsuspecting minnows, trying to change their Steem/SBD to fiat.
A. A trip down Memory Lane
I fell victim to one of these fraudsters on telegram chat app while trying to change 24 SBD for Naira.
I was in shock of losing my funds, how can anyone be so heartless and cart away with my 24 SBD?.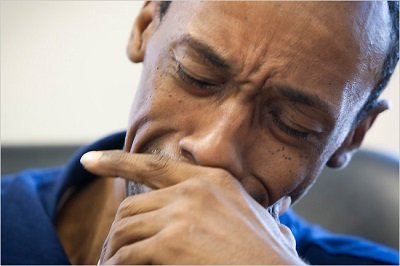 Image Source
I was a victim through Block Trades exchnage, using Block trades as a medium of transaction. Here is a link my comment on Block Trades, to get justice.
Here is a link to another comment I made on a friend's post, the sad memory lingers on to date.
After a while, I came across a platform which had huge potential for protecting Steemians.
After careful study of the platform, I bring you Swapsteem.
B. What is Swapsteem?
Swapsteem is a peer to peer exchange platform based on the Steem Blockchain. A platform for sellers and buyers to trade their Steem/SBD for fiat.
Swapsteem started out as a small community on the Steem Blockchain.
It requires the use of specific tags and a resteem from the Swapsteem account to connect users.
It is an open source platform which uses Steemconnect for user authentication. Steemconnect helps in ensuring automated transactions.
For more info on how Swapsteem started check here.
C. Profile of the founder of Swapsteem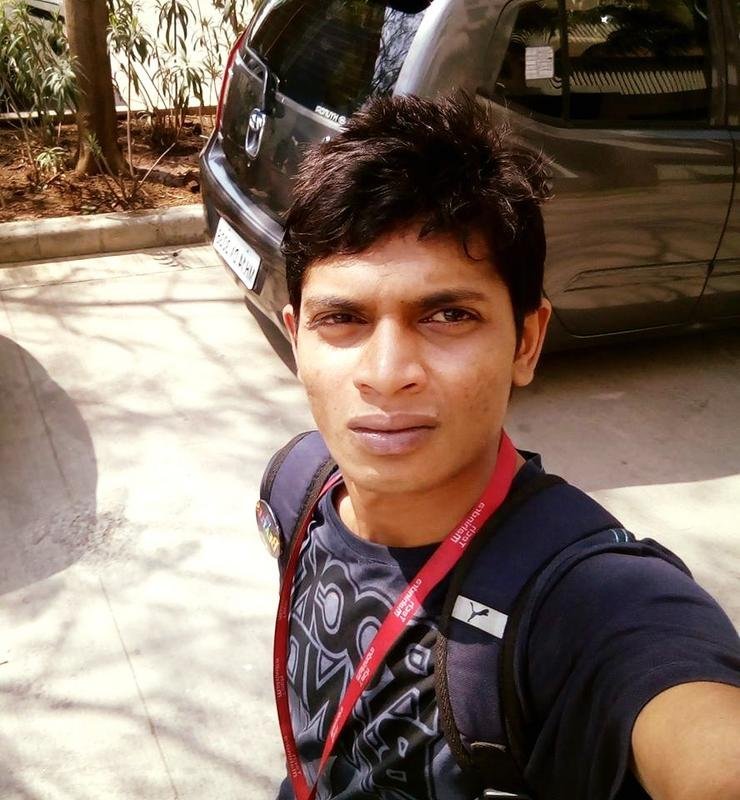 Image Source
The founder of Swapsteem is @aneilpatel.
Anil is a professional full-stack software developer from India.
He has over three years of working experience with cutting-edge technologies.
He started the journey of Swapsteem well over 3 months now.
From the introduction of the project by @aneilpatel on his blog.
D. Why create Swapsteem?
The word Swap Steem comes from the main purpose of the platform.
Anil created Swapsteem to solve the following problems which other decentralized exchanges have.
To help promote the Steem and SBD coins as a global and generally accepted form of payments for trades.

To provide quick, reliable and standard Steem/SBD to fiat exchange and vice versa.
---
How to use Swapsteem
I have been following the project for a while now and studied how to make use of the platform. It is a project that can do well and become a pacesetter on the Steem Block-chain.
Below I have created a quick guide to help get started on Swapsteem.
A. Logging in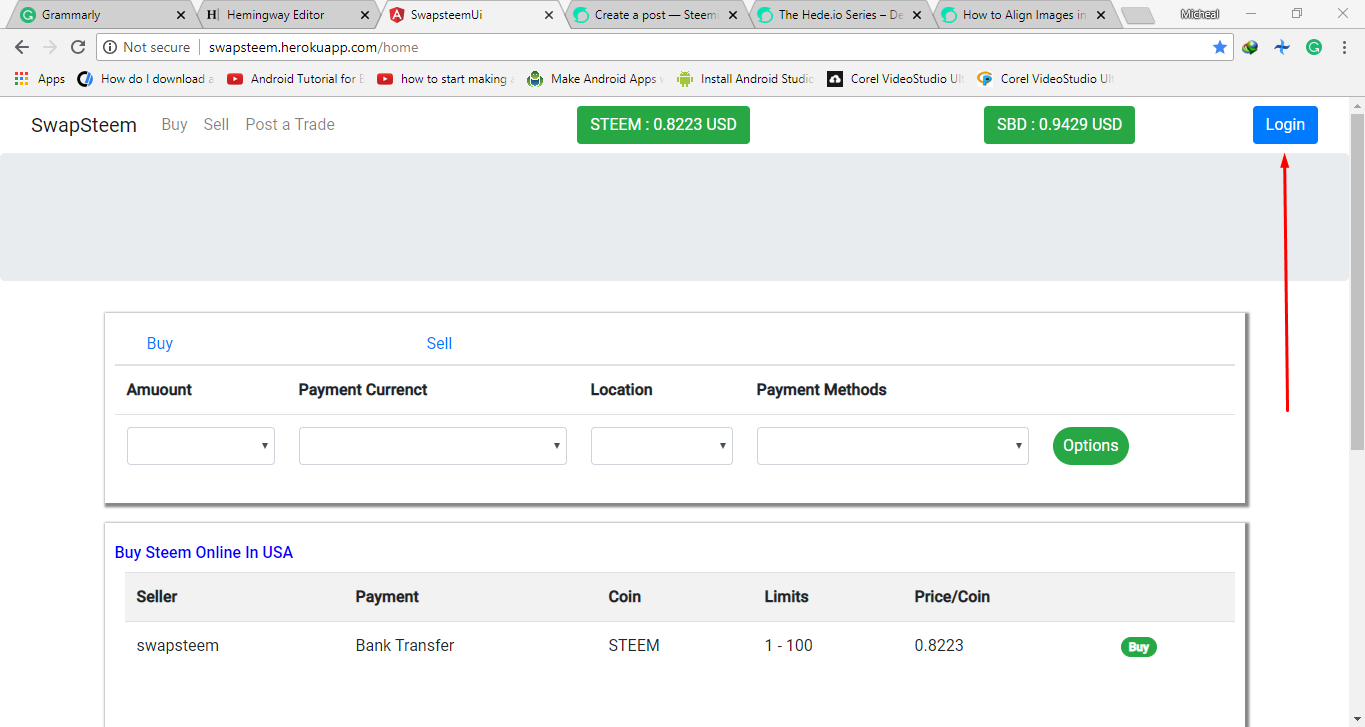 Swapsteem login interface requires user's Custom Json access via Steemconnect.
Custom Json is a place where a program can store public information about your account.
You need a Steemit account to access Swapsteem.
You can register at https://steemit.com and confirm your registration.
Login to your Swapsteem account to trade your Steem/SBD to fiat and vice- versa.
B. Post a trade on Swapsteem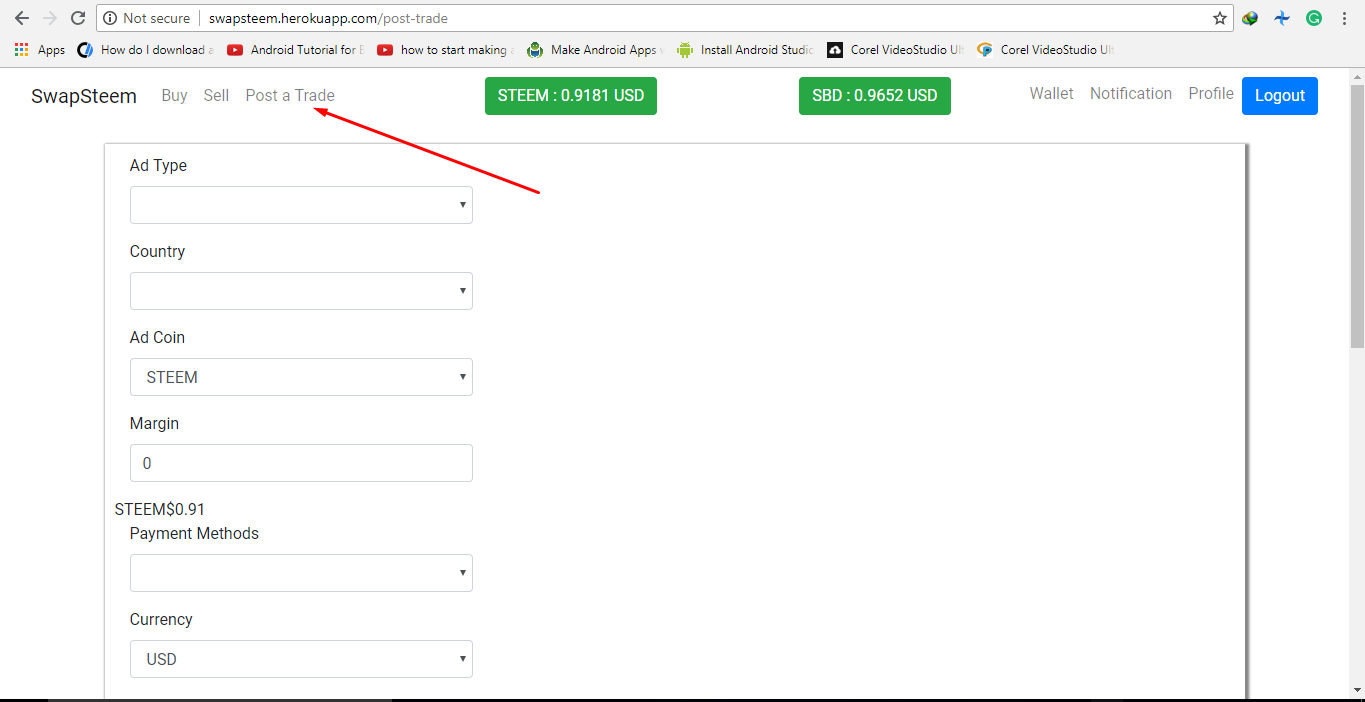 Once logged in, click Post a Trade located at the top of the page. Fill in your trade information accordingly. I will explain each segment on the post trade page.
Setting up your trade:
Ad Type Box: Select either buy or sell, depending on your current need.

Country: Select your country.
There are currently five (5) countries available for selection on Swapsteem. More countries would be available as the project make significant headway

Ad Coin: Select your preferred coin for trade, choose between Steem and SBD.

Margin: you can set from the negative value to positive.
The selected margin is in percentage (%). Which shows traders the value a user place on his coin, over the current stipulated price of Steem and SBD.
Example:
1. A (0) means you sell or buy Steem/SBD at the current market price.
2. A (-1) value means you trade at 1% below the current market price of Steem/SBD.
3. A (1) means you trade at 1% above the current market price of Steem/SBD.
Payment Method: There are currently 3 modes of payment options available on Swapsteem
1. Bank Transfer.
2. Cash.
3. Paypal.
The payment options on Swapsteem covers all form of local money transfer. Wire transfer option should be available to add more value to inter-country transactions.
Currency: There are three options available at the time of writing this post.
1. USD (Dollars)
2. INR (Indian Rupee)
3. KRW (South Korean)
Ad Coin Amount: This is where users set the quantity of Steem/SBD for trade.

Limit From and Limit To: Users can set the smallest and largest volume, they willing to trade.

Restricted Amount: Users can specify the number of trade, they won't exceed.
I see this option as irrelevant to my trade.

Terms: Users can write extra requirements in this box. which other users should meet in other to start a more satisfactory trade.

Minimum Volume: Users can use this section to specify the least volume to start a trade.

Minimum Reputation Score: Users can set the least trader reputation of whom can start a trade.
For more Information on Swapsteem reputation score, visit the FAQs section here.

New buyer Limit: This allows traders set the volume of coins a new trader can deal.
A new buyer is a trade word for dealers, with no prior transactions between them.
This section serves a close purpose to Minimum Reputation Score.

Publish Advertisement Button: This posts your trade on Swapsteem with your selected parameters.
However, you should read through your selected parameters to ensure there are no errors before you post an advert.
You can check your advert at the profile tab located at the top right corner of your page.
---
Escrow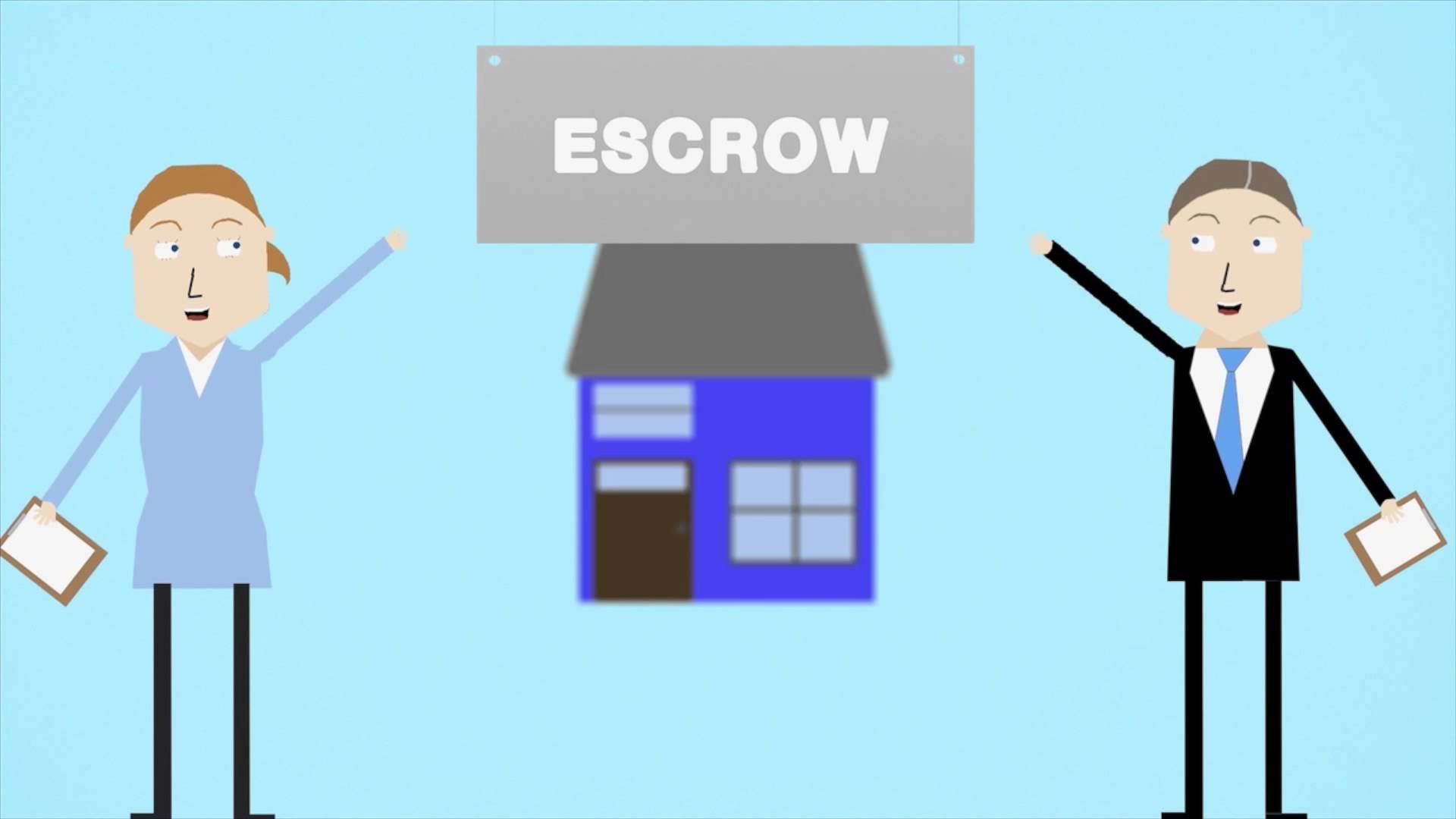 Image Source
Escrow is a trusted middleman, between the buyer and seller.
Escrow serves as a trusted entity for safe and smoother transaction.
Currently, the only available Escrow is the @swapsteem.
A. I would like to become an escrow agent on Swapsteem
@aneilpatel has laid down some important and impressive guidelines for selecting escrow agents.
These guidelines would make users of Swapsteem feel safe.
To become a Swapsteem escrow agent, a user must fulfill the following criteria;
Deposit of Steem or SBD to Swapsteem.

A delegation of Steem Power to Swapsteem.
The amount of deposited Steem or SBD or delegated Steem power is equivalent to the amount of transaction you can moderate.
A standard security measure to ensure the safety of users funds.
In a case of escrow gone awol, the deposited Steem/SBD serves as a backup to ensure traders don't lose their funds.
Swapsteem would remove the affected agent from the system.
However, a deposit of Steem or SBD should be mandatory over delegation of Steem power. Steem power can be recalled at any moment by the delegator, but deposits are are safe with Swapsteem.
Theoretically
I am an agent by delegating Steem power to Swapsteem.
I get a trade of some valuable worth and decide to misuse the funds and take back my delegated Steem power.
Am in the clear!!!!. Theoretically speaking.
B. Transaction Charges
The transaction charges on Swapsteem:
Amount of Steem/SBD
Percentage
Minimum
0 to 100
Up to 2.5%
Min of 1 SBD
100 to 1000
Up to 2%
Min of 2.5 SBD
1000 and above
Flat 1%
Min of 10 SBD
C. Note
However, due to the project still in the alpha stage.
Temporary trading is set as follows:
Maximum transactions volume is set at 200 Steem/SBD.

Transaction fees are set at 0.5 to 1 Steem/SBD.
---
SECURITY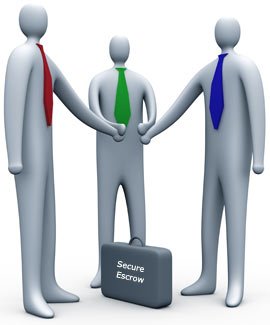 Image Source
In this section, I have compiled a simple guide on which should make Swapsteem soar.
I believe it to be useful to new and existing users of Swapsteem platform.
A. How Swapsteem protect their users from losing funds?
Traders are being placed on a reputation system where traders have trading limits.

The reputation system score users on the number of completed deals and dispute.

Availability of standard and trusted escrow, where sellers deposit coins via Steemconnect.

The provision of valid proof of payments which include screenshots of bank transaction id.

Channel to open and solve trade disputes.
B. My view on Security
As a user of Swapsteem that wouldn't want to lose my hard earned Steem/SBD. I would love to see a document detailing how the Swapsteem escrow will deal with frauds.

Information on how best Swapsteem solves trade disputes.

The Swapsteem escrow should be equipped with the right tools to detect fraud-proof of payments.

Swapsteem should have regular security meetings with escrow agents.
Above is an example of what the Swapsteem security documents should contain.
I would share a more detailed report on this in my next series.
C. Why choose Swapsteem over other exchanges.
Reasons why I choose Swapsteem:
It is one major platform that helps convert Steem/SBD directly to fiat.

A Platform for users to convert their Steem/SBD to preferred fiat.

Steemians from China, India etc, where exchange trades are banned, can use a Swapsteem as a peer to peer solution to their exchange problems.

Low transaction fee, from 1% to 2.5%.

Sellers make coin deposit to escrow via Steemconnect.
---
Swapsteem Discord
The Swapsteem discord community is growing and improving everyday with 27 members at the time of writing this post.
Join the community on discord here https://discordapp.com/invite/dNz9kmA .
Swapsteem Development
The project is going through massive development to reach the required standards aimed by @aneilpatel.
More developmental updates can be found on @swapsteem account.
Welcome to Swapsteem
Series Backlinks
This is the first post in this series.
Stay tuned!!!!.
Until next time, I remain myself Adelabu Micheal Oluwaseyi @princekelly.