Repository
https://github.com/nirvanaitsolutions/swapsteem-ui
Linked Task Request
https://steemit.com/utopian-io/@swapsteem/task-request-swapsteem-ui-swapsteem-invites-contribution-for-ui-design Created by https://steemit.com/@swapsteem
Details
Swapsteem is a peer to peer exchange, similar to localbitcoins.com. With increasing number of users on this platform, we have felt a strong need for a peer to peer exchange to convert Steem and SBD directly to different fiat countries, provided with secure escrow transactions in moderation of varius influencial steem escrow agents for the respective country or currency. So we want to help Steemians get their hard earned Steem directly into their bank accounts, and save them a lot of Fees that exchanges take for such facilities.
My task was to create a new home page design for Swapsteem (a logged in and logged out version of it) and if it gets accepted by the team, do the UI for the inner pages too (Post New Trade Page, Wallet Page, Profile Page, Dashboard Page, Trusted People page), which will be published soon.
Desktop version
Home page - Logged in version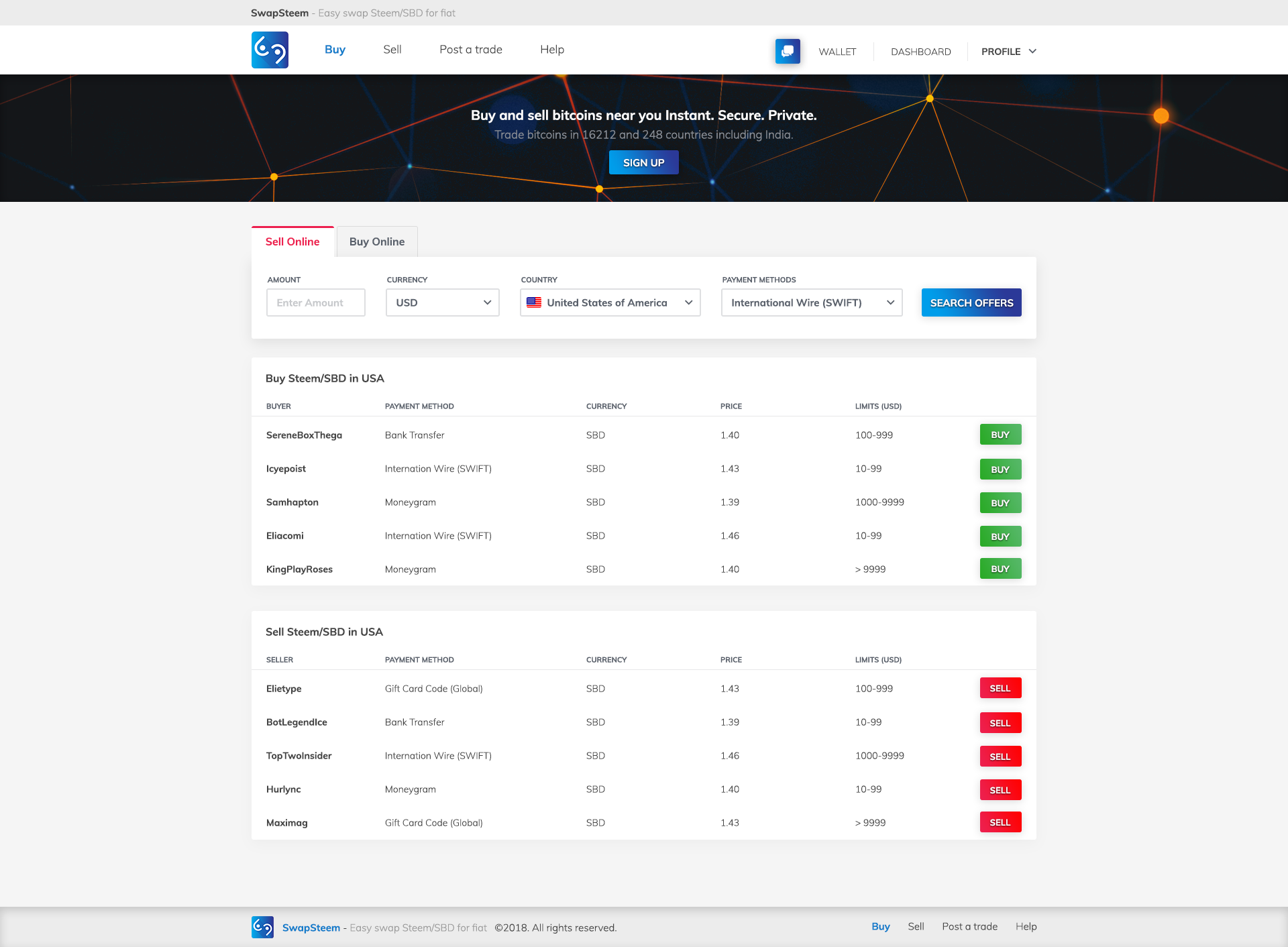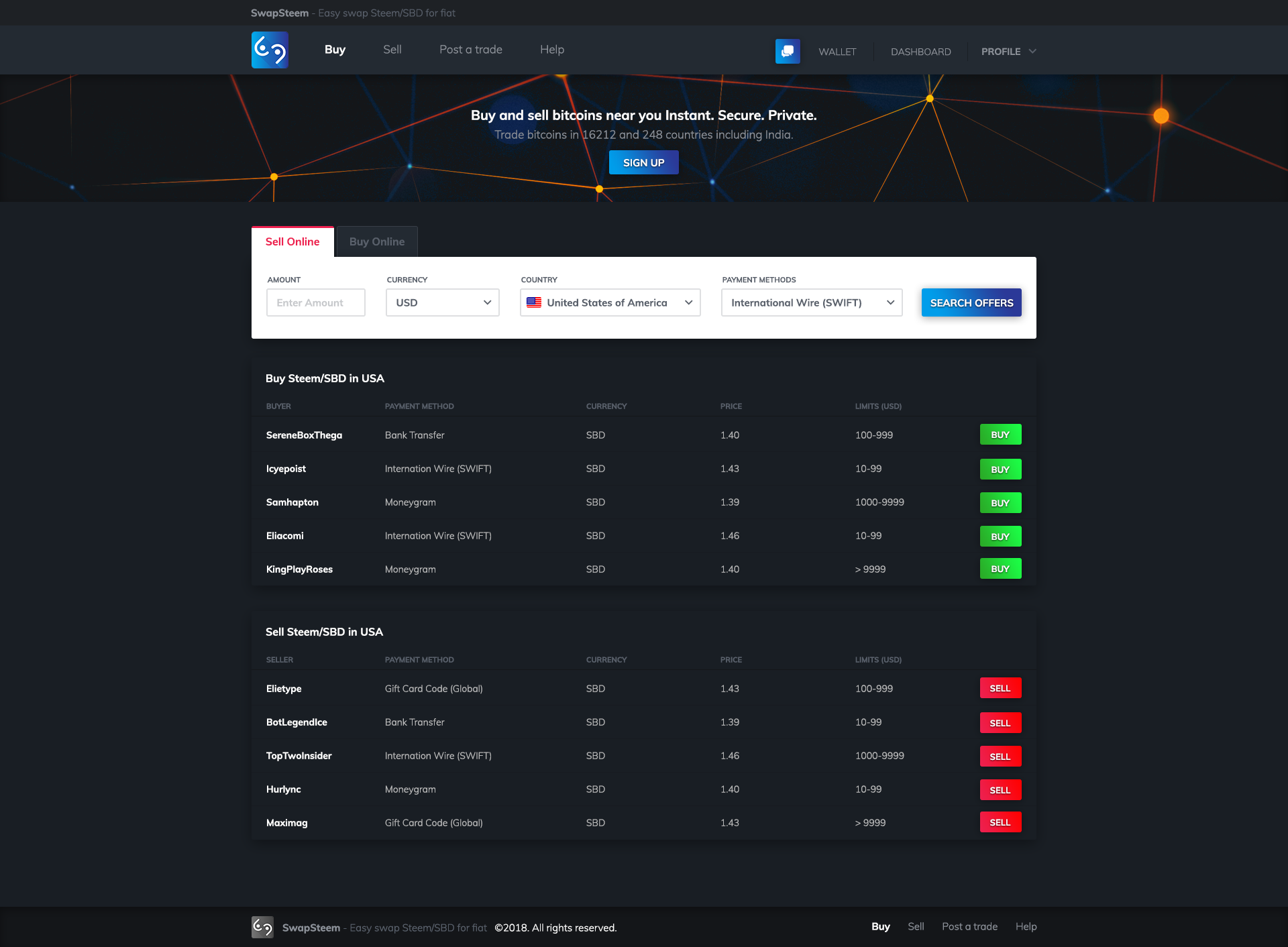 Home page - Logged out version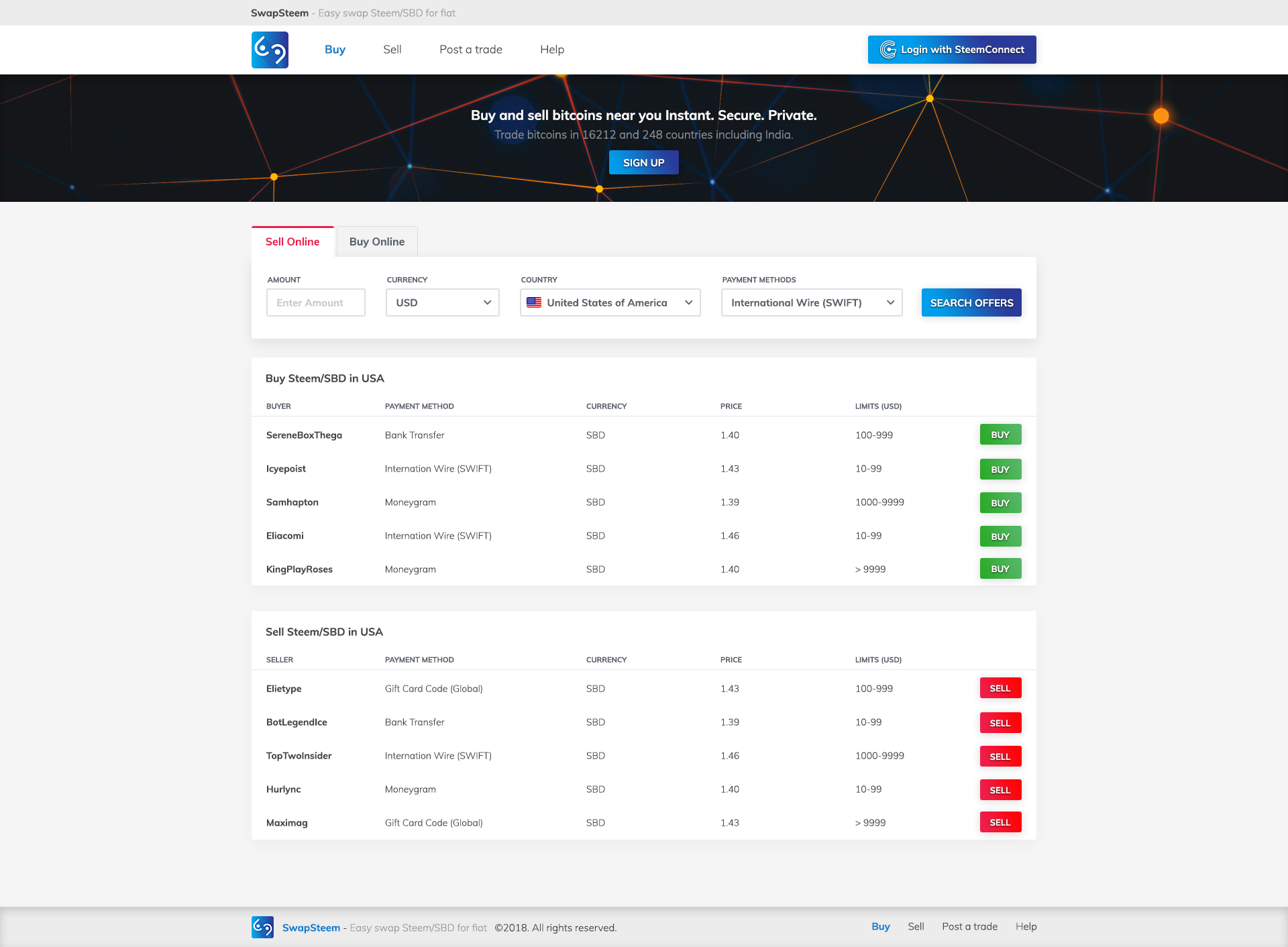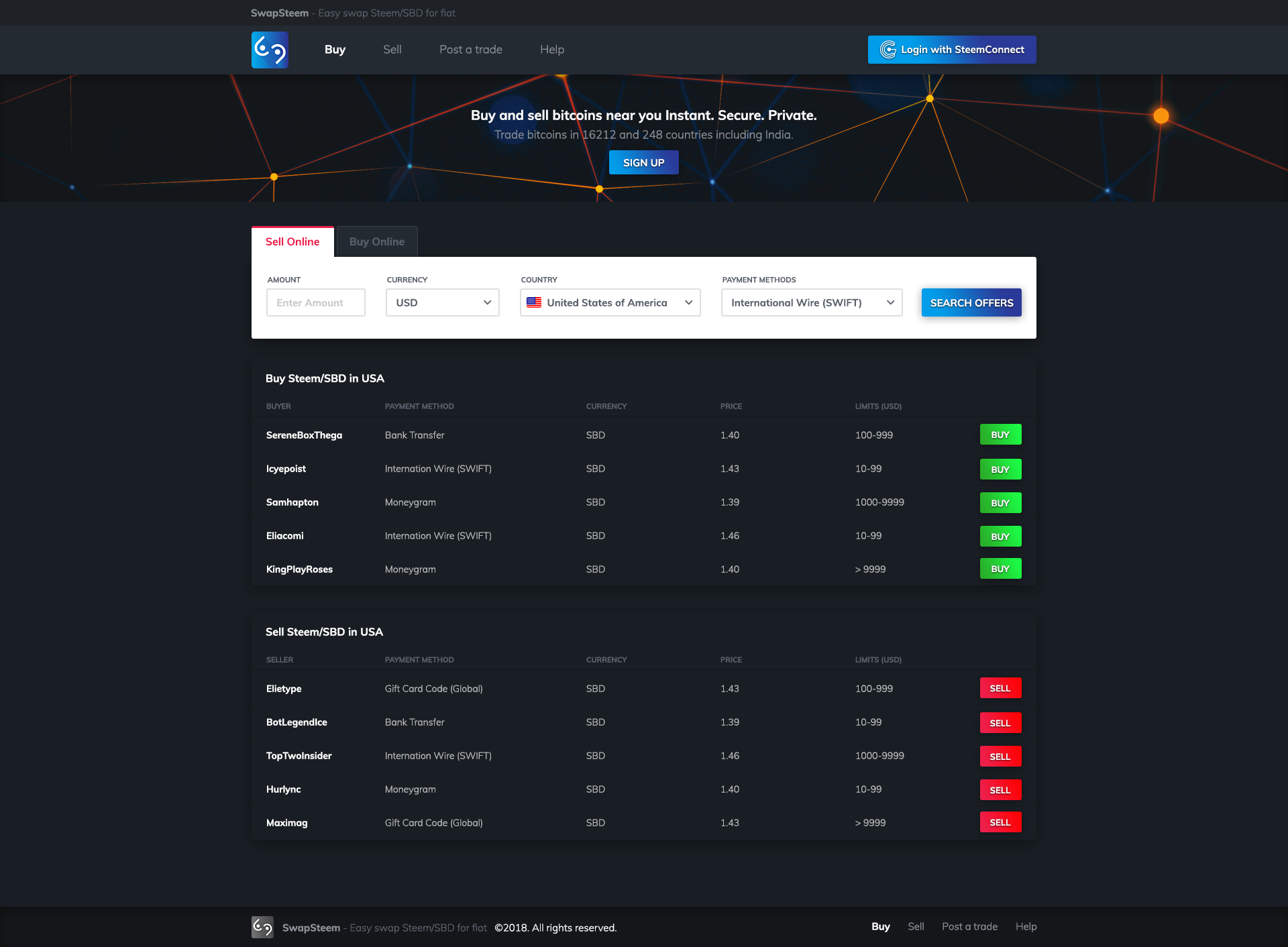 Mobile version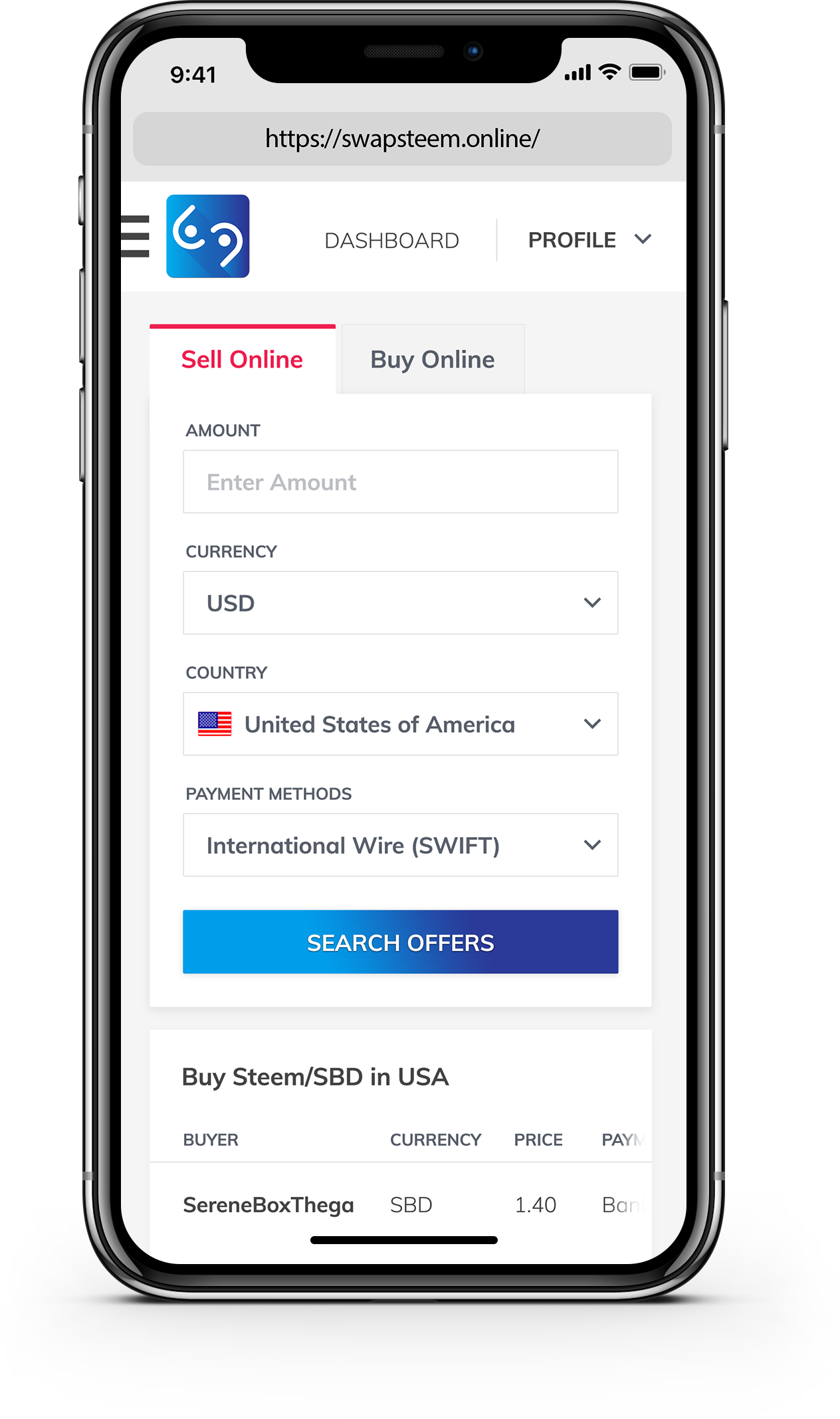 Benefits / Improvements
After a few hours of research, realized most of the peer-to-peer exchanges has bad UI and even worse UX (User Experience) design.
After noticing this issues, as a UX designer, my goal was to create a good looking but still user friendly UI, which works great on desktop and on mobile devices. I have created a dark and a light version of the interface, so the users could determine which version they prefer to use.
Proof of authorship

Tools
Tool used: Adobe Photoshop CC
Original files
PSD file: https://drive.google.com/file/d/1QF0C1Riq9rAZpMEO215wtsBPLXBFIiFQ/view?usp=sharing
Proof of Work Done
This work is licensed under Creative Commons Attribution 4.0 International License
Mockups used for preview:
Tablet mockup - https://www.graphicpear.com/liquidpro-ui-kit/
Phone mockup - https://www.pixeden.com/psd-mock-up-templates/iphone-x-psd-mockup-vector