The Basic Attention Token – A Dapp Review for Task 12
Repository
Introduction
This Dapp Review will have its focus on the Basic Attention Token. The name of this token sounds pretty easy and straight to the point. It's like a token you earn for paying attention. Just like the high grades you earn after paying attention in class and going on to do well in the classwork.
Pretty easy, isn't it? Methinks so too. So let's all go ahead, give out our basic attention and earn some token rewards for our efforts. But how do we get this done? Yeah, that's true! I can't see where I mentioned it in this article. Not to worry, I just got started, so I got you. Ride along with me as we look at this token and what you need to do so as to begin earning it.
The Basic Attention Token?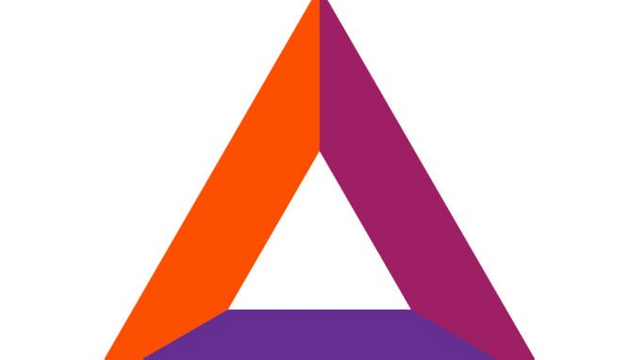 The Basic Attention Token (BAT) is an erc20 token that is built on the Ethereum blockchain and used as a means of incentivizing publishers, advertisers and users for engaging in digital advertising. This token was created as a means of combating majority of challenges publishers and advertisers face currently in the industry.
You can view more information about BAT on State of the Dapps Website by accessing the link for the BAT Token I have attached here => https://www.stateofthedapps.com/dapps/basic-attention-token
The Challenges
In the current dispensation and with the workings of the industry, a lot are not being done as they should. For example, internet consumers are subjected to viewing ads they do not wish to view, thus using up their data only on ads to as much as 30%. This is an issue which has seen a lot of users result to ad blockers on their devices.
For Publishers, they face a challenge in terms of revenue as majority of revenue coming in from these ads are swallowed by the two major advertising giants, Facebook and Google. Also, with the usage of ad blockers by millions of users, their potential revenue has taken a nose dive as well.
And for advertisers, apart from lacking concrete information on the services they are being paid for, final targeting of their ads by the advertising companies are usually poor. What this results in is a biting lack of interested users. This ends up being a waste for the advertiser and his products.
What BAT does differently
Before we get to that, let's look at the Brave Browser platform, as this is where users can earn BAT from. The Brave Browser is an open source platform for PC, Android and iOS users. A private browser that allows Ad blocking, Brave is fast and secure. In addition to all that, the Brave browser runs a reward system nicknamed Brave Rewards.
This reward system rides on the back of the Basic Attention Token to reward those using the Brave Browser and viewing ads that have been placed in the system in such a way that the viewer's privacy is respected. Ads are naturally blocked on the Brave browser but interested viewers will have to enable Brave Rewards to begin earning these tokens.
The user earning these tokens can now distribute these tokens in the form of tips either on a one-time basis, or monthly to their favorite content creators on the platform. This way, you as a content creator earn some revenue which could serve as replacement for revenue lost due to ad blocking by users. You will need to sign up on the Brave Browser's website as a content creator to begin receiving and managing your tips.
Any Experience with Basic Attention Token? Yes!!
After coming across the BAT for the first time, I had to read through its website to find out what it fully entailed. I realized that I needed to have the Brave Browser installed to begin earning these tokens. As such, I quickly went over to the Google Playstore to download it.
The Brave Browser is pretty heavy in size for Android devices, with a whooping 39mb size. However, after comparing it with other top browsers like the UC Browser – 46mb – and Firefox – 47mb – I realized that it was quite okay. Only Google Chrome seemed to beat it with a size of about 33mb.
The Brave Browser has a beautiful logo that shows off a lion's head which resonates with the name 'Brave". The Brave Rewards however has a triangular logo which shows the distribution of tokens.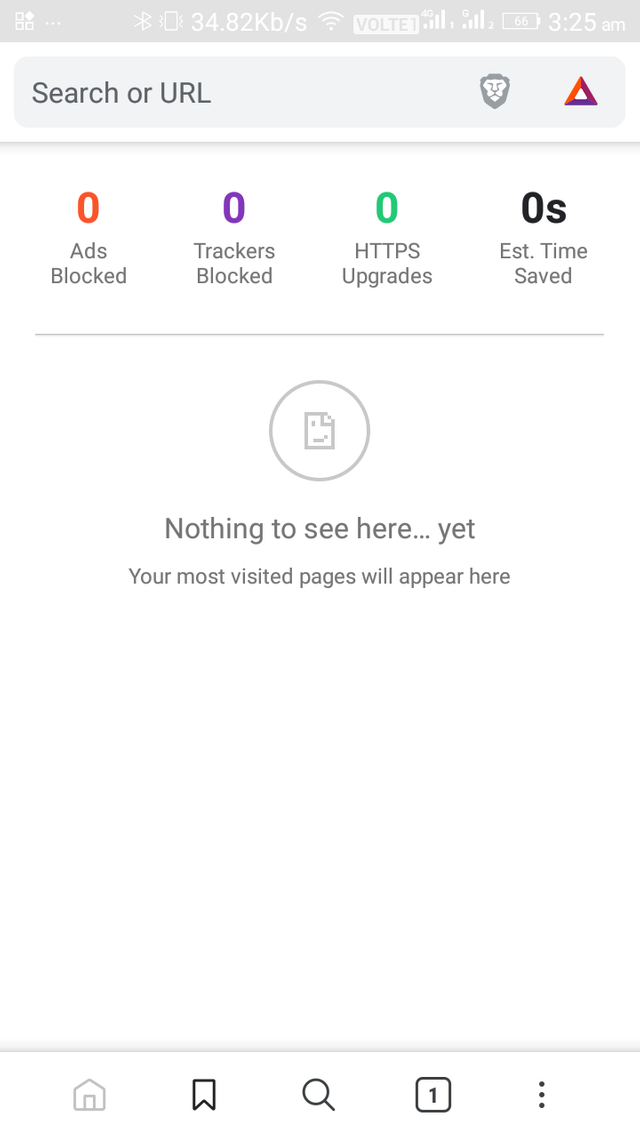 To begin earning BAT, you will first need to click on the brave rewards logo by the top right part of your Brave browser's home page. After that, you can decide to click on the join rewards button or click on learn more to read up more information on how the rewards system works.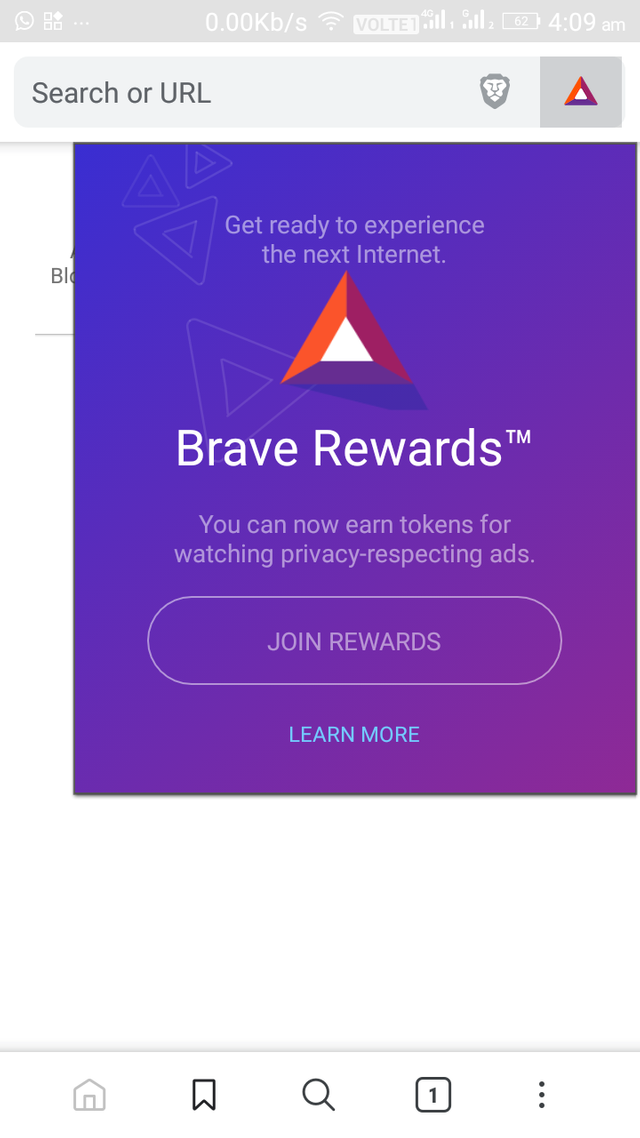 Once you click on the "Join rewards" button, a wallet is automatically created for you. This is where all the tokens you earn are saved. After creating your wallet, a message appears that you will get a free token grant soon. I later received one which I quickly claimed. In total, I got 15 BAT which was worth about 4.73 USD.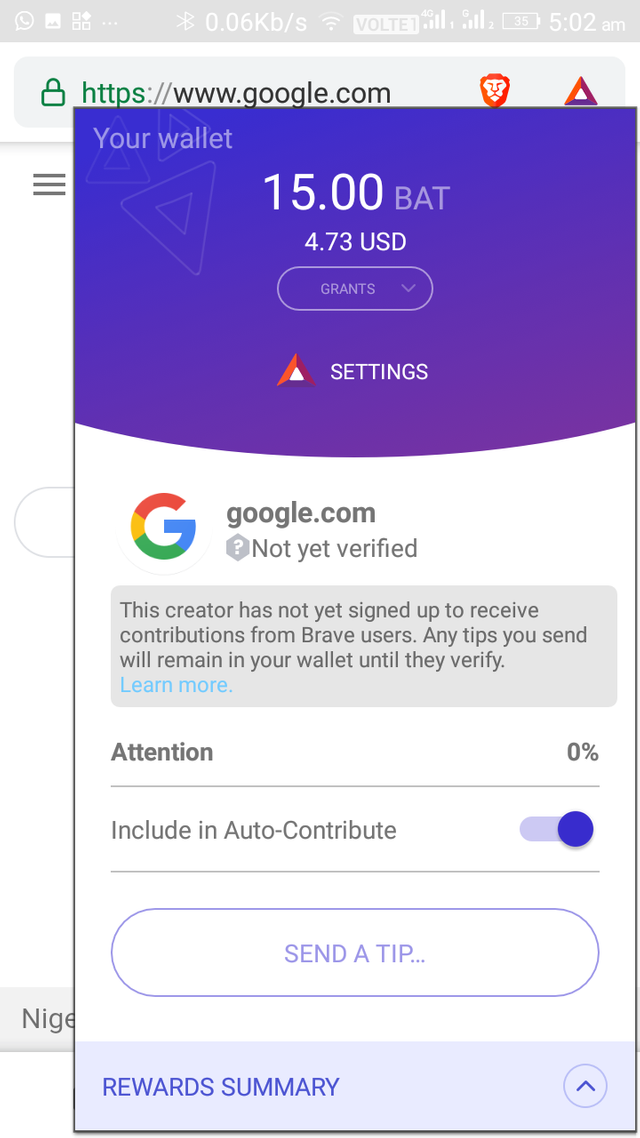 The Auto-Contribute Setup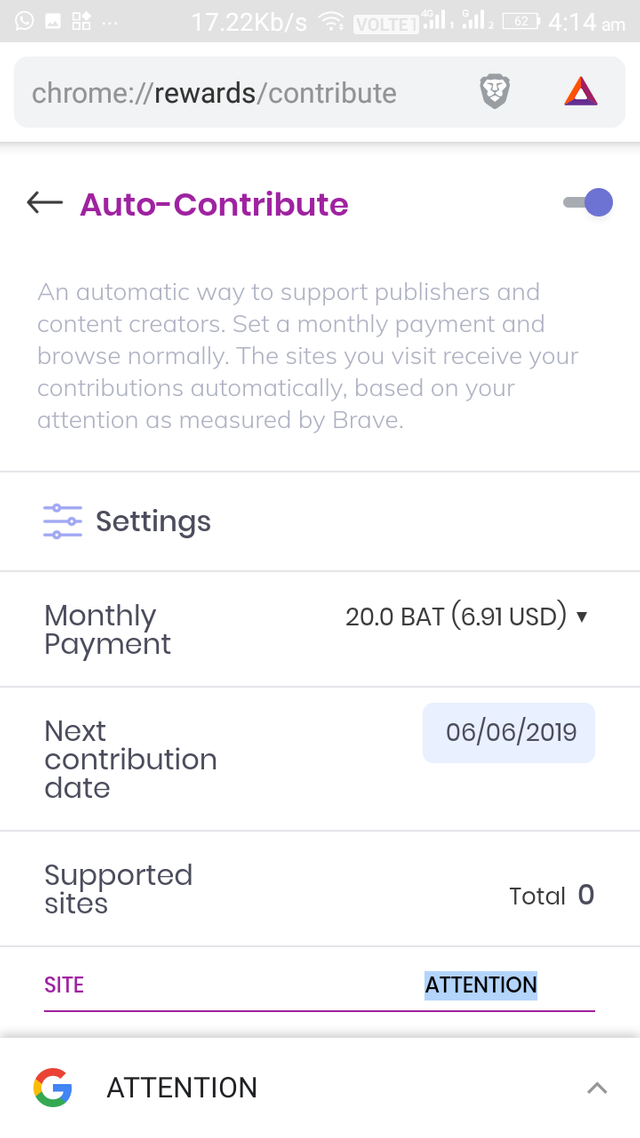 The Auto-contribute setup is a system that allows you automatically support creators and publishers of the content you love to read. On a monthly basis, Brave Rewards will share whatever monthly payment amount you decide to the sites you pay attention to. You can decide to give out as little as 20 BAT or as high as 150 BAT to these sites. It is shared based on the percentage of attention you give to these sites.
The Tip Feature
The Auto-Contribute setup is not compulsory so if you are not okay with it, you can decide to opt out at any time by clicking on the button besides "Auto Contribute". However, there is another feature that allows you tip content creators directly as you browse through their content. It is known as the Tips feature.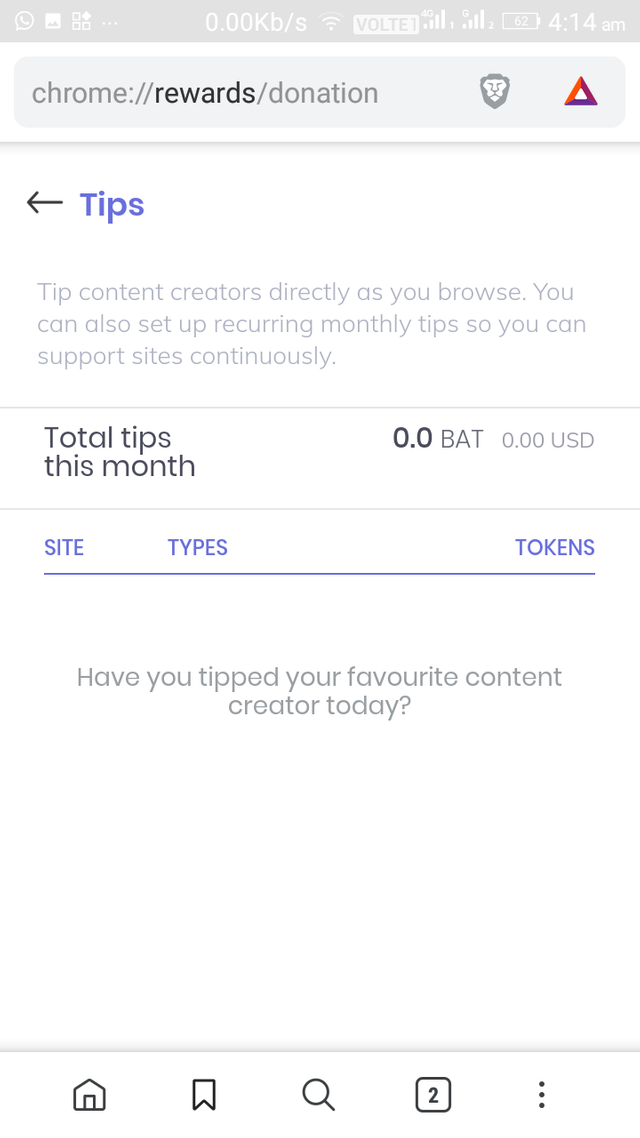 With this feature, you are not forced to go with the amounts automatically setup by Brave Rewards. That means you are free to tip whatever you wish to and to whoever you want to give your BAT. You can also set up these tips to recur monthly so that you can continuously support the sites you love.
Content Creator? Sign Up to Brave Rewards
If you are a content creator, you need to sign up as one on the Brave Rewards platform before you can begin receiving BAT tips from those who follow your work. To sign up, simply visit creators.brave.com, access the sign up link and sign up. Once you have done this, you get access to your dashboard where you are eligible to view BAT tips given to you.
Conclusion
The Basic Attention Token powered by Brave rewards is one that sure looks like would be really helpful to content creators, publishers and all users of Brave Rewards. I believe it only needs more awareness for content creators who have not begun using it. If you use Brave Rewards, you should be able to inform your friends and family members who have blogs and create contents to sign up as content creators on the Brave Rewards platform.
I rate the Basic Attention Token (BAT) 5 stars out of 5 because I believe in what they wish to achieve. I am quite sure that more users would become aware of this platform in no time.
Links
The Basic Attention Token Website
Basic Attention Token on State of The Dapps
All images are screenshots I took from the Brave Rewards platform on the Brave Browser.