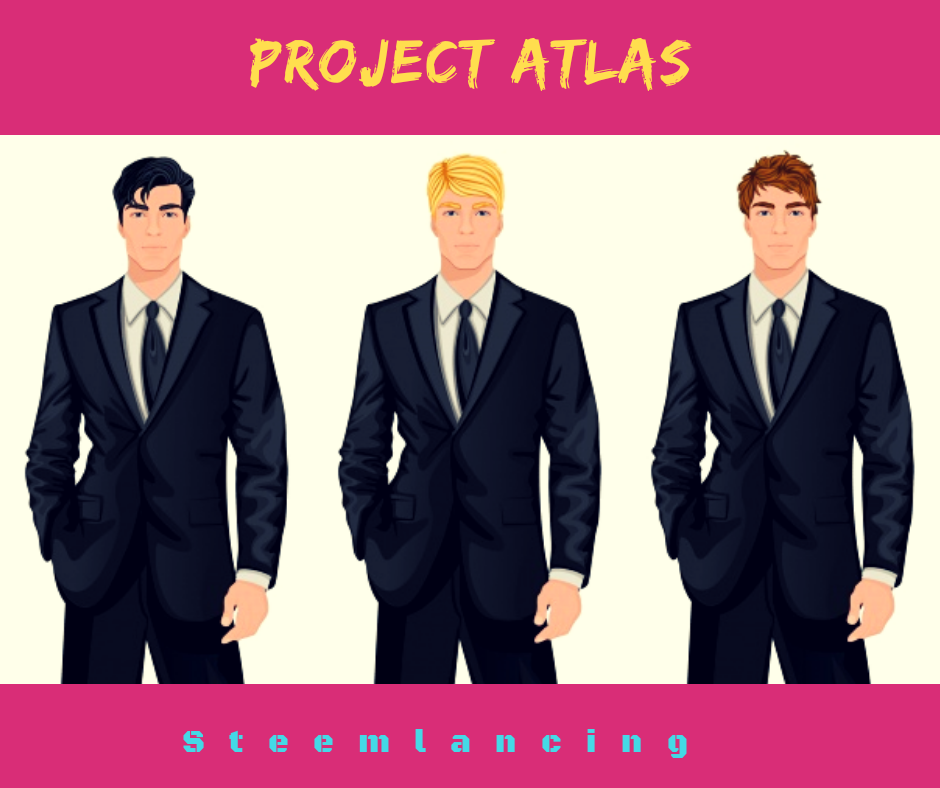 Introduction
The project Atlas is a Steemlancing crowd force on the steemit platform created for the sole purpose of promoting the steem ecosystem meaning any website or platform that revolves on the steem blockchain can be promoted with the atlas force of about 300 + if more volunteers accepts the offer of the promotional activities,
and also the project promotes crypto related products and activities.
project-atlas was founded January 7th and made its first steemit campaign that lasted for seven days January 29th to February 5th,
though the outcome for us then was huge as we made potential impacts of about 600k plus Impressions for the seven days with just seven (7) volunteers who volunteered for the campaign.
The full analysis of our previous campaign .
It can not be compared with the results we have with this seconds campaign for steemit( #SteemitLife ) about 13 million impacts.
promoting the steem blockchain has been the sole aim even by promoting some Crypto related activities like, Youstock,Aura, bitflux, Gto.
we are promoting the steem ecosystem as the fiat given for the services is converted to the steem currencies Sbd/steem to pay volunteers who participated by so doing promoting the steem blockchain and giving a value to the currency.
Audience
project Atlas promoting steemit platform on social media's will escalate soon to other platforms like Facebook, IG once the community has fully grown for hundred to thousands.
the audience for the steemit campaign with the hashtag #SteemitLife was directed to Twitter users as that was where the campaign took place and was Massively Hyped all the way from Monday to Sunday completing the circle ⭕ of seven days campaign for massive visibility destruction and we accomplish that feat with the help of the atlas force that accepted the campaign on our discord server where all activities takes place
---
---
---
AUDIENCE =×} TWITTER USERS
Activity
This Twitter campaign on promoting steemit.com with the hashtag #SteemitLife saw a lot of progress as lots of twitter users retweeted some tweets of the volunteered atlas crowd and also send enquires and so on and also some steemit users who are not members of the atlas group were spotted as they joined the conversation some of those spotted that supported our campaigns were @overkillcoin @zulfikar @TrendOat and so on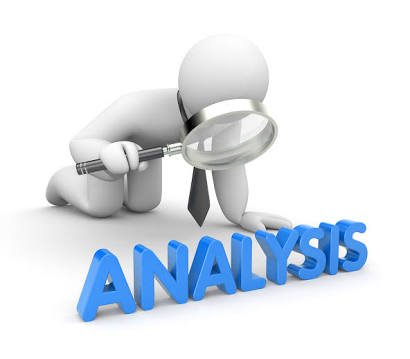 image credit
getting a good and clean results for the campaign
In order to get a good and clean analysis for our everyday visibility efforts,the atlas team were told to input a daily hashtag alongside with the #SteemitLife hashtag in order to neatly show our daily progress of the campaign to the steemit community.
The campaign started on Monday and every one that participated on the campaign are made to use two hashtags on there various tweets for a proper report of neat and clear hastracking results
Each efforts and results of our daily activities was recorded with a daily hashtag for a daily hastracking result and can still be lurk upon on our daily twitter campaign activities
****#SteemitLife is actually the hashtag all volunteers are ask to use and a compulsory on their various tweets and also to include****
---
---
---
---
---
---
And all various tweets history,efforts,activities From MONDAY TO SUNDAY TWITTER CONVERSATION can be lurk upon with this HASHTAG #SteemitLife
Results
We made a very great Potential impact on the steemit twitter campaign,
as everydays results gave us more strength and determinations to complete the other days #SteemitLife Campaign
Reports For Monday Campaign/ Analysis And Results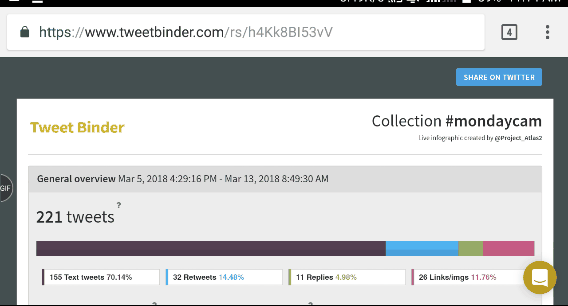 221 tweets
155Text tweets 70.14%
32Retweets 14.48%
11Replies 4.98%
26Links/imgs 11.76%
Potential impacts 499,72
Tweets/ contributor12.28
Potential reach 110,906
Followers/contributor 6,161
18 Contributors
kindly check TWEETBINDER for Monday results
---
---
Reports For Tuesday Campaign/ Analysis And Results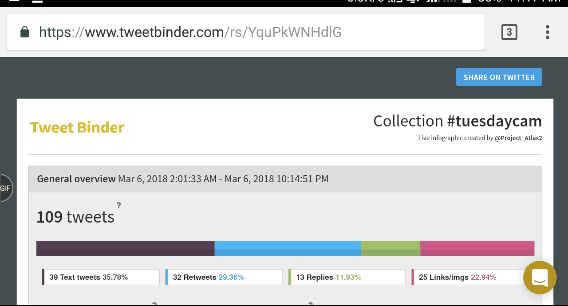 109 tweets
39 Text tweets 35.78%
32 Retweets 29.36%
13 Replies 11.93%
25 Links/imgs 22.94%
Potential impacts 956,559
Tweets/contributor 7.79
Potential reach 186,410
Followers/contributor 13,315
Contributors 14
kindly check TWEETBINDER for Tuesday results
---
---
Reports For Wednesday Campaign/ Analysis And Results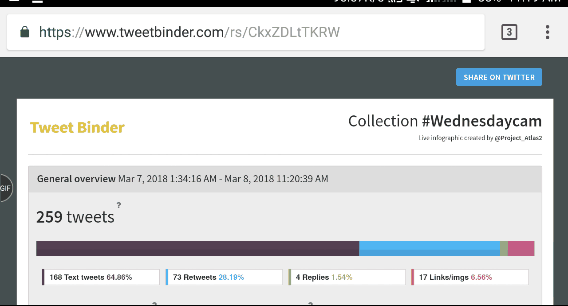 259 tweets
168 Text tweets 64.86%
73 Retweets 28.19%
4 Replies 1.54%
17 Links/imgs 6.56%
Potential impacts 399,428
Tweets/contributor 16.19
Potential reach 153,764
Followers/contributor 9,610
Contributors 16
kindly check TWEETBINDER for Wednesday results
---
---
Reports For Thursday Campaign/ Analysis And Results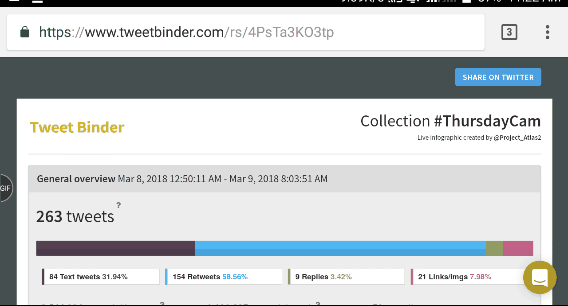 263 tweets
84 Text tweets 31.94%
154 Retweets 58.56%
9 Replies 3.42%
21 Links/imgs 7.98%
3,544,924 Potential impacts
1,121,337 Potential reach
70 Contributors
16,019 Followers per contributor
3.76 Tweets per contributor
kindly check TWEETBINDER for Thursday results
####### https://www.tweetbinder.com/rs/4PsTa3KO3tp
---
---
Reports For Friday Campaign/ Analysis And Results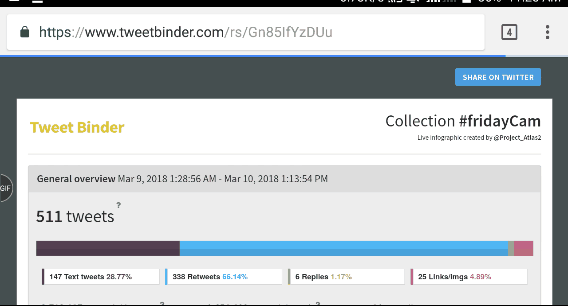 511 Total tweets
147 Text tweets 28.77%
338 Retweets 66.14%
6 Replies 1.17%
25 Links/imgs 4.89%
Potential impacts 3,713,127
Tweets/contributor 5.62
Potential reach 1,656,609
Followers/contributor 18,204
Contributors 91
kindly check TWEETBINDER for Friday results
https://www.tweetbinder.com/rs/Gn85IfYzDUu)
---
---
Reports For Saturdays Campaign/ Analysis And Results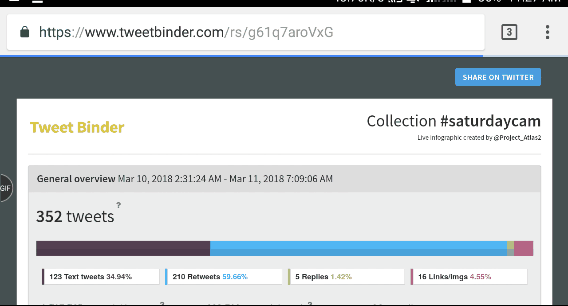 352 tweets
123 Text tweets 34.94%
210 Retweets 59.66%
5 Replies 1.42%
16 Links/imgs 4.55%
1,717,765 Potential impacts
993,710 Potential reach
36 Contributors
27,603 Followers per contributor
9.78 Tweets per contributor
kindly check TWEETBINDER for Saturdays results
https://www.tweetbinder.com/rs/g61q7aroVxG
---
---
Reports For Sundays Campaign/ Analysis And Results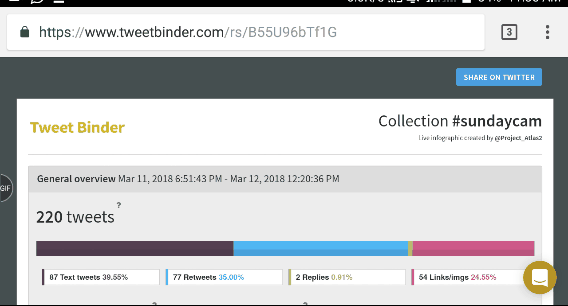 Potential impacts = 834,686
Potential reach = 82,098
Contributors = 20
Total Tweets = 220
Followers per contributor = 4,105
Text tweets = 87
Retweets = 77
Links/images = 54
kindly check TWEETBINDER for Sunday's results
(https://www.tweetbinder.com/rs/B55U96bTf1G)
---
---
---
THE OVERALL TOTAL IMPACTS AND REACH HASHTRACKING WITH THE #STEEMITLIFE HASHTAG FROM MONDAY TO SUNDAY-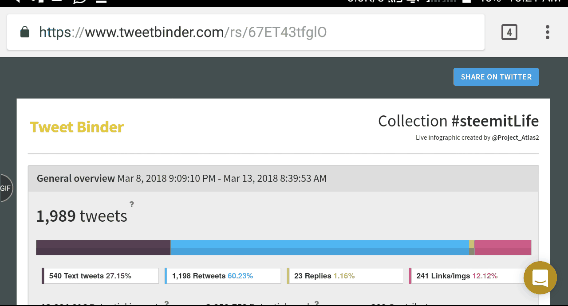 1,989 tweets
540 Text tweets 27.15%
1,198 Retweets 60.23%
23 Replies 1.16%
241 Links/imgs 12.12%
13,984,816 Potential impacts
3,959,753 Potential reach
309 Contributors
12,815 Followers per contributor
6.44 Tweets per contributor
*kindly check TWEETBINDER for Overview and overall results of the steemit life #SteemitLife Campaign from Monday 5th March to Sunday 11th March
FROM MONDAY TO SUNDAY OVERALL VISIBILITY EFFORTS AND RESULTS
13,984,816 Potential impacts
3,959,753 Potential reach
Steemians who accepted the campaign task on our discord server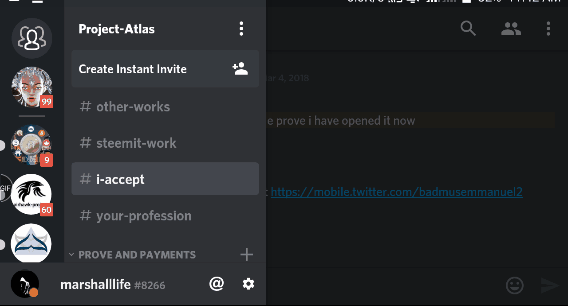 ---
Posted on Utopian.io - Rewarding Open Source Contributors
---