Repository
https://github.com/Bulletproofmonk/MySteemitFriends
Merged Pull Request
https://github.com/Bulletproofmonk/MySteemitFriends/pull/24
http://steemfriends.org is a popular tool with approximately 20,000 hits per month.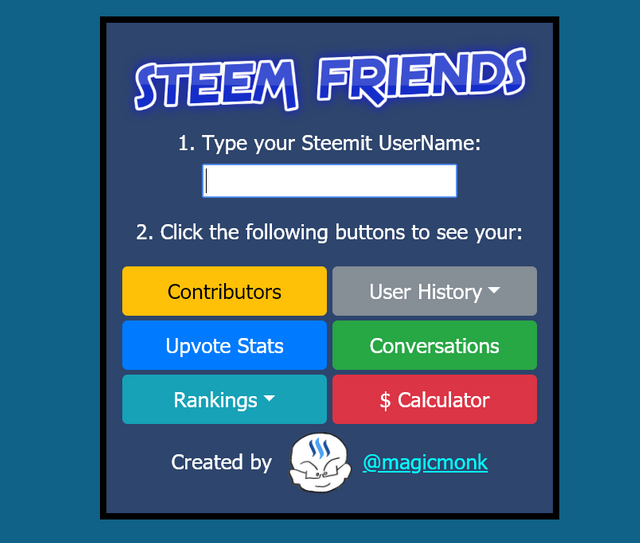 New Feature One
As @emrebeyler suggested last update, I have now added a second tag to my article finder search forms, for both Voted and Written Articles.
So let's say I wanted to find all the tutorial articles I have written for utopian-io.
Step 1: Click on "User History" on the navigation bar, then click on "Written Articles". This will take you to the Article Search form. Alternatively, just go to this link: http://steemfriends.org/articlelist.php?mode=written
Step 2: Type in your username and two tags. In my case, I'm going to type in magicmonk as the username, and the two tags will be utopian-io and tutorial.
Step 3: Change the dates so you are able to find articles between the specified two dates. I'm going to make it January 1 2016 until now, so I can search for all the articles I've written from the start.
Step 4: Tick "exclude comments" so comments won't be included.
Step 5: Click the "List Articles Written" blue button.
A screenshot of all the steps plus the search results has been provided below: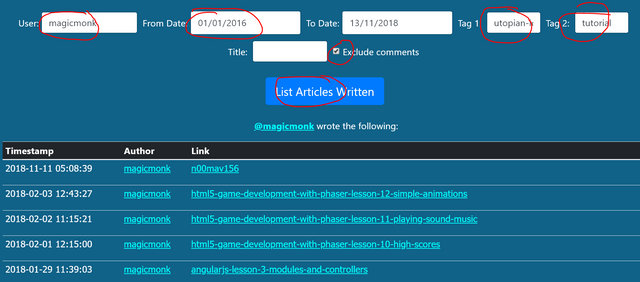 You can see a list of tutorials that I have written for Utopian-io during this time.
You can also try the above steps for articles you have voted here: http://magicmonktutorials.com/mysteemitfriends/articlelist.php?mode=upvote
New Feature Two
Now let's say I want to do a tutorial for angular.js and I'd like to see if someone else has done the same thing for Utopian-io.
I can search for articles even without providing the author's name. Under the same page, I can simply type utopian-io for the first tag, tutorial for the second tag, "angular" for the title, pick 2 dates and search.
Now you can see a list of angular tutorials people have written for Utopian-io.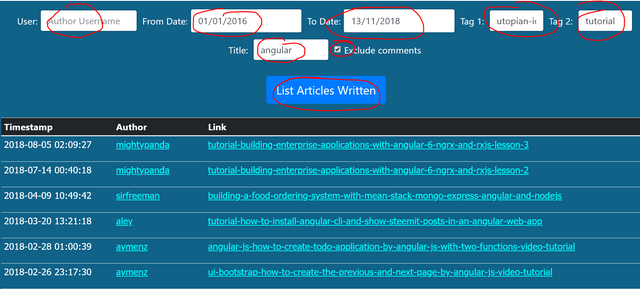 How they were implemented:
3 files were updated in this pull request:
articlelist.php
input for second tag, allow no author
The Articlelist controller now accepts input for the second tag.
The controller now allows for no author to be provided and still run a query as long as the first tag has been provided (e.g. find all articles written for a particular tag).
articlelistmodel.php
queries allow for 2nd tag input, no author and limit results
2nd tag input accepted into query to database functions.
no author needs to be provided if a tag has been specified
results limited to 500 to relieve pressure on database resources.
articlelistview.php
modify form to submit 2nd tag, add link to author
Modified the form to include a text box to enter a second tag.
Added hyperlinks to authors on table.
GitHub Account
https://github.com/Bulletproofmonk