Full Translation [German] Verto - from English (~1,148 Words)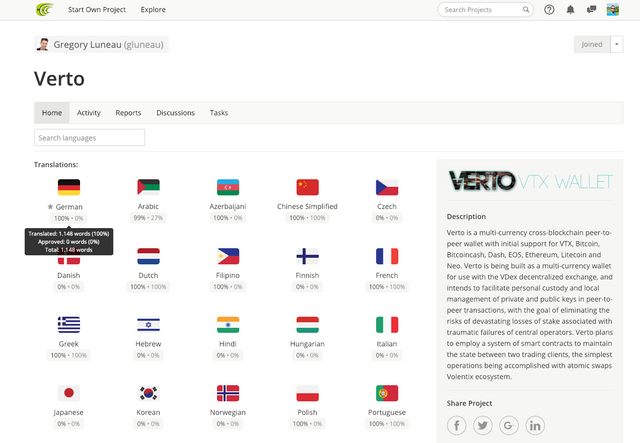 Repository
https://github.com/Volentix/verto
Project on Crowdin
https://crowdin.com/project/verto
My Crowdin Profile
https://crowdin.com/profile/louis88
Project Details
Verto is a multi-currency cross-blockchain peer-to-peer wallet with initial support for VTX, Bitcoin, Bitcoincash, Dash, EOS, Ethereum, Litecoin and Neo. Verto is being built as a multi-currency wallet for use with the VDex decentralized exchange, and intends to facilitate personal custody and local management of private and public keys in peer-to-peer transactions, with the goal of eliminating the risks of devastating losses of stake associated with traumatic failures of central operators.
Verto plans to employ a system of smart contracts to maintain the state between two trading clients, the simplest operations being accomplished with atomic swaps Volentix ecosystem.
Verto will also have integrative functionality of other DApps like orderbook settlement from VDEX and a crypto ratings and rankings dashboard from Vespucci.
When a trade is made on Vdex, the funds are temporarily locked until either the transaction is completed and the new funds become available, or the transaction is cancelled and funds are again available.
Sources: Crowdin Project Page and Utopian Task Request
Contribution Specifications
The purpose of the translation of the VERTO project is to make the Wallet available in different languages. In my translation I translated the whole project from English into German. I started in December and after I was confirmed as a translator I continued. Now the whole project is translated and I would be happy if this translation is included in the software.
A list of my work can be viewed on the Crowdin platform if the following settings and filters are selected:
https://crowdin.com/project/verto/activity_stream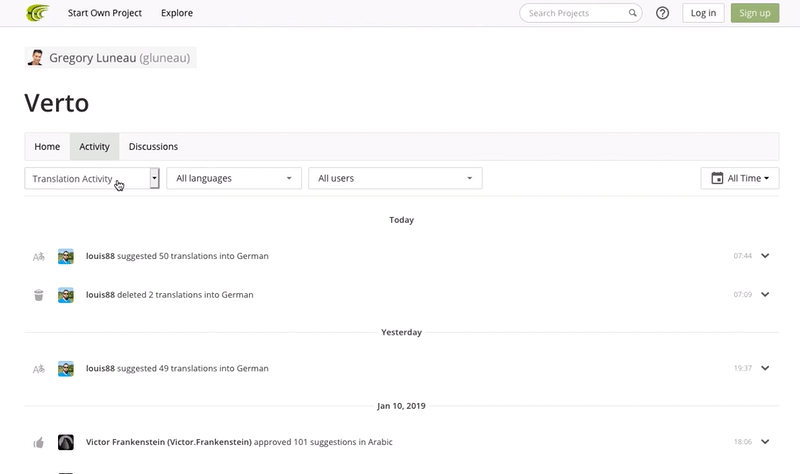 The project was translated from English into German.
The master > src > renderer > assets > locales > en.json File contains 1148 words which have been translated.
Since there were a few text passages that were double and my brother who is new as a translator at DaVinci also did a few translations, I assume that I translated about 1090 words.
Proof of Authorship
https://crowdin.com/profile/louis88
Many thanks to DaVinci and @utopian-io for the opportunity to work on open source software. This translation was a lot of fun and I will see that I can support many more great projects!
Greetings from Germany
@louis88