[Task Request] - SteemAX Webpage Graphic Mockup
Repository
https://github.com/artolabs/steemax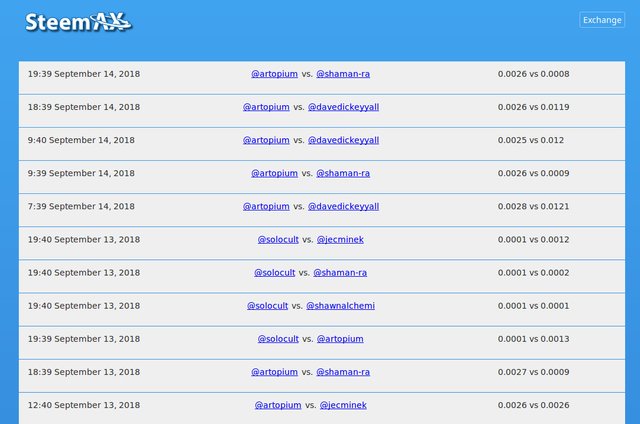 Details
SteemAX is a web app that allows Steemians to automate an exchange of upvotes with other Steemians for a set duration.
In this task request I'm seeking someone to redesign the look and feel of the exchange history page table (not the header, that will be changed later). This needs to be presented as a png image mock-up. I want the text be bigger, friendlier (so a child could read it), and the table to have a more professional look. The mockup should be designed with mobile screen sizes in mind as the page is already screen responsive.
Exchange History page
The web page layout for the exchange history page needs to meet the following requirements:
The background must remain the same.

The information must remain as a table.

Make all elements on the page more symmetrically aligned with each other.

Only use the font LatoWeb and LatoWebLight or sans-serif.

Use borders, rounded corners and other design elements to achieve a more professional looking page.

Only use shades of grey, white, black and the same color blue used in the background. Transparency and gradients are OK as well.

Add borders, increase font sizes, and align information so that it is very friendly to read, practically "child" friendly.

Add graphics and symbols if it helps to make things more understandable.
Deadline
I'm giving a two week deadline for an image mock-up.
October 21st, 2018
Communication
For the quickest response please submit proposals to my discord server in the SteemAX channel. Thank you.
https://discord.gg/97GKVFC
Github