This is the first time I attempt to report a bug. I will try to be as thorough as possible and I thank you in advance for your advise and review.
Repository
https://github.com/mcfarhat/actifit
Expected Behavior
The user attempts to copy paste a previously written text of 47 words (the app has set a limit of minimum 30 words for a post to be able to go through)
The user expects the text to be pasted and to be able to post to steemit
Actual Behavior
The moment the user taps and tries to select paste, the app crashes and needs to be restarted.
Every time the paste is attempted, the same behavior occurs
Environment
Actifit App for Android V.3.0.1
Device: Samsung s6 edge
Android Version: 7.0
Notes
I asked a couple of friends to reproduce it, and it was not possible. They use different devices so I do not know if it is a device issue. I did not copy-paste any text in the past so I just noticed it 3 days ago after my copy-paste attempt. Every time I tried to reproduce it, I did. Here you will find the steps I followed in detail:
Steps to reproduce
Have a text ready to copy. Make sure that the text is more than 30 words (app limitation is minimum 30 words)
Select and Copy Text.
Open App
Make sure you have more than 1000 steps (minimum steps - app limitation)
Select your activity(ies)
Tap in the field 'Post Content (Describe your day's activity)'
You can see here a gif I created and below there a link to a previous video (23 of August) - both from my mobile phone.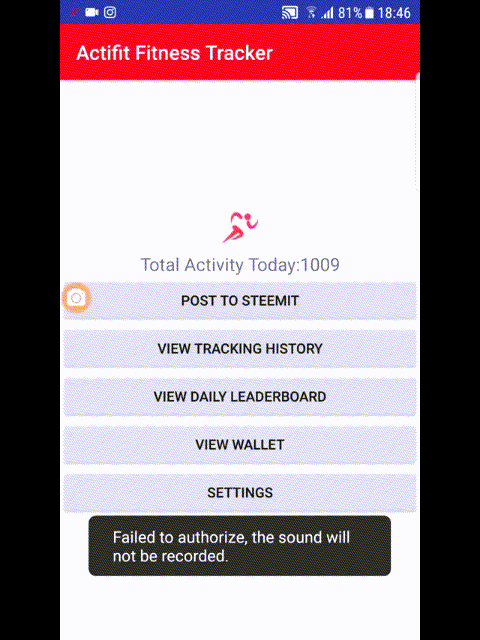 My github account:
https://github.com/katerinaramm
Actions
I tried to check if it was an one-time bug or not.
I tried to check with other friends who owned different devices & different Android Versions
I notified the Devs (@mcfarhat via discord) at Actifit in order to work on a fix.
Actifit is an app that rewards users activity with tokens (AFIT) and @actifit's upvotes. Feel free to visit the below links for more information


|

|

|

|

|

|

|

| FAQs | App tutorial | Video Tutorial