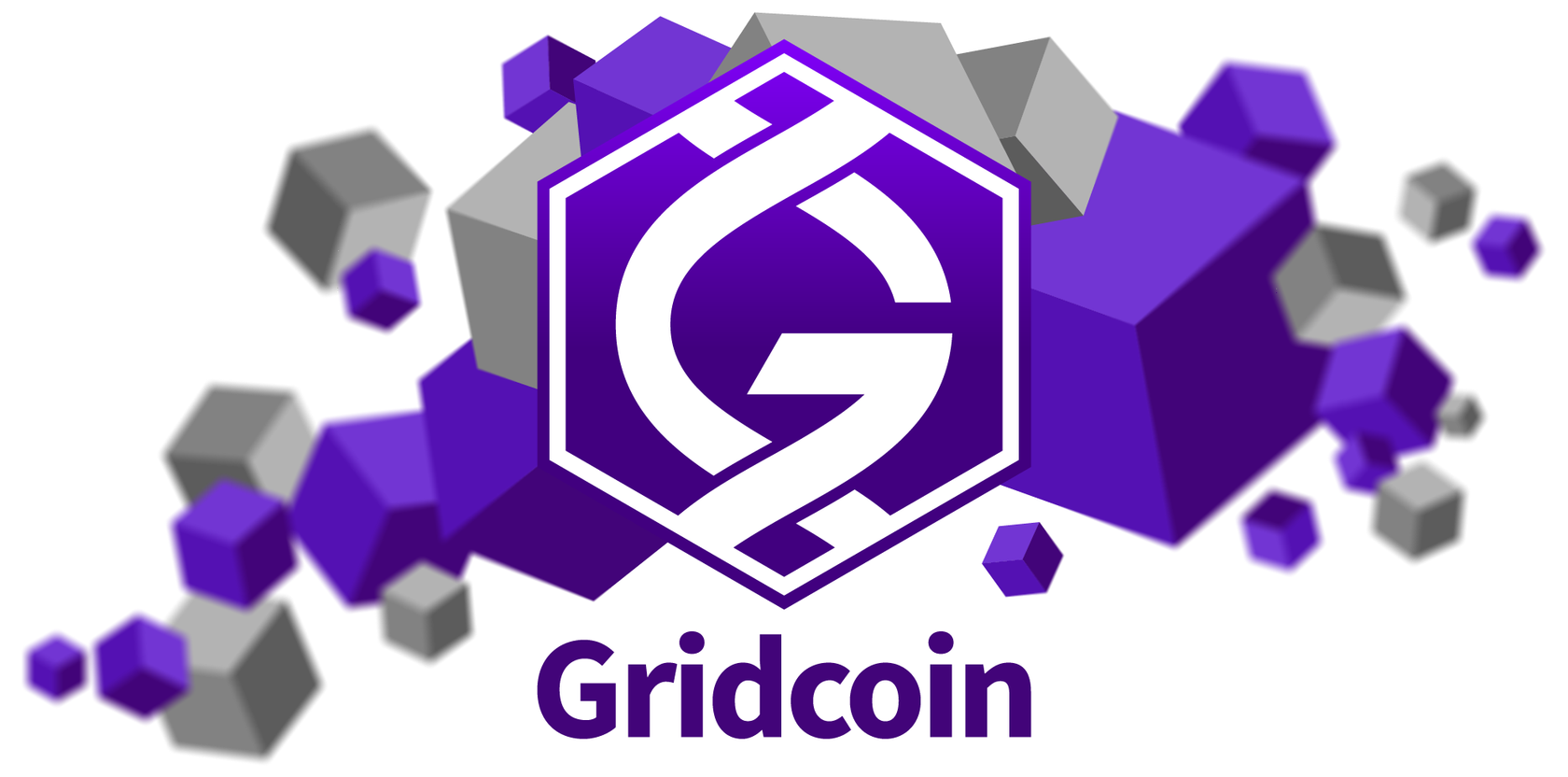 When I started the experiment I chose VGTU with a purpose. It's a very stable project and CPU only. Since September last year I never experienced any issues. The only interruption in the data gathering has been a power issue with my host at the end of Januari. What's happening now is really strange. If anyone has a clue please let me know.
About the experiment
If you want more background on the experiment I refer to these posts:
Change in tasks
Up until now task duration did not vary a lot. This is an example of last week (CPU time in 7th column):


And this is what it is looking like now:


As you can see quite a few tasks resulted in errors. This has never happened before. Well, not really never, I think maybe once or twice, but certainly not to this extent. A second observation is that the task that did complete successfully show a big increase in processing time. This is completely new so something must be going on. If this continues I'll try to contact the VGTU admin and request for some feedback.
RAC is rising despite erroneous tasks
This is completely unexpected. If the host is spending time crunching tasks that result in errors that processing time is lost and no points are awarded. On average less points should be rewarded. This of course depends on where in the task the error occurs. It might as well be at the very beginning which would have close to zero impact. None the less I certainly did not expect the RAC to rise because of this. You can see that the series are all over the place. RAC has never behaved like this before and points per second is obviously doing strange things as well.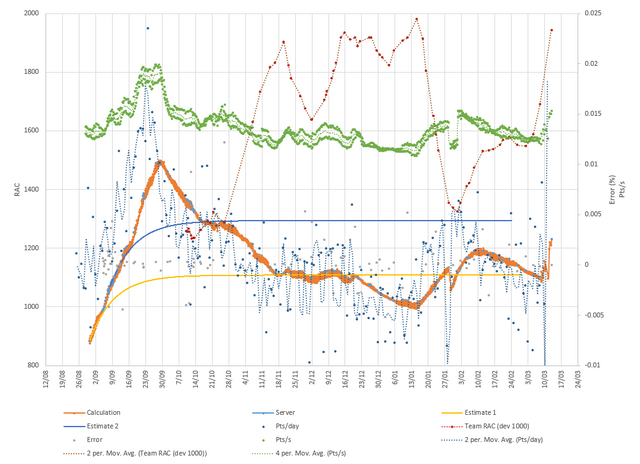 Team RAC
Team RAC is skyrocketing. Although I don't show it in the charts I keep track of the share the top 10 users have in the team RAC. Back when I started the top 10 accounted for about 70%. Since dutch left that has gone down to about 60% and it remains stable. We can assume that the increase in RAC is quite uniformly spread. Even though the pools are increasing sharply there must be quite a few smaller crunchers rising at the same pace to compensate and keep the share stable. Most probably this recent rise is caused by crunchers moving away from greylisted projects to VGTU. As always GRC price influences the mining revenue most.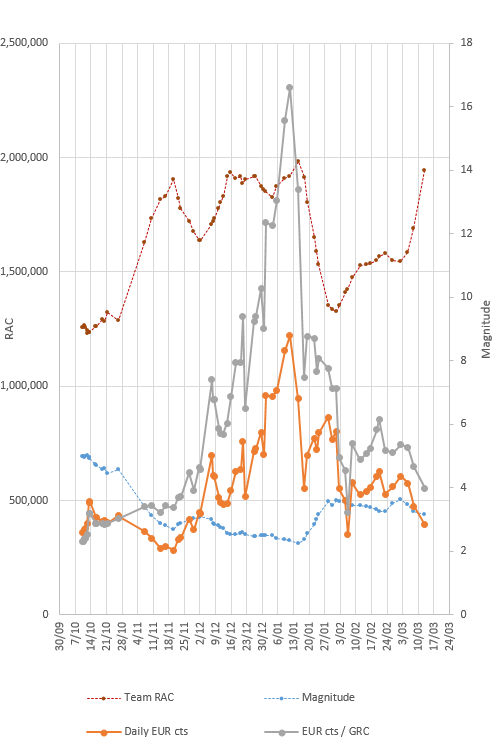 Top 10 users
This is an overview of the top 10 contributors on VGTU. The pools keep increasing their RAC at a steady pace. As mentioned before I like this a lot because let's not forget this is aiding scientific research. Not much new here though.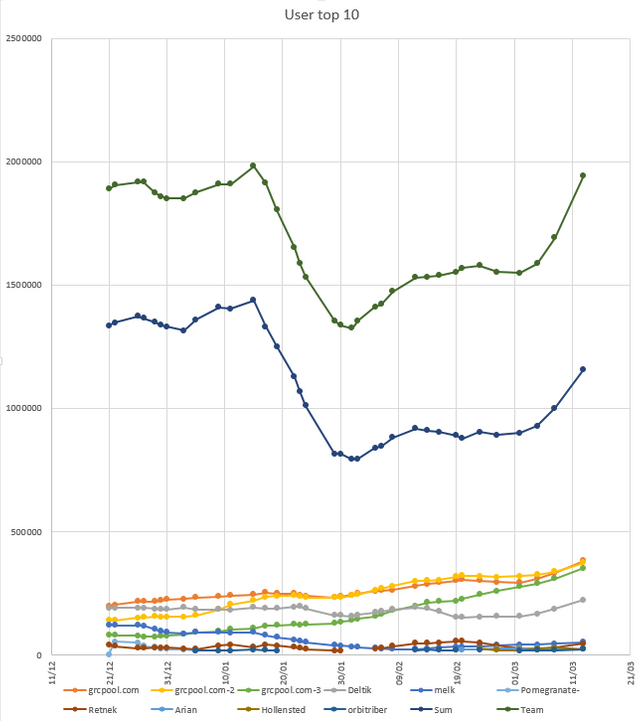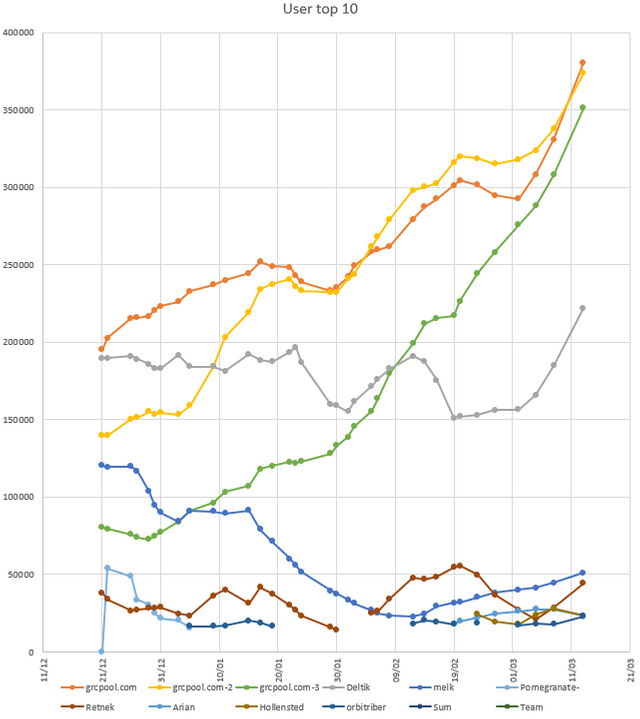 ---
Posted on Utopian.io - Rewarding Open Source Contributors
---