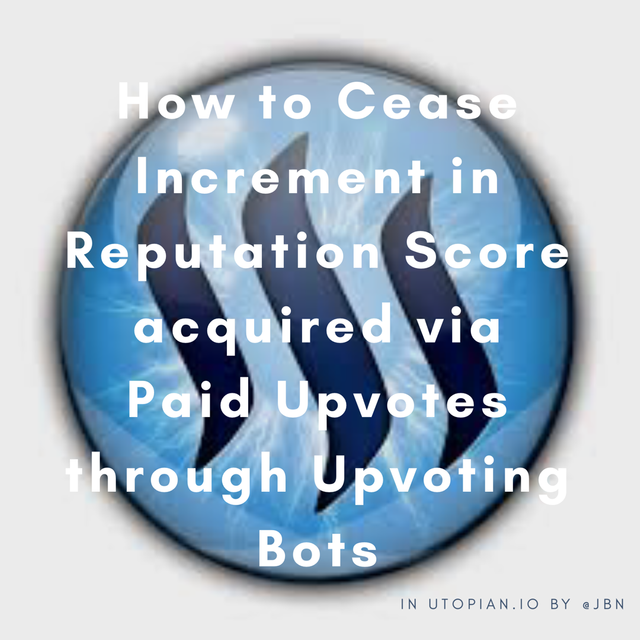 Preface
Steemit is a wonderful place and i believe the basic layout of steemit was designed in a way to maintain a state of balance.
Reward system, upvotes, Steem Power, SBD, Steem, Reputation etc contribute towards acquiring a true picture of fellow steemian regarding his success on steemit.
I personally consider "reputation" as the best judge of one's engagement on steemit platform. One can buy SP, Steem, SBDs, upvotes except Reputation. Since reputation is only increased by Upvotes on comments and posts.
Role of Upvoting Bots
It has been discussed zillion times on multiple forums that whether voting bots should be there on steemit or not since bots do not read the content of the upvoted post.
I will not indulge into this argument whether bots should or shouldn't be on steemit, however, i will say this that the bots can be utilized for good purposes like enhancing visibility of a post (specially those posts that are written by minnows) by upvoting it to a reasonable amount. However, a person buying upvote worth of 30$ or more on a post with below average content is a crime.
Regardless of bots' usage, it is evident that most steemians use bots to either get visibilty on their posts or to increase their payouts.
However there is another factor that is usually not taken into account, which is increase in reputation by upvotes of voting bots.
Example
I can easily purchase 100 SBD from a coin exchange, transfer it to my steemit account and can spend 20 SBD to get an upvote from a bot that will normally result in a 35-37$ worth of Upvote. And i can keep doing it for 5 of my posts..
I can argue about using so much SBD on bot vote either for visibility or to boost my rewards, but it is a fact that i can make my reputation go to the moon without actually enagaging on steemit by buying heavy upvote from bots. And the content of my boosted post can be just about average or even below average.
Solution
The solution to this problem is NOT to kill the bots but to Kill the Reputation Increment of users using bots' upvote.
For this, i hereby suggest that a database of all paid upvoting bots may be maintained on steem blockchain and may please be tethered to reputation score system in a way that upvotes from paid bots should not affect the reputation score at all.
This will not hurt any of the bots out there since they do not care for the reputation factor and only provide upvote services on posts and thats it for them.
With that solution in practice, steemians can buy as much and as many upvotes from voting bots to either get visibility or a reward boost on their posts, while their reputation will still be subjected to engagement factor on steemit, thus providing a true picture of a steemian reputation.
I understand that there are some human users on steemit who provide upvote services as well and the modified algorithm won't detect or register them as paid voting bots.
But paid upvotes from human users are usually not heavy and has a little to no impact on reputation (specially when the reputation crosses 50+).
Conclusion
Every steemian looks up to a fellow steemian who has better reputation than them. Because it is usually considered that a person with better reputation knows more about the platform and has earned their spot on steemit by engaging with steemit community.
The reputation is a reflection of a person's true hardwork on steemit and thus, it should remain that way..
---
---
Posted on Utopian.io - Rewarding Open Source Contributors
---