Repository
https://github.com/Philip-Scott/Spice-up
Introduction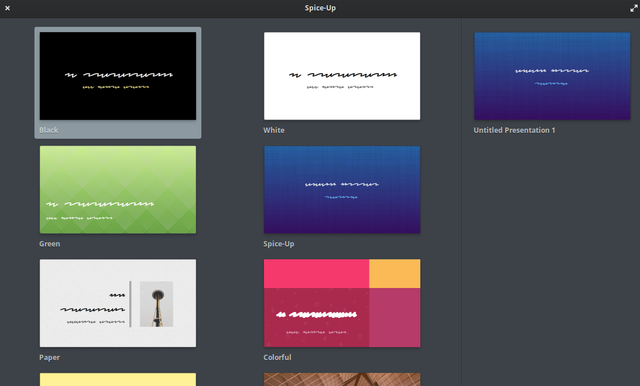 In this series, I am covering the usability aspects of Spice-Up. We have seen how the workflow with it looks like already, and we have seen that, though powerful enough for most people, it lacks features.
Especially on the last post, I have mentioned one of the main things that might be a "deal-breaker" for people:
Spice-Up only exports on its own file format, so you can neither import other formats (such as PPTX) into it nor, at the moment, import it's own format into other slide editors.
Does not have as many tools as big proprietary software
Small user base
What is Spice-Up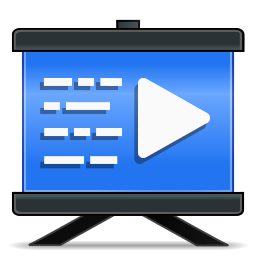 (official icon of Spice-Up)
Spice-Up is a free and open source slide editor. Though free, it has great features:
Very lightweight, at less than 3MB
Comes pre-loaded with images and templates
Is both slide editor and slide browser
Frequent updates
The program, currently, is only compatible with Linux. It was designed especially for Elementary OS (Ubuntu based), but if you use Linux, you can get it from their PPA, according to the instructions on their github.
The program lacks advanced editing tools that the big competitors, more on that on the next sections, have. But for my use, it does most anything I need to do. I only have to ditch it for Google Docs when I have to work with other people because it does not allow to easily work in groups with it.
Though limited, Students should make good use of it, and even some professionals that want a simple editor just to supplement the speech on their presentation.
On the official distribution mean of the software, the Elementary OS AppCenter you can see another thing that impresses me about the developer, the updates are very frequent. For free software, with such a small user base, that is amazing: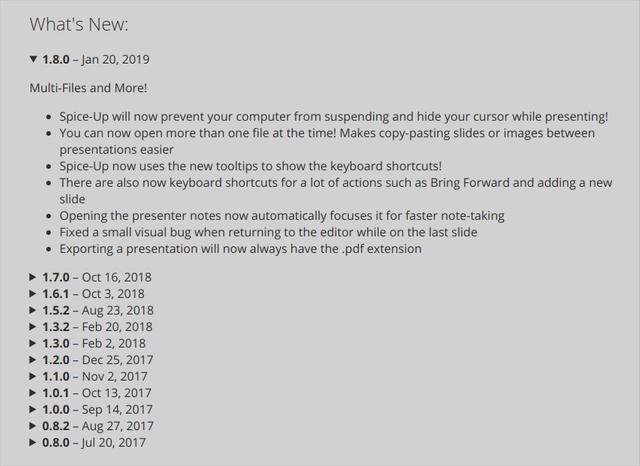 The paid alternatives
Not unexpectedly, the paid alternatives might have more features and tools than Spice-Up. That, however, does not make me sorry or makes me feel that Spice-Up is "incomplete" in any way. Let us take a look at the paid alternatives, their prices and their leverages against our free and open source software.


PowerPoint - $130 USD or starting at 12 USD a month
When it comes to "slideshow", the first thing that might come to mind on most people's head probably is "PowerPoint". So much, that in my country we usually call "PowerPoint" and "slideshow". This is a linguistic event called proprietary eponym when a brand or product is so popular that the name of its product is used to refer to similar products from other brands. This reflects how big this competition is, at least where I live.
I grew up using PowerPoint because it was the slideshow editor the schools had at that time. And possibly you also have used, at least once in your lifetime, this product.
The price of PowerPoint is a bit above what I am willing to pay to do my slideshows, so I have never bought it. I do have a signature of Office 365, that gives me access to another version of PowerPoint, but I honestly don't feel like using it. When I need to go for a "solo" presentation I go for Spice-Up. When I need to work with other people, I go for Google Docs. Maybe it was a bad move from Microsoft to set the price point so high.
I don't have other examples of paid slideshow editors/browsers because I never felt I should pay to do slideshows, so in my life, I have always used either the license of PowerPoint the school provided me or a completely free editor. So, PowerPoint is the only paid one I have ever used, and only because schools have licenses for students.
free alternatives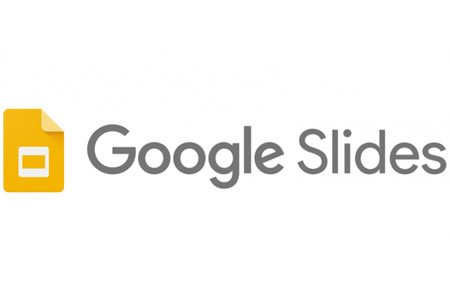 Google Docs is free. Of course, we all know Google gives us free stuff to track our behavior and sell that data to ads. But I will ignore that and consider Google Slides free software.
Spice-Up is my main editor, but only in case I know I will have my laptop with the program on it, and I know I can work alone. In any other case, if I have co-workers to work on a presentation together, or I won't have my laptop in hands, I use Google Slides, from Google Docs.
Google Docs is nowadays the default docs suite for lots of people. It is free and has plenty of features. Also, it runs natively on your browser and lets you automatically sync your documents with the cloud, this is great for working in teams.
Slides can import many formats, and allows you to export on the most popular slideshow format ".pptx" (ironically, from PowerPoint). It is useful when, like me sometimes, you don't have your laptop in hands and need maximum compatibility.
The "grey" alternative
I was not sure if I should put Google Slides on the "grey area" because it is free, but it mines your behavior to sell to advertisers. But since that was the only completely free alternative I knew, I had to separate it from the grey area, but it almost fits here.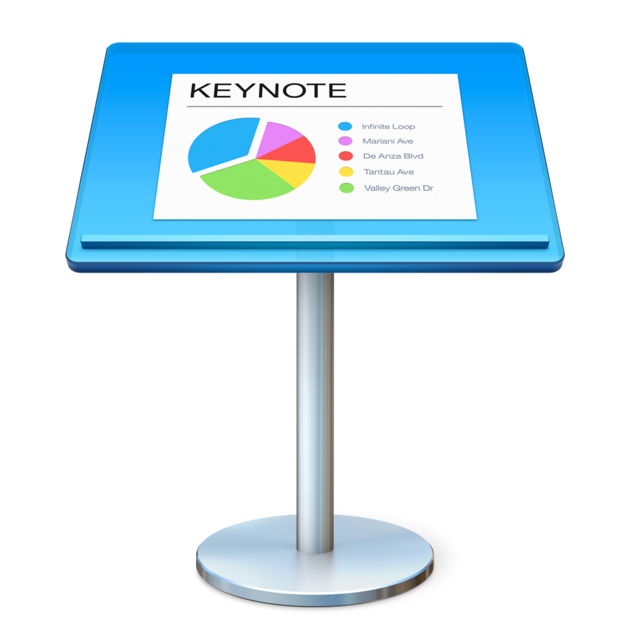 Apple Keynote - Free, but you have to have their products
Keynote, to me, completely fits on the "grey area". The keynote program is free and it does not (as far as I know) spy on you to sell data to third parties. But you have to buy one of their super expensive products to have access to it.
I do have a Mac, it is not my main computer, my main one have Linux because no one beats Linux. I have tried Keynote for the Mac and for my iPad, but I don't think it is such a great software that I should use it.
I use mainly Spice-Up, as it is only Linux compatible, I can't use it on my Mac, even though it is my main editor. And when I am on my Mac, I do not use Keynote, simply because I am not used to it. When I am using my Apple computer, I use Google Docs, because I feel more comfortable.
Keynotes are not bad, don't get me wrong, it is just that the annoyingly "tight" Apple ecosystem makes me sick. I prefer to use the Google alternative because it syncs with the Docs on my main computer. Though Keynote from Apple can also do most anything that the Google Slides does, it is a matter of comfort.
Spice-Up advantages
In the end, after reviewing the three main competitors in three sectors, paid, free, and "mixed", should you consider Spice-Up?
To begin with, if you don't have Linux installed on your computer already, I do not think it is worth it switching to Linux just to use Spice-Up. It is good software, but not worth changing the operating system just to get it, considering Google Slides does mostly everything (at the cost of spying on you).
But if you have been thinking about using Linux, especially Elementary OS, as your main operating system, it might be a great kickstart for you to know that Linux also has "exclusive programs"! Not just because of the exclusive programs such as Spice-Up, but in other series I have already reported how Open Source software usually runs better on Linux. For instance, OpenShot, that is free, multi-platform and open source, only has GPU support for Linux, even though the program runs on Windows and Mac, the developers just don't think it is worth yet porting their drivers to other systems.
If you already have Linux installed, it is worth giving it a try. It might not become your main editor, but for a less than 3MB download, I can't see why not to try it. At first, when I started using it, I didn't think of the program as a big deal, but with time I grew to love the pre-built templates and the simplicity of using it.
Who is it for
I would recommend it mostly for students.
I use it sometimes to show presentations at work, but I admit it is hard to beat Google Docs in regards to compatibility and availability. But because it is so easy, fast and simple to build beautiful presentations with Spice-Up, I use it whenever I can.
The excess of tools and features on other software are what drove me away from them. So, you care about simplicity, you have Linux or at least plans to switch to it, this might be for you. However, if you have to work in teams, don't have Linux or can't get your laptop with you to do your presentations, I can't really recommend Spice-Up very much yet.
Even if you fall into the "can't recommend yet" category, I would follow the project if I were you. There are plenty of updates and very frequent ones. If the devs don't lose focus, the version 2.0.0, that seems to be just around the corner, might be a huge leap forward!
Resources
AppCenter page for Spice-Up:
https://appcenter.elementary.io/com.github.philip-scott.spice-up/
Spice-Up repository:
https://github.com/Philip-Scott/Spice-up
Series backlinks:
Beneficiaries
This post has as beneficiaries
using the SteemPeak beneficiary tool