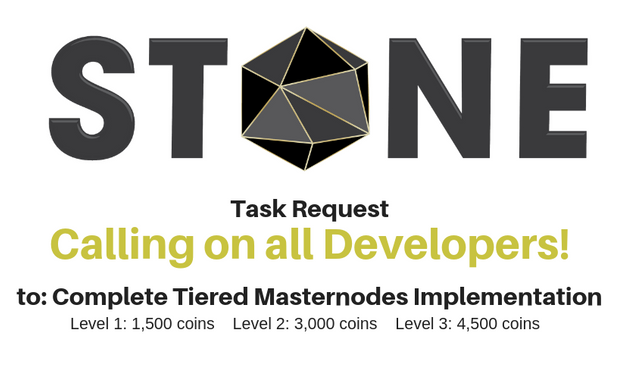 Repository
Details
At the present time, stonecoin only has one collateral tier. You need 1500 STONE for a masternode.
If you want to increase your stake because you are a stone believer, your only choice right now is to procure another VPS service and put up another 1500 STONE collateral.
This can get expensive and increase maintenance work if you would like to run let say 9 masternodes. With two more tiers, you'll need less machines and still get that nice reward. As for this example, you would only need 3 VPS instead of 9 on the third tier!
| Tier | Collateral | Reward |
| --- | --- | --- |
| Tier 1 | 1500 STONE | 6 STONE |
| Tier 2 | 3000 STONE | 12 STONE |
| Tier 3 | 4500 STONE | 18 STONE |
Your task, if you choose to accept it is to complete the implementation of the tiered masternodes with fixed reward system to alleviate need for numerous servers.
Higher stakeholders shouldn't necessarily be punished for holding more coins with another $5 a month fee. See code below for reward breakdown.

Best code according to the original developer of current tiered code in Stone is in xGalaxy GitHub repository.
I suggest you search for "masternode level" on both repositories and see what has been done and what is left to do.
Components
The tiered masternode will be implemented in the next version of the wallet and masternode software we are currently developing.
Deadline
I would like to see the task fulfilled within three weeks from the creation of this post.
Communication
You can get in touch with us via the comments or via our Discord: https://discord.gg/SEkJ45v
Reward
The @stonecoin project will reward you with 1,500 STONE for completing the tiered masternode implementation. There will also be an extra 1,500 STONE reward for setting up a functional test-net and testing the compiled version with tiered masternodes.
About Stone
STONE is a fully decentralised cryptocurrency built on the premise of providing anonymity, speed, fair mining by being ASIC-resistant and reliability by the usage of Masternodes.
For more information, as well as an immediately usable, binary version of the Stone Core software, see https://steemit.com/@stonecoin