Telegram keeps getting better. [New update(v5.8) sees the addition of several User-friendly features].
Is Telegram a next-gen instant messenger, or just another Whatsapp photocopy?
The question above, heralded the start of a series that I've grown to like. The series at its initial stages saw me compare two amazing instant messengers. That is; Whatsapp and Telegram. After the first two articles I published under the series, where I compared both apps, I gave my verdict. I came to the conclusion that although Telegram had certain features similar to Whatsapp, it wasn't an actual copy. Telegram had features that Whatsapp didn't have, and vice-versa. The comparison also led me to conclude that Telegram is a next-gen instant messenger. After that comparison, I became interested in the development of Telegram. And I was impressed by the vast amount of work the company was doing; to improve user experience and user privacy. These amazing changes on Telegram led me to rename the series. I titled the series "Telegram keeps getting better". The idea of the series isn't to compare it with Whatsapp anymore, but to talk about its updates. So far, I've published two articles under the new series title.
Telegram released an update 2 days ago. I got hands on the new Telegram update as soon as I got the notification. I checked out the new features that came with the update, and I can tell you that they are amazing. But don't take my word for it. Read this review, check out the app, and share your experience in the comment(s) section.
Without further ado, let's delve into my review of Telegram's latest update.
Review of Telegram's latest Android release (V5.8).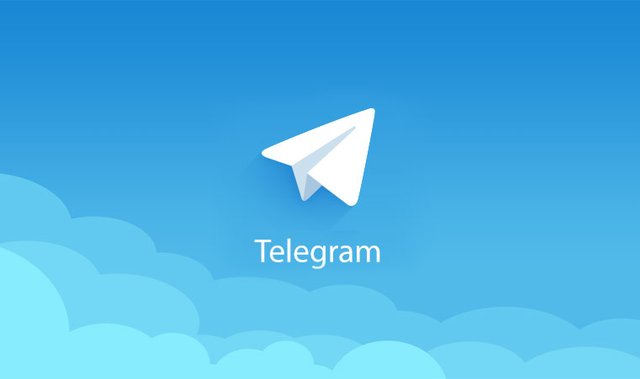 source
Telegram keeps getting better. The features that have been added to the app in past update releases and this current one, confirms that statement.
Telegram has stayed true to their course of delivering useful and user-friendly features, in every update release. And this latest one isn't any different.
Here's the changelog of this latest update release;
Adding contacts made easier
Location-Based Chats
Transfer Group Chats
Enhanced Notification Exceptions.
From the changelog, it would seem as though nothing much done. But I can assure you that there's actually a lot to talk about.
Adding contacts made easier.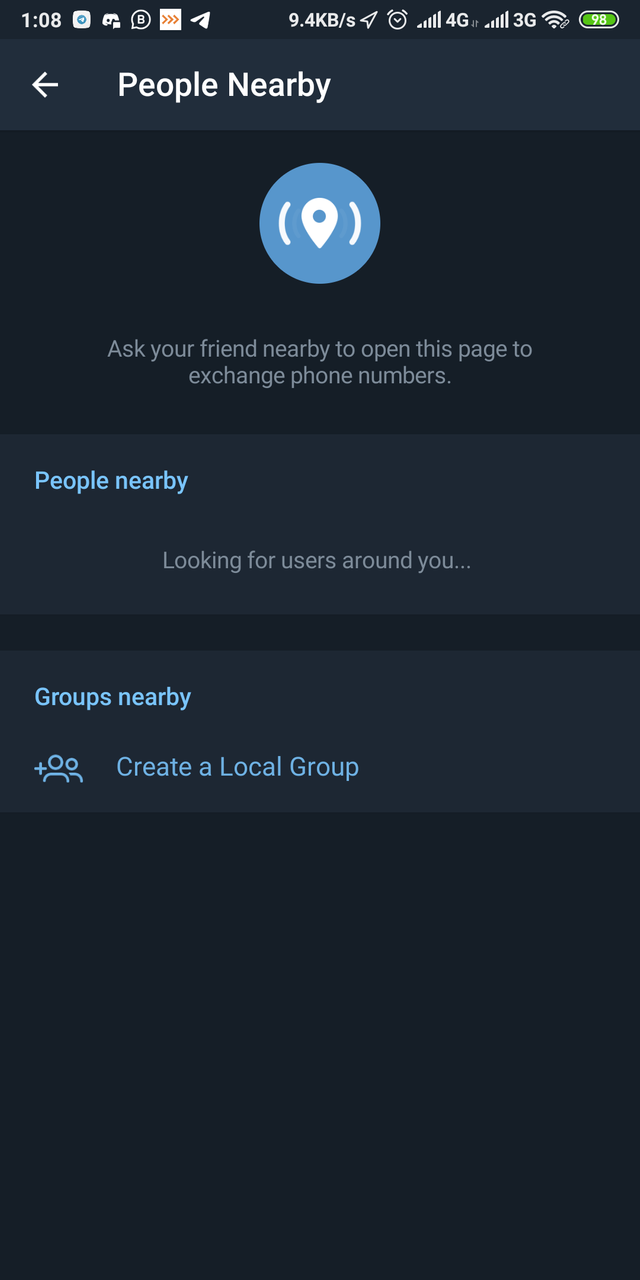 One of the things I admire about Telegram; is the way in which I could add a contact. And this stems from the way a Telegram account is created. Well, this update makes adding someone to your contact list much easier. To be precise, here's what you can do, with respect to adding contacts on Telegram;
You can now add any user to your contacts, even if their phone numbers are not visible.
I was talking about connecting with someone on Telegram. This is possible in two ways. You can connect with someone with their phone number(if you have it), or their username. Starting a chat with someone who you contacted via his/her username doesn't make them part of your contacts. You'll need to have their phone number to add them to your contact list. However, that pattern of operation has changed. You can now add any user to your contact list even without having their phone number.
I think this new feature(or functionality) is cool. Most of the people I chat with(on Telegram) aren't people I knew before. I met and connected with them right there on Telegram. Some of them had their phone number hidden, so I couldn't actually add them to my contact list. But with this update, I can add them to my contact list, and find them on the list any time I want.
Quickly add users standing next to you.
If the previous feature didn't interest you enough, this one should "wow" you.
Normally, the only way to add a contact on Telegram is by saving the user's phone number on your phone, or through their username. Or even by a shared username link. But, What if you didn't have to go through all that process? What if you could add a contact only by being close to that person? That would be great right? Yes, it'll be great. And that's exactly what Telegram has done. I was overly impressed by the feature. It's quite sad that I don't have anyone around to try out the feature. And that's why I'm unable to give an in-depth review of the feature. However, I know the feature would work as I imagine it to.
I think this feature would open up a lot of things we'll get to see in future. One of those things is what I'll be talking about next. And that is;
Location-Based chats.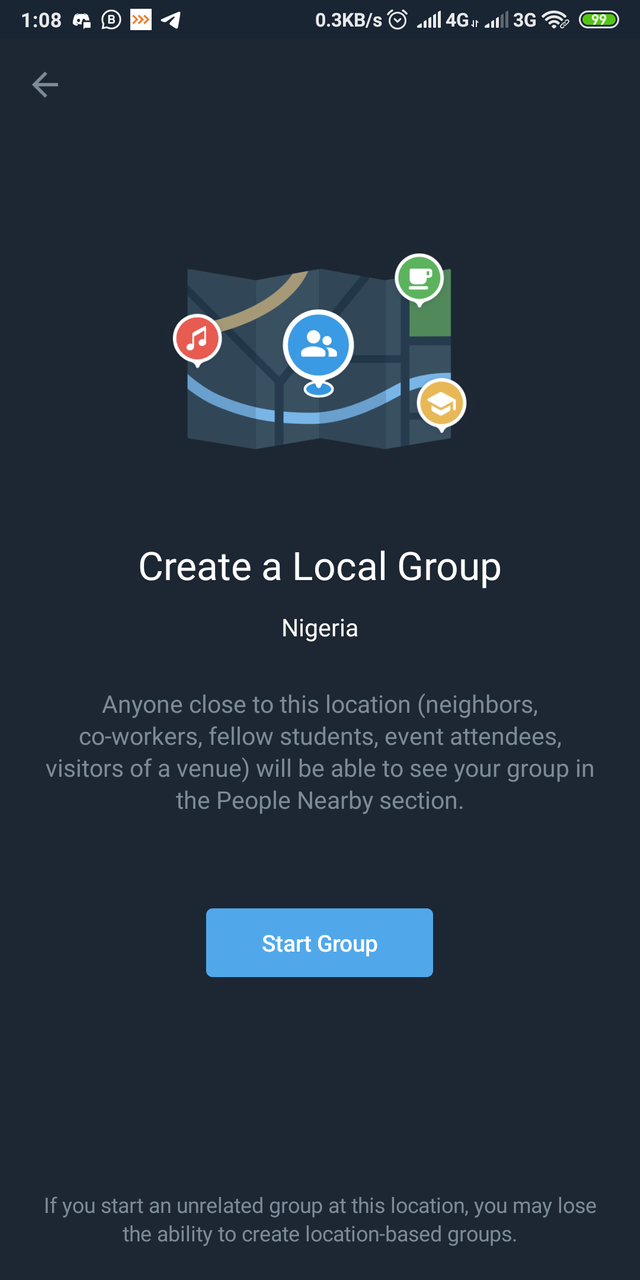 It is not enough that you can add a contact just by being close to them. It is now possible to create a group that consists of people nearby.
Here's how this feature is described;
Host local communities by creating location-based group chats from the People Nearby section.
This feature works the same way as adding the contact of someone that's nearby. But this time, it is more than adding one person. And I really like the thought of that. There are so many things that can be achieved with this feature. One of those things, as mentioned in the feature's description, is; hosting local communities. What this means is that in my locale, I can create a community group. And I can do this seamlessly. It saves me and the participants a lot of stress and phone clicks.
Once again, this is another feature I was unable to check out. And that's because there aren't many people in my area using a smartphone. Talk more about using Telegram. I wanted to find out if a participant can only send texts on the group when they are within the coverage area. If it worked that way, then the feature is really unique. But, if it was able to chat from any other location, it wouldn't be so special. I mean; I could opt to create a group the normal way and still have only people within my vicinity join it. Well, if the feature works as though it is a normal group chat, and people in other locations can join, it isn't really a bad idea. But I'd ideally want the group to be secluded to only people within an area.
This is the first implementation of this feature on Telegram. Hopefully, the feature will be further advanced, and my wish would be granted. But for now, I can only keep my fingers crossed and hope.
Transfer Group Chats.
This is another amazing feature that has been introduced in this update. Vesting power of a group creator to another admin. I've never been a group admin on Telegram. And that's because I've never created any group. I don't think I'll have the time to manage a group. It can be tiring. Especially if it's a group built on certain rules and regulations. If I ever decided to create a group on Telegram, I'll be needing this feature. But the probability of that happening is zero.
Enhanced Notification Exceptions.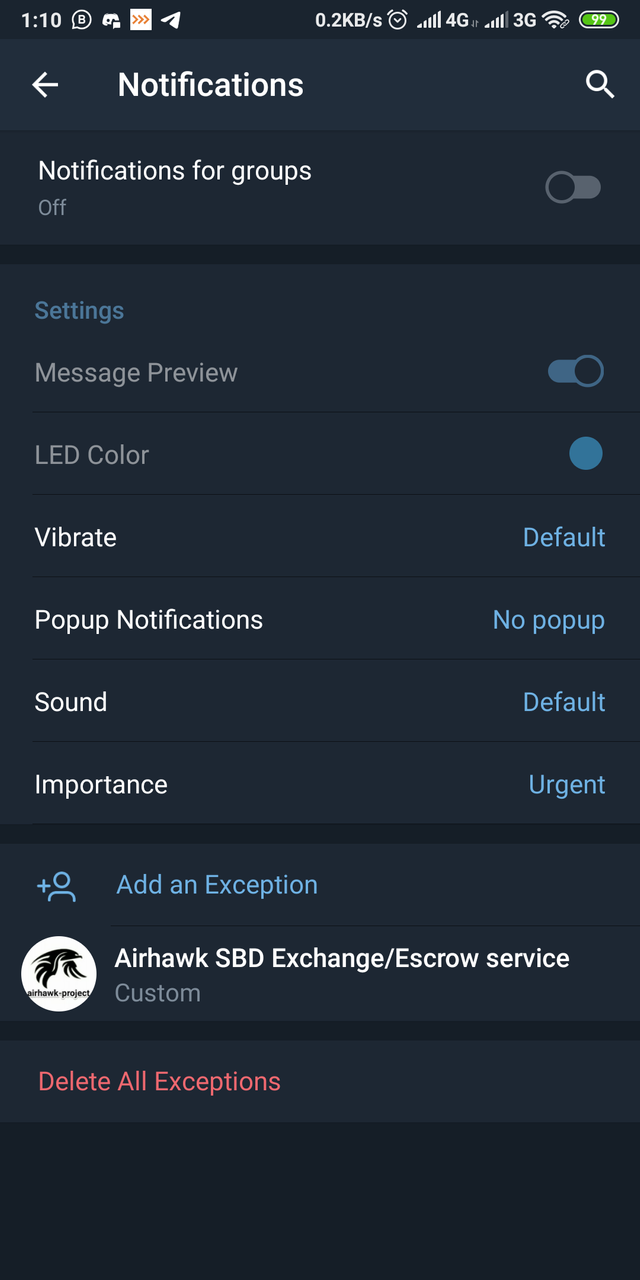 As minor as this feature might seem, it is one that I hold in high esteem. In one of the articles I published about Telegram, I talked about being a participant in several airdrop groups. The notifications I received per second from these groups was really annoying. I had to turn off notifications completely. The implication of that action was that I had compromise receiving notifications about activities on the desired group. However, with this new feature, I'm able to turn off notifications but exclude certain desired groups. This way, I'd only see notifications about activities on the groups I excluded. I can't overemphasize the importance of this feature to me.
The features I've discussed above are the major updates in this Telegram release. But there were also improvements in the app's UI.
Improved UI settings.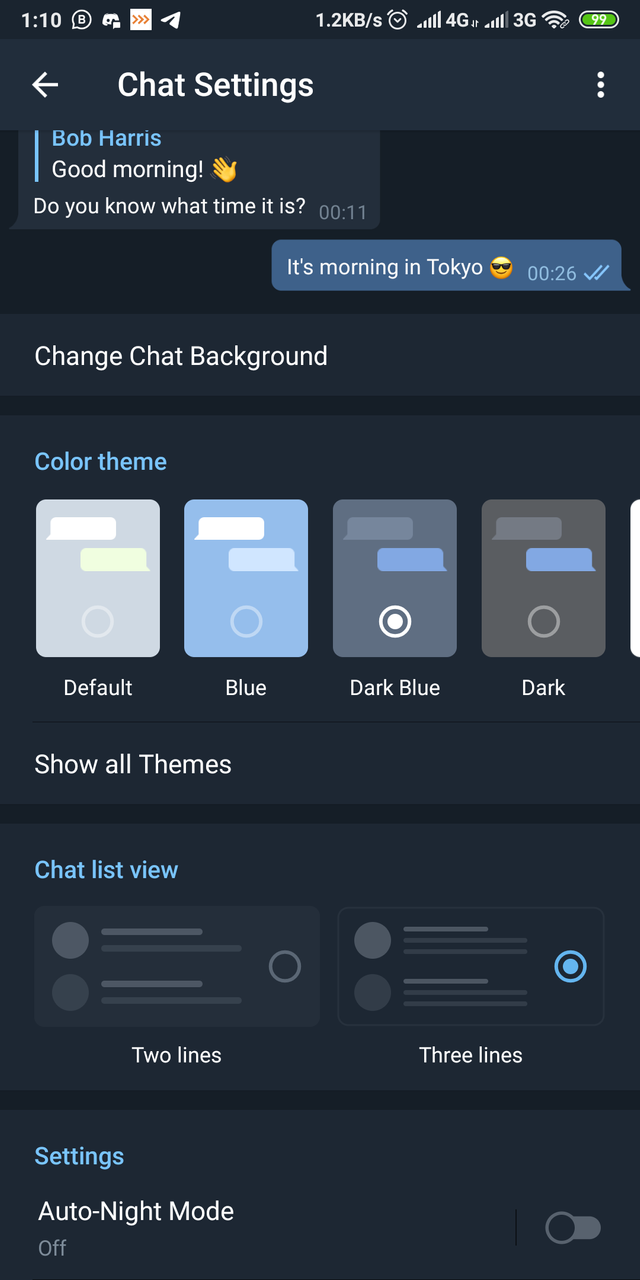 The first time I got my hands on Telegram, I was impressed by it's UI. It had some UI customizations, and the ability to create personalized themes. The developers since that time have done a lot of improvements on the app's UI.
I checked the "Chat settings" and I was impressed. There are new UI settings that can be tweaked. I particularly like the "Three lines" Chat list view. I preferred how it looked than the other option, Which is; "Two lines" Chat list view.
Aside from the new UI options, the main change that happened was actually the chat settings page. It is now easier to navigate and manage than before.
Although I've stopped comparing Telegram to Whatsapp, I'm moved to do so now. Whatsapp has been in existence quite longer than Telegram. It is expected that it should be more advanced than Telegram. Aside from being more advanced, it is expected that they should have fulfiled all the desires of end-users. Unfortunately, the issue of UI is something that has lingered for a very long time. The UI of Whatsapp isn't entirely bad. But it would have been nice if it was customizable. The only thing that's customizable is the chat background. Oh! There are also font size options. But these are very basic, and almost inconsequential settings. I would like to see more flexibility on Whatsapp's UI customization. If all that's on Telegram isn't on their agenda, little theme options would be appreciated. I'd love to use a dark theme on Whatsapp. The issue of UI customization on Whatsapp is a huge deal for me. I even had to consider and actually use a third-party Whatsapp app. I'm sure a lot of people must have felt the same way I did.
Summary.
In this article, I've been able to review Telegram's latest release. I'm really impressed with the work that's going on. Telegram has proved beyond every reasonable doubt that it is a next-gen instant messenger.
Aside from releasing updates with impressive features, I think the major thing on the minds of the developers is making the app more user-friendly. I think they take into consideration a lot of user feedback. That is something I think the Whatsapp team should be doing. Well, maybe they(Whatsapp dev team) are doing that. But I'm yet to see tangible results.
Telegram keeps getting better. I can't stress it enough. Some of the new features in this release will pave the way for more exciting features in the future. I can't wait to see what they do next.
Thanks for reading.
Links
Project repository: https://github.com/DrKLO/Telegram
App download link: https://play.google.com/store/apps/details?id=org.telegram.messenger&hl=en
Resources:
The content of this post was created based on my knowledge of the project, and mostly from my experience. The images used are screenshots of the platform on my device. Other images gotten elsewhere have their source links provided just below them.
Series backlinks:
Github profile: