THE 'ISSUE' WITH POST VISIBILITY

One of the major issues at Steemit for many of the users is visibility of their posts. Steemit and others user interfaces to the Steem blockchain have very easy to reach channels supporting the popular posts, however lack easy to use channels for the somewhat lesser popular posts, which are probably more than 99% to even 99,9% of all posts published onto the Steem blockchain.
We all know that the popularity of posts does not have to do anything with the value and quality of the posts. When a post is not popular, it does not have to do anything with the value and quality of the post, also. An unpopular post may even be of super high value and quality, but ends up in the historical pile of posts without any vote and/or comment.
We also know that most high rewarded posts gets these rewards due to, auto voters voting for each published post by some author, and the fact they are visible in the HOT and TRENDING channels.
The combination of auto votes AND subsequently the post visibility in the HOT and TRENDING channels result in these posts getting even more rewards, sometimes posts in these channels are getting votes days after publication... While posts not visible in these channels, receiving votes after some hours to half a day or day is very rare.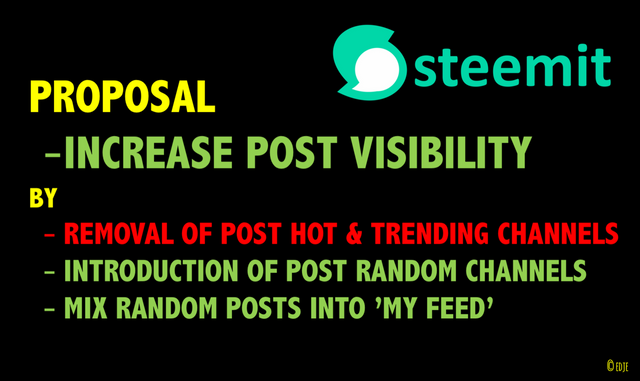 INTRODUCING A MORE EQUAL PLAYING FIELD
RANDOMISE OUR CHANNELS

To create a bit more equal playground for all those posts not ending up in HOT and TRENDING channels, why don't we change a couple of things in our user interface in such a way the long tail of posts get a somewhat higher visibility, and the popular posts get a little bit less attention?
My proposal is to remove the HOT and TRENDING channels from the Steemit main screen. Like shown in image below.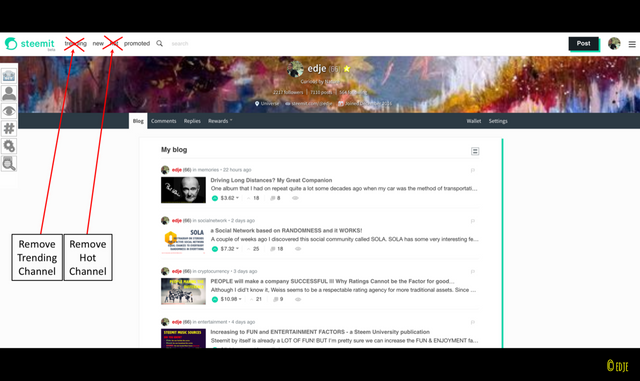 image: Steemit screenshot - removal of TRENDING & HOT channels (source)

At the same time we introduce a RANDOM channel (see image below) in which posts within their vote time, are shown in RANDOM order to the user. Every time the button to the RANDOM channel is pressed, posts are shown in a different RANDOM order.
If you wish, the posts with some tag maybe priorities based on users preferences, but that requires the introduction of tag preference settings for the user. That in itself is a different topic and I'll not discuss that further in this post.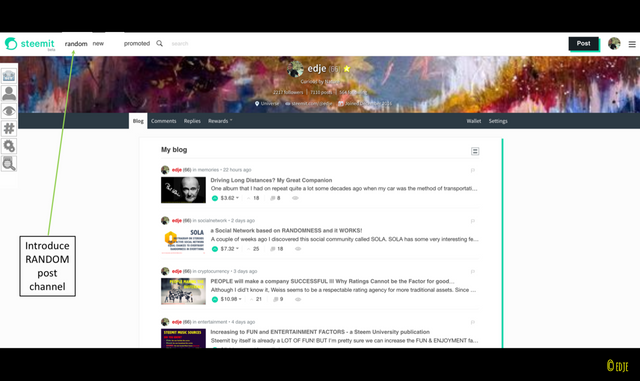 image: Steemit screenshot - introduction of random channel (source)

Our "My Feed" channel shows posts of the users we follow, in time chronological order. My proposal is to:
Show the posts of users we follow in RANDOM order, ie not in time chronological order anymore >> most of the users have so many posts in "My Feed" that it is questionable all the new posts are actually viewed; showing all these posts - every time when "My Feed" is visited - in RANDOM order gives more equal chances to all posts to be discovered
Mix RANDOM posts from users not followed into "My Feed" >> This gives an opportunity for all the other posts on the Steem blockchain to be discovered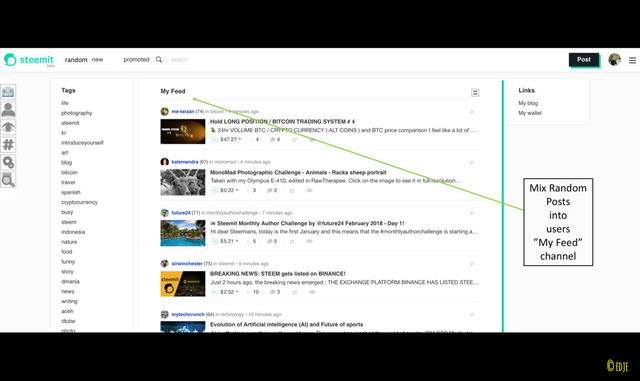 image: Steemit screenshot - mix random posts into 'My Feed' (source)

The TAG channels have a very similar setup as the main (TAG-less) channel. TAG channels also have HOT and TRENDING channels.
Same proposal here: remove the HOT and TRENDING channels and introduce a RANDOM channel.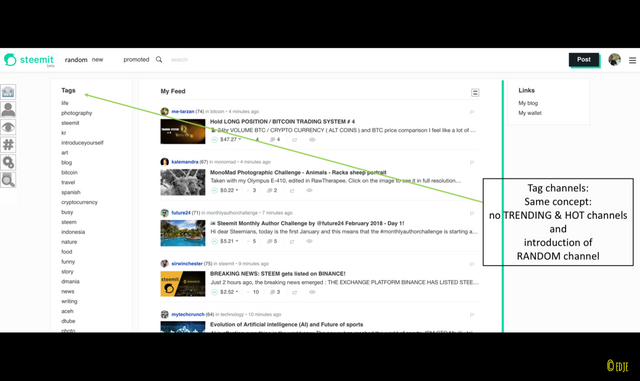 image: Steemit screenshot - apply same concept to TAG channels (source)

It will be great if we can make these changes in such a way, we can go back to the old situation in case these changes turns out not to be good at all (although I doubt it, since I'm pretty sure this more random approach to post visibility will increase vote distribution).
We shall test with the changes for a period of time; I leave it up to the designers and owners of the Steemit user interface, how long the testing period should be, but I suggest at least two months.
When the changes turn out to be good, determined by analysing vote distribution and feedback from the community - amongst others - then these changes shall also be implemented at all other user interfaces using the Steem blockchain (eg Busy.org, Steepshot, Zappl and so on).
---
---