Exactly 19 days ago, I started a series that I called 'School life (must have apps)".
This series was aimed at introducing to the students, several applications that will help them function well during their stay in school.
School life is usually one of the important stages of our lives and what a student does with the limited time allocated to him/her will determine the certificate he/she goes home with.
So far, I've been able to introduce some cool applications as far as this series is concerned and I think it will be cool to do a little recap of all the applications that I've mentioned so far in this series.
My first post was about a budget application called 'Budget Watch'. This application is effective and can help any student properly manage His/her budget. This is achieved because the application makes it possible for you to record and track all your income and expenses. The application has cool features which makes it easy to use and understand. Major features include the budget feature, transaction feature, import/export feature and a very simple user interface.
My second post was about an application known as 'Task Application'. This application helps the user to keep track of all the task yet undone. It makes it possible for any user to further break down the task and view His/her progress. Some outstanding features of this application include categorization by urgency, categorization by time frame, step by step task breakdown, task progress, task time frame and the simple user interface.
My third blog post on this series was about an application known as 'FairEmail'. This application takes care of all the user's email needs, thereby making it impossible to miss any opportunity due to email delivery problems. Some features include the easy setup process, instant notification and multiple accounts, offline storage and operations, low data and space usage, flexible customization and a very simple user interface.
My fourth blog post on this series was about an application called 'Carnet'. The carnet application is a very useful text editor that makes it possible for any student to record ideas and even attach images to it. The outstanding features include its excellent editor, ability to insert images, ability to insert audio and also record from the application, HTML format and keywords, availability of the search box, statistics records, to-do list and a simple user interface.
My fifth blog post which happens to be my previous post on this series was about an application known as 'Get Off Your Phone'. This application makes it possible for the user to cut off any application that is distracting Him/her. It works by placing the application on lockdown for the amount of time the user desire. Outstanding features include the availability of different lock times, a simple user interface and the ability to lock multiple applications, effective and efficient application lock.
All links to the previous blog post in this ongoing series are available in the link section of this post.
Today's post will be focused on a must-have media application popularly known as VLC player.
A good student is never satisfied with only the knowledge shared in the classroom. This is why they are always in the quest for additional knowledge. This additional knowledge sometimes comes in form of video tutorials, having a good media player is an additional boost.
Apart from the tutorials aspects, there is a popular saying that goes "all work and no play makes Jack a dull boy". This implies that every student should sometimes take a break from reading and have a little fun. This fun can be hanging out with friends, playing games, streaming comedy online and watching a movie from His/her device. Whatever media you want to play, be rest assured that VLC media player has got you covered.
A lot of media players cannot give the kind of customization and flexibility that VLC player does.
What is a VLC media player?
VLC is an open-source multimedia player that is capable of playing almost all types of media files and also has the ability to stream from various protocols. The application has been around for over 18years and its available for almost all types of device ranging from smartphones to computers.
Features of VLC player
Here I will be talking about the features based on my personal assessment of the application from my years of usage.
Plays both Audio and Video files effectively
VLC has never disappointed me when it comes to playing both my audio and video files. The application is effective in its discharge of this primary duty expected of it. It plays a variety of file types and I strongly recommend it to any student to use for His/her tutorials, song videos or movies.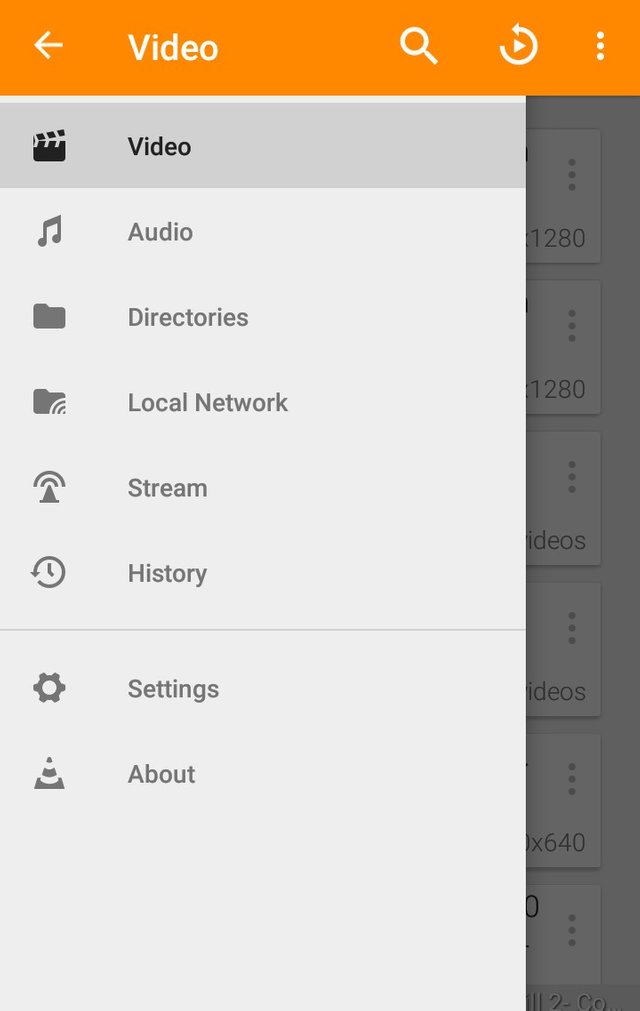 Ability to Stream
Along the line of study or surfing the internet for different purposes, we often run into videos that we need to watch online. Most times our default browser does not give us that streaming speed and flexibility. We can't blame the browser because streaming is not the main purpose of a web browser, but we can enhance our experience if we copy the video URL from the browser into the streaming section of the VLC player. With your good network, you won't even remember that you were streaming because of the comfort and ease of viewing that the VLC media player brings. Your viewing experience will further improve because you will be streaming the video through an interface that was fully customized to your taste by you.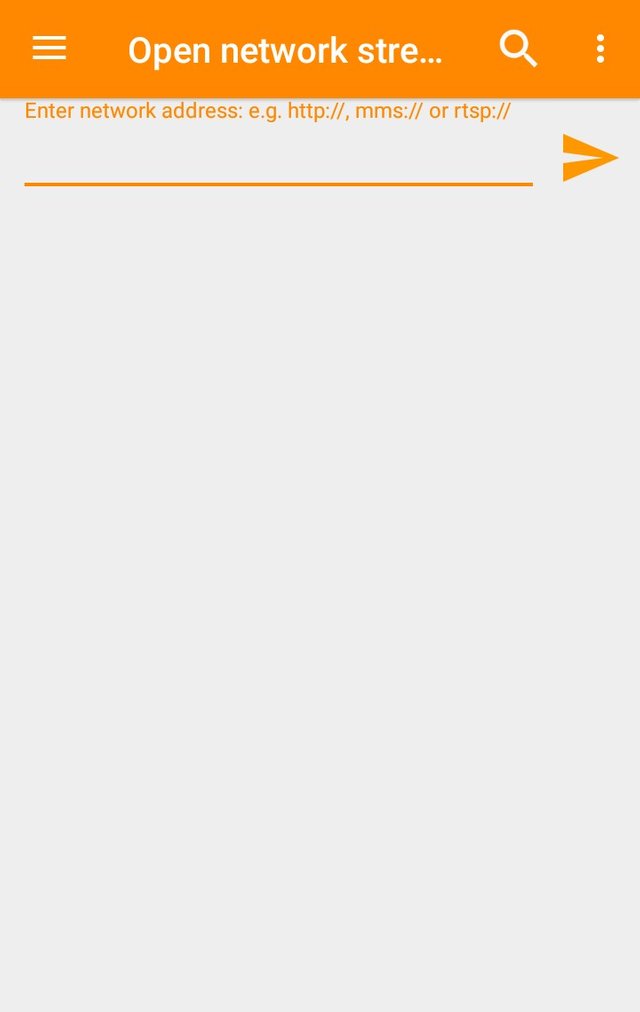 Play List
I personally love listening to songs and watching music videos, but my mood selects the type of songs that I listen to at a particular time. That is the reason I like to categorize all my songs based on the mood they each fit in. With the VLC media player, I am able to create a different playlist based on my mood. This makes it possible for me to enjoy the songs I have. For example, assuming I was in the mood of worship and listening to worships songs, then the next song that starts playing is a pure circular song. Such circumstance will definitely affect me negatively and surely put me off the mood. I then have to disconnect my worship while I go in search of my device to enable me to change the song. This kind of ugly incident is avoided as the user can comfortably classify all songs and videos through a personal playlist.
Auto rescan
A lot of media players lacks the ability to automatically scan or rescan the device in other to remove deleted media or add new ones. That is not the case with VLC media player, all you need to do is to turn on the auto rescan settings and you'll get your newly added media almost immediately and also notice the removal of your deleted media.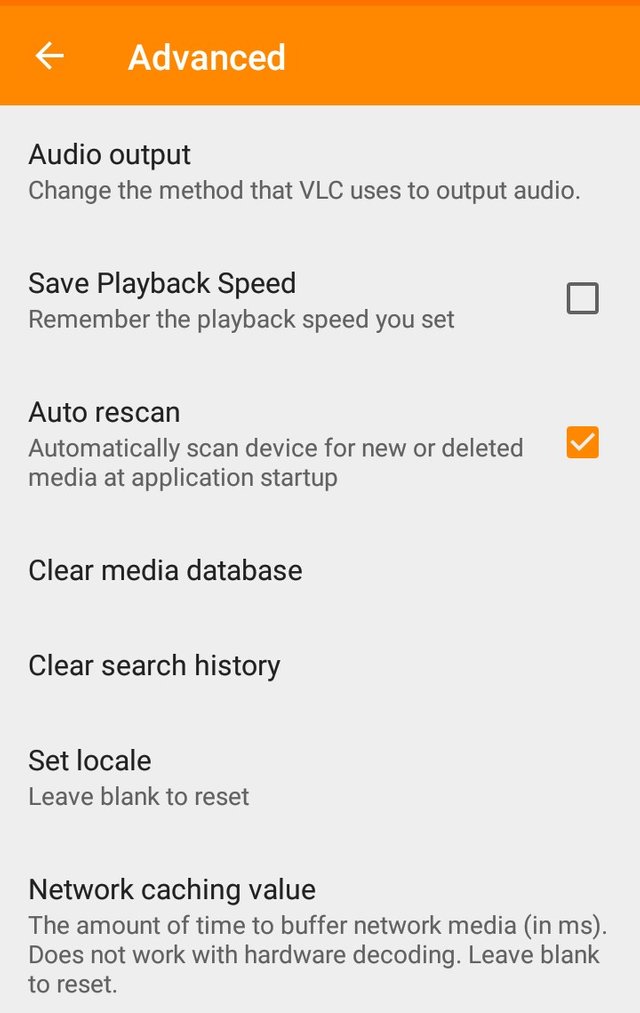 Gesture Integration
Some of us love to use gesture while using our media player. The fun of adjusting the volume of the media and the brightness of the screen by simply swiping the appropriate section of the screen is something everyone deserves to experience. Some controls can be done by simply tapping the screen while the video is playing.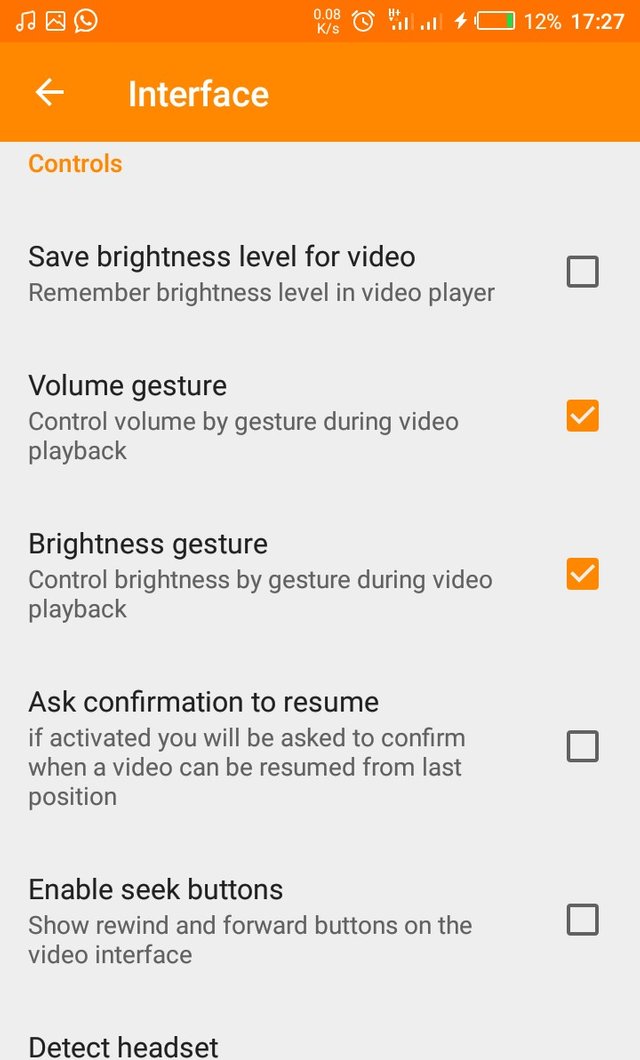 Subtitle
I've personally run into tutorials and movies that the language was something I didn't understand. At some point, it's only the subtitle that always rescues me. However, some subtitle has issues with size, colour and the subtitle background. In cases like this, most media players can't help you but you are safe if you are using the VLC media player. The VLC media player offers its user the opportunity to specifically customize the Size, colour and background of all subtitles thereby giving you an easy to read the subtitle.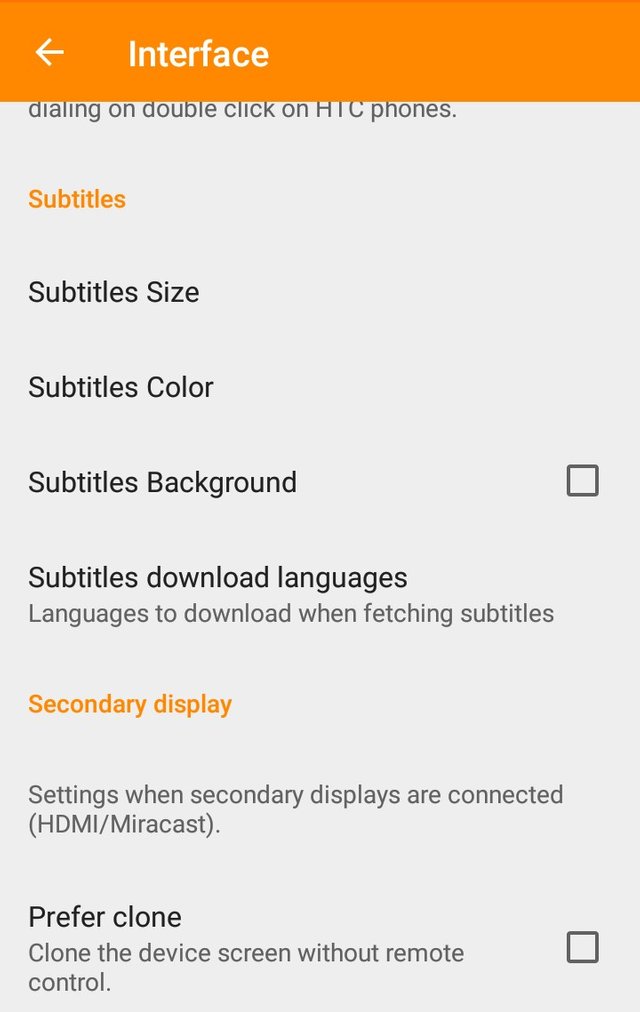 Numerous Customization and Flexibility
One thing that I really love about this application is the numerous customization that is present in it. Some of these minor but important settings include;
Enable seek button: When enabled, this will show the rewind and forward buttons on the video interface.
Detect headset: when enabled, the application will automatically pause the video whenever a headset is unplugged and automatically resume play once the headset is plugged again.
Ask Confirmation to resume: The feature enables the user to either resume from the last point of play or start the movie from the beginning.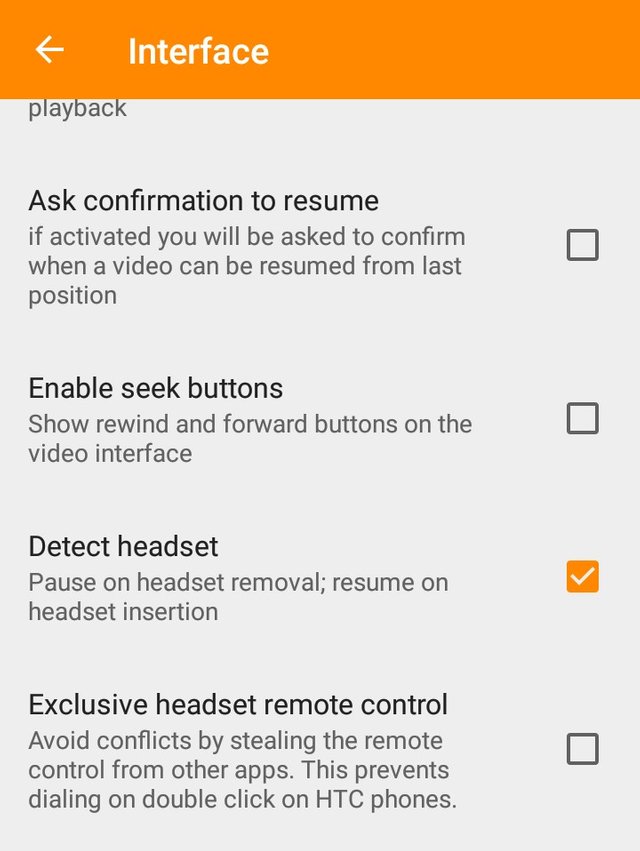 NOTE: The above review is my own personal opinion and view towards the application and thereby does not mean you will feel the same way about the application.
Conclusion
Like I said earlier, always endeavour to take a movie break once in a while. Using VLC player has been a wonderful experience for me and I'm yet to really find a major fault. I love the simple user interface and the effects of the Equalizer feature. Getting a loud sound with the appropriate bass is now super easy as all I have to do is turn on the Equalizer and set the bass higher.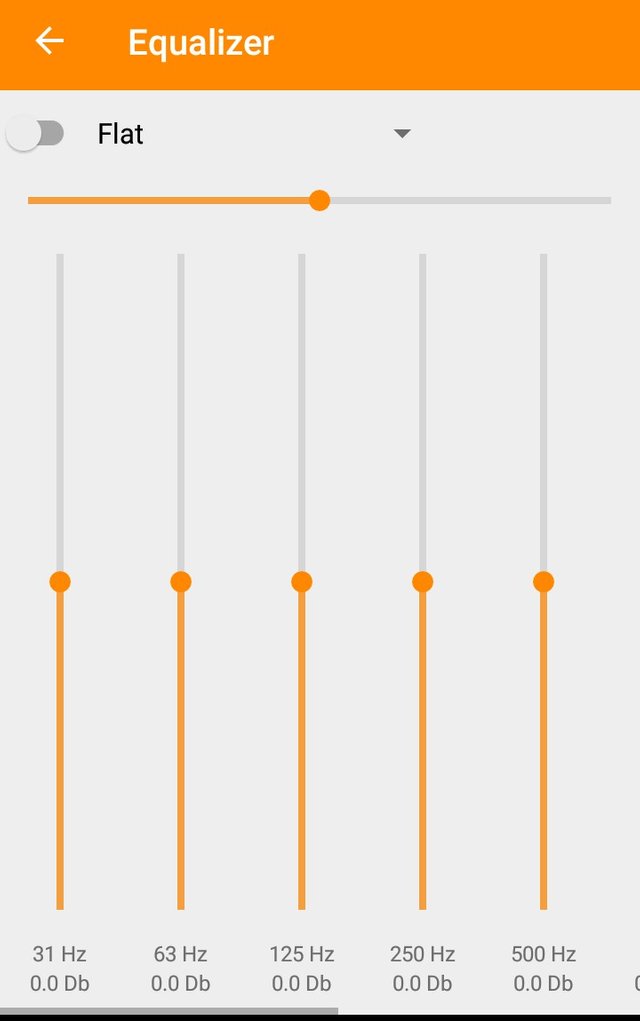 Personally, VLC media player because of its numerous features is the right media player and I highly recommend it to anyone in need of a good media player.
Links
Project repository
https://code.videolan.org/videolan/vlc-android
Github profile
https://github.com/dongentle2
Android play store link
https://play.google.com/store/apps/details?id=org.videolan.vlc
Resources
This post and all its contents were written by me based on my Experience, Research, Knowledge and personal use of VLC media player Android application.
Most Images are from my usage screenshots and all other ones are properly referenced.
Series backlinks
Below is the link to the first post of this series
https://steemit.com/utopian-io/@dongentle2/school-life-must-have-apps-part-1
Below is the link to the second post of this series
https://steemit.com/utopian-io/@dongentle2/school-life-must-have-apps-part-2
Below is the link to the third post of this series
https://steemit.com/utopian-io/@dongentle2/school-life-must-have-apps-part-3
Below is the link to the fourth post of this series
https://steemit.com/utopian-io/@dongentle2/school-life-must-have-apps-part-4
Below is the link to the fifth post of this series
https://steemit.com/utopian-io/@dongentle2/school-life-must-have-apps-part-5